In the aftermath of CPAC, journalists who enjoyed the festivities have been reporting on their experiences at the Annual Breitbart CPAC Party at the Breitbart Embassy in Washington, D.C.
From Chris Moody of Yahoo News:
The most impressive party this year occurred Friday night, nine miles from the conference, behind the Supreme Court on Capitol Hill.
There the D.C. bureau of Breitbart News resides in a beautiful row house owned by a mysterious Egyptian friend of the site, who has opened up the home to Breitbart's writers since 2011. In front of the house, beefy guards stood watch, checking each guest on paper lists. Inside, Breitbart had transformed the home into a Prohibition-era speakeasy, complete with a 17-piece big band dressed in tuxedos, a cigar roller out back who made Breitbart-branded stogies, a spread of food, and two bars stocked with top-shelf liquor.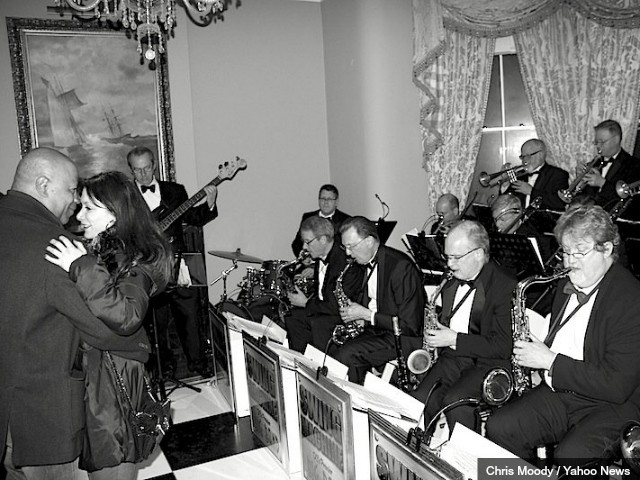 In front of the band, which had set up in the downstairs living room, Texas Republican Rep. Louie Gohmert showed off his skills as a swing dancer, while guests poured Champagne from a kegerator.
In the parlor, reporters from the Daily Beast and the Huffington Post, websites that have been at the receiving end of scorn from Breitbart's conservative media critics, tended bar, pouring shots and mixing cocktails. Even McKay Coppins, a BuzzFeed reporter who recently found himself in a feud with Breitbart News over a profile about Donald Trump, made an appearance. (He declined to bartend.)
From Elspeth Reeve and Lucy Westcott of The Wire:
Most of the time, a branded party is not one you want to go to–it feels lame and inorganic, and, worst of all, monitored, like those kids whose "cool" parents would let them drink beer in their basement. This was not true of one party: The Breitbart Speakeasy. Anything with the Breitbart brand had an electricity to it. Andrew Breitbart, more than two years after his death, still seems to be the most exciting cultural force within the party. No conservative since William F. Buckley had so excelled at celebrity. Say "Breitbart party" and people are immediately intrigued, imagining that within the walls the last days of Rome were taking place. Previous Breitbart parties were legendary. There had been a pony.
On Friday night, from the outside, the Breitbart party, in a fancy rowhouse near the Supreme Court, looked like another disappointment–a few guys in suits standing near the window. When we got in, we realized the suits were those of a 20-piece brass band. There was a champagne keg.
Andrew Breitbart's credentials for CPAC 2012 were displayed on the mantle with some Mardi Gras beads. A man sat at a table and hand-rolled cigars with a Breitbart label, and the backyard was so packed with cigar smokers that the party flowed into the garage, where people smoked next to an old mattress. A young man told Lucy he was happy to see a non-blonde woman, then asked if she was single, then asked for a hug. Two RNC staffers enthusiastically greeted each other by shouting "RINO!" One of them pointed her index finger upwards and put it against her nose, imitating a horn. "I'm a RINO! I'm a RINO! I'm a RINO!" she yelled, and then emitted a series of short, guttural grunts.