Perhaps the timing was coincidence, but probably not.
Late Wednesday, Newsweek dropped a 2,000-word article alleging Republican presidential nominee Donald Trump's company through the services of Seven Arrows Investment and Development Corp., a consulting firm, attempted in 1998 to line up business on the Caribbean communist island of Cuba, which at the time would have been illegal.
Part of Seven Arrows' effort included a trip to Cuba and according to Newsweek, Trump's company attempted to hide $68,000 paid to the consulting firm for its efforts to make it appear the trip to Cuba was linked to a charity.
The story by Newsweek's Kurt Eichenwald comes a day after Trump visited South Florida and courted the Cuban-American vote, first at an event in the Little Havana community in Miami and then later that evening in Melbourne, FL.
"I will be a voice for freedom that includes freedom for people in Cuba. Cuba is not — it's not right what's going on. It's not right," Trump said at the rally.
"This afternoon I spent a lot of time in Little Havana, an amazing place," he added. "President Obama made a one-sided deal with the Castros for nothing in return. Did you ever see this guy make a decent deal for this country?"
The Newsweek piece garnered a lot of mainstream media television coverage, receiving airtime on MSNBC, CNN, ABC's "Good Morning America" and Spanish-language outlet Univision.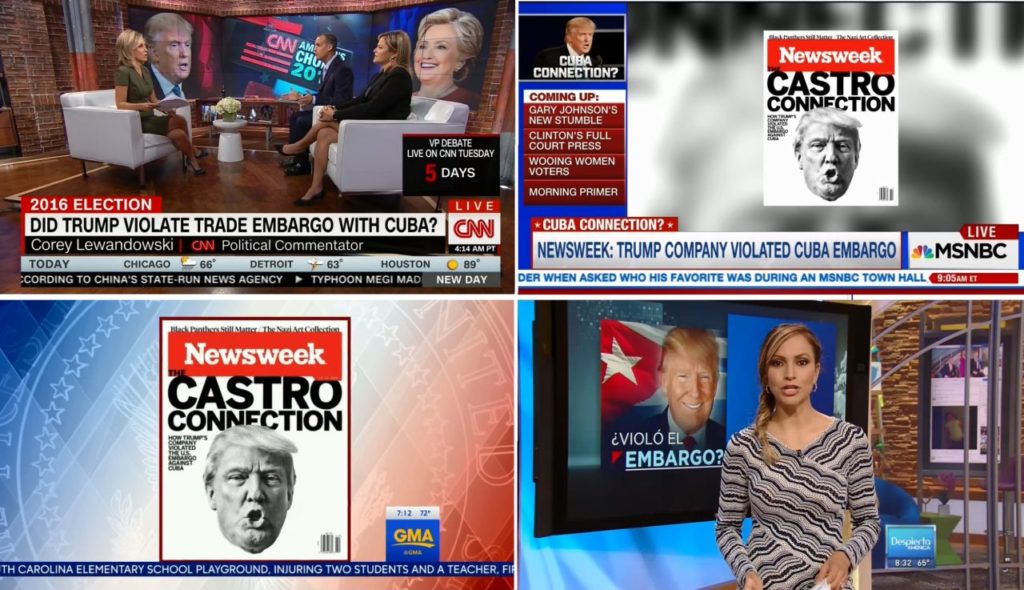 Some dispute the veracity of the suggestion of impropriety in Eichenwald's piece. According to a post on Capitol Hill Cubans, a blog edited by Mauricio Claver-Carone, the executive director of Cuba Democracy Advocates, there is no evidence Trump directly transacted business with the Cuban government.
"However, Trump never transacted business with the Castro regime, as the Newsweek article claims. To the contrary, Trump concluded that those who seek to do business with the Castro regime were mistaken."
Capitol Hill Cubans pointed to a 1999 Miami Herald op-ed by Trump where he said human rights take priority over huge profits.
Eichenwald acknowledges neither Trump nor any of the parties directly involved are likely to face prosecution because the statute of limitations ran out long ago.
Instead, Eichenwald ponders how the Cuban-American voting bloc may react to this news.
"What would happen if Trump's Cuban-American supporters ever found out?" Eichenwald writes at the end of his piece.
Others have speculated on what this could mean for Trump in Florida as well.
"The revelations come just as the Republican presidential candidate began making a big push to curry the support of Cuban-Americans who live in Miami-Dade, Florida's most-populous county with the most Republicans, 366,000. About 72 percent of them are Hispanic, nearly all Cuban-American," Marc Caputo wrote in Thursday's edition of Politico Florida's Playbook.
Winning Florida's 29 electoral votes is vital for both Trump and Democratic presidential nominee Hillary Clinton's path to the White House. As it currently stands, both Trump and Clinton are in a dead-heat for the Sunshine State according to numerous polls.
Follow Jeff Poor on Twitter @jeff_poor