Adweek reports that Kellogg's decision to pull its advertising from Breitbart News inflicted massive, longterm damage to the cereal company's brand online.
Citing data from Taykey, a social media analytics firm, Adweek notes that "while negative sentiment for New Balance and Pepsi has died down over the past month, Kellogg's is facing a more sustained backlash after pulling its advertising" from Breitbart News.
"On the heels of the ad ban, Breitbart launched a campaign, #DumpKelloggs, encouraging Trump supporters to boycott Kellogg's products," Adweek notes. "The boycott caused Kellogg's social media sentiment to fall dramatically, with a 75 percent nosedive, according to Taykey."
"Through Dec. 5, that sentiment had stayed mostly negative," the outlet reports.
Adweek's assessment of Breitbart's mega-viral #DumpKelloggs petition initiative is similar to the one published by the Wall Street Journal. 
"There's a cereal killer on the loose," the Journal reported last week, acknowledging that since Breitbart's boycott campaign against the cereal giant, "Kellogg shares have underperformed peers General Mills and Post Holdings by 4.4 and 11.5 points, respectively."
The massive drop in Kellogg's shares and the deep negative nosedive in its brand's perception online come on the heels of the cereal maker's politically-driven attack on Breitbart News and its 45 million monthly readers. Kellogg's being accused of alleged racism toward factory workers and profiting from the use of child labor also hasn't helped their brand.
The left-wing campaign to coerce companies to pull their ads from Breitbart News has had "little to no impact" on the organization, Breitbart Editor-in-Chief Alex Marlow says.
"We've had a hundred or so companies approach us in the past few days and say they want to advertise with us specifically because they do share our values," Mr. Marlow said.
Sign the #DumpKelloggs boycott petition here.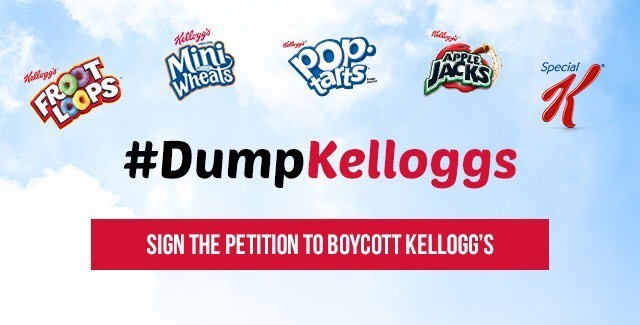 Follow Jerome Hudson on Twitter @jeromeehudson