Recently Breitbart Texas reported a raid by federal investigators of the Hidalgo County Sheriff's Office where a computer was seized. On March 28, Sheriff Lupe Treviño resigned under a cloud that may be hitting too close to home for the embattled sheriff.
In a two-page letter to Hidalgo County Judge Ramon Garcia, Sheriff Lupe Treviño tendered his resignation as sheriff–ending his professional law enforcement career that lasted over forty years, according to an article in The McAllen Monitor.
Treviño has been under a cloud since his son, Jonathan Treviño, a former Mission, Texas police officer and one of his closest deputies, Commander Jose Padilla were indicted in December 2012 on charges of money laundering and marijuana trafficking. Five other members of his department and other law enforcement agencies were also indicted. All have either pled guilty or been convicted, according to local reports.
The San Antonio Express-News quotes the Hidalgo County District Attorney–who lost by a landslide in the March 4th Primary Election: "He was being hounded because of his son," said DA Rene Guerra. "I wouldn't want to be in his shoes."
Treviño's resignation letter, which comes just over a year after beginning his third term as sheriff, cited his accomplishments and those of his department which earned him re-election. 
Now it falls on the Hidalgo County Commissioners to pick an interim replacement who will serve until a special election can be held later in the year.
According to former Texas State Representative Aaron Peña in an interview with Breitbart Texas, the executive committees of the Hidalgo County Republican Party and Democratic Party will each nominate a candidate to run in a special election set to coincide with the November 2014 General Election. The executive committees are made up of the two parties' precinct chairmen. The winner of the special election will serve out the remainder of the sheriff's term set to expire in 2016.
Despite rumors that in the county of Treviño becoming closer to being the subject of the investigation that snared his subordinates and others–a post on Treviño's Facebook page said, "Please take the letter and it's [sic] contents for face value. Rumors run abound but they are rumors until they become fact."
The Express-News article additionally quotes Javier Peña, an attorney for Robert Caples, a Republican candidate who lost to Treviño in 2012.  Caples' lawsuit alleges that the sheriff failed to report contributions and accepted cash in amounts that exceeded the amounts allowed under Texas election laws–including money from an indicted drug dealer.  
"Although (Treviño) hasn't been indicted yet, I think all signs are pointing to the net tightening around him," Peña said.
"There's been a cloud of corruption over the county for quite some time," said attorney Peña. "With the recent election of a new district attorney and the sheriff resigning, we've taken a big step in the process of clearing up corruption."
In his Facebook page Treviño said, "These are the time when you find out who your true friends are."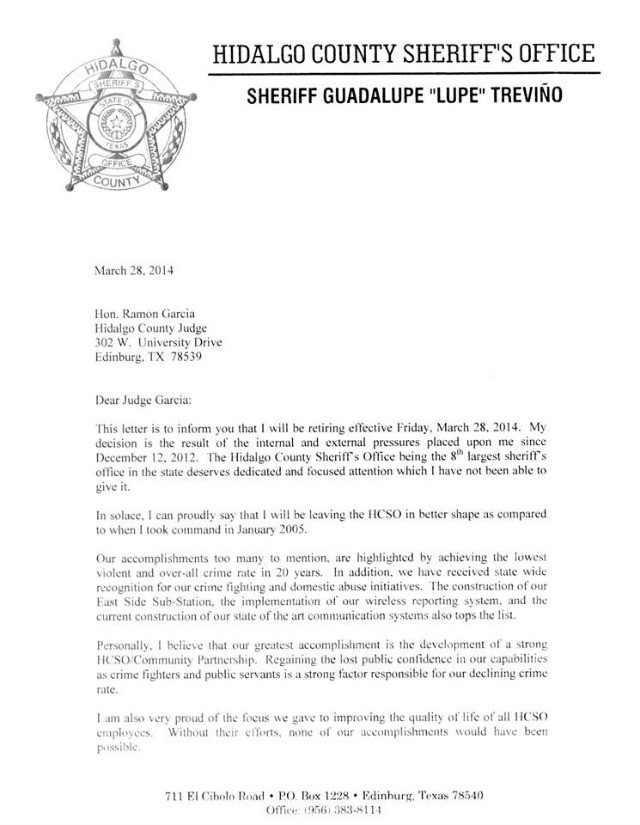 Follow Bob Price on Twitter @BobPriceBBTX