A Katy, Texas, junior high school principal was reinstated after being put on administrative leave earlier this month. Katy Independent School District (ISD) officials would not confirm the reason for the punishment. Parents believe Seven Lakes Junior High School Principal Dr. Imelda Medrano (on right in the photo above) was placed on administrative leave because she sent out a newsletter with a warning to parents. The newsletter linked to a Christian parenting website.
The website, Crosswalk.com, contained information the principal believed would be helpful in alerting the parents in her school about the potential dangers to children from phone apps like Snapchat and Vine, according to an article in the Houston Chronicle by St. John Barned-Smith. The district emailed parents on January 12th to advise them to disregard the article sent out by the principal. They chose instead to refer parents to the school district's website on cyberbullying.
Crosswalk.com tells the story of a twelve-year-old girl who was lured away from her home by a 21-year-old man who allegedly took her to a motel and had sex with her. He allegedly used an app named Whisper to communicate with the girl on the cellphone her parents had given her. The Crosswalk.com article cites several apps for phones they believe parents should watch out for. Those include Kik, Snapchat, Vine, ChatRoulette, Omegle, Tinder and Poof. It describes why the apps can be dangerous and suggests how parents should talk to their children about them.
Earlier in the week, the Chronicle reported that parents had organized a Facebook group to support Medrano. They expressed dismay that the principal had been put on leave with no explanation from school district officials. "I think we are just in this limbo," said Jennifer Gawne in the article, a parent to two eighth-grade students at the middle school. "Mum has been the word," she said. "No one knows why she was put on leave."
However, the email sent out from the district reveals what many parents believed to be a clue. The email stated, "On Friday, January 9, you may have received an eNews containing an article titled '9 Most Dangerous Apps for Kids' which was obtained from a website that had not undergone a thorough review and approval process for content distribution. Please disregard that article and content."
Katy ISD Police also tweeted out a link to the Crosswalk.com article.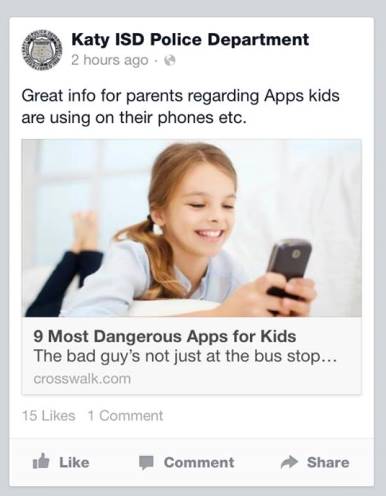 In another message from Katy ISD parents were advised, "Please know, the Seven Lakes Junior High staff and administration is committed to its students, mission and tradition and will do everything necessary to ensure the continued success of our students during this interim process."
The district's lack of communication as to the reason for the suspension is leaving parents concerned. One parent, MariAnne Petry Vondenstein expressed her concern in the Facebook support group. After expressing support for the principal she said, "I think we are in serious need of the district to tell us what the reason was she was put on Admin Leave. We have had at least one child in SLJH since the doors opened, and currently have one in school and have had nothing but respect for the way she runs the school and the way she has handled situations we were involved in. BUT the fact remains, unless someone here has the 'skinny' on the actually [sic] reason for her current situation, I think the only thing we should be demanding now is, WHAT WAS THE CAUSE?"
"If anything she did was in direct harm or ill regard to any of our children, we have the right to know. If it was a religious email, that may or may not have offended someone, we have the right to know. We have the right to know what it was the person we entrusted our dearest treasures (our children) to her hands every day for years could have possibly done to be removed and replaced literally in a matter of days," Vondenstein concluded.
Michelle Braud conveyed what she had learned from the district. "I attended Leadership Katy yesterday and had the opportunity to ask what the situation is in regards to Dr Medrano," she explained. "The response was that there is nothing to do with the kids and that she is undergoing a personal review at this time. That's all they will say right now."
Many parents expressed support for Medrano. Jennifer Gawne said, "As a parent, I have never seen a Principal so accessible to parents. She really does have an open door policy. She gets back to you very quickly when you email her as well."
"One of the things that impressed me most was the surveys sent out at the end of each year where Dr. Medrano asks for feedback for how our campus, teachers AND principals are doing," Gawne continued. "She does this because she is always looking for ways to improve both her performance and to make our school a better place. She WANTS parent involvement and goes out of her way to make parents feel comfortable when they come on to campus."
On Friday, Katy ISD superintendent Alton Frailey, shown with Dr. Medrano in the photo above, sent yet another email to parents. "Following an administrative review, I am pleased to share that effective Thursday afternoon, January 22, 2015, Dr. Medrano was reinstated as principal at SLJH," Frailey wrote in the email. He explained that she would be back in school Tuesday.
"I appointed Dr. Medrano to open SLJH in 2012 and since then, she has demonstrated successful leadership capacity at the school," he concluded. "She has my full support and confidence as she continues as principal at SLJH."
The school provided no further information about the cause of the administrative review or the suspension.
Bob Price is a senior political news contributor for Breitbart Texas and a member of the original Breitbart Texas team. Follow him on Twitter @BobPriceBBTX.