Update, 1:00 PM: CBS News in Dallas reports speaking with "a man who claims to be the suspect's father," who offered some more details about the van used in the assault.
"Jimmy Lee Boulware, 73, says James was just at his Carrollton home yesterday to cut the front lawn," CBS 11 reports. "He says James bought the van, which was used in the chase and standoff, in Georgia. According to the elder Boulware, James said he was going to sleep in it. Sources confirm to CBS 11 that the van was purchased on Ebay."
Update, 11:15 AM: The Dallas Police Department was obliged to remove the windshield of the van with more shots from a .50 caliber sniper rifle, warning area residents and onlookers in advance that the shots were part of the bomb-squad procedure, and not a firefight with a live suspect.  Bomb-disposal technicians believe the suspect's explosives were all made with black powder, and have found no evidence of the C4 plastic explosive he claimed to possess.
Update, 10:05 AM: A hair-raising detail reported by a police veteran on Twitter:
Officer searching HQ for explosives almost tripped over package that later exploded the instant it was moved #DallasPDShooting

— Maj. Max Geron (@MaxDPD) June 13, 2015
Update, 9:55 AM: Brown said the suspect was clearly targeting police, and "did not care" when police officers confronted him.  He said the attack began with fire from an "automatic weapon," after which the suspect "transitioned to a shotgun."
"This has been a very chilling moment," said the Chief.  "It raised the hair on the back of your neck, thinking about what could have happened."   Noting that his officers were "literally dodging bullets," he expressed profound thanks that none of them were injured, describing officers and witnesses on the scene as "blessed" to have avoided severe injuries and fatalities from the onslaught.
Update, 9:45 AM: Chief Brown said during his press conference that the identity of the suspect had not been absolutely confirmed, but described him as a "white male."  He is not known to have any connections to organized terrorism, but Brown confirmed that during the call the suspect made to 911, the suspect ranted about being accused of terrorist activity or connections in the past.
Update, 9:30 AM: Dallas Police Chief David Brown held a press conference in which he revealed the suspect in the van was hit by a sniper shot through the front window and is believed to have died from his injuries.  The suspect had claimed to the police that the van was rigged with explosives, so the bomb squad is using a robot to examine the vehicle, check on the status the suspect, and possibly proceed with controlled detonations.
0507 PD Sniper shot @ suspect through front windshield of van. Suspect may be hit. — Dallas Police Depart (@DallasPD) June 13, 2015
Sending in robot to confirm. If suspect is deceased, EOD will be deployed to inspect vehicle for explosives. — Dallas Police Depart (@DallasPD) June 13, 2015
Brown also said that early reports of multiple suspects firing out of the van may have been inaccurate.  The police now believe it was a single man firing from multiple positions inside the vehicle, giving eyewitnesses the impression of multiple shooters.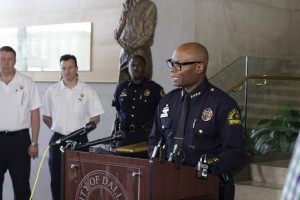 ****
DALLAS, Texas — The sound of sirens and gunfire erupted in the downtown Dallas air after midnight in a wild scene, as a vehicle described as an "armored van" rammed police. Witnesses say multiple suspects in the vehicle opened fire outside Dallas Police headquarters. Some of the incident was captured in dramatic video. (Warning: language.)
The incident began at about 12:30am on Friday night, when the suspects opened fire and parked in front of Dallas Police HQ. Officers returned fire. Some of the incident was captured and posted almost immediately on Twitter.
Shoot out at the Dallas police station. SMH, this really is the wild wild west. pic.twitter.com/yZoOeu2RWb — JG (@DoseOfJG) June 13, 2015
A car chase ensued south of Dallas to the parking lot of a Jack in the Box at 121 South Interstate 45 Service Road in Hutchins. Police and SWAT had suspects surrounded as of 5am Central Time. One suspect is a white male who gave his name as James Boulware.
Dallas Police say suspect they're in negotiations with after shooting and pipe bombs at police HQ says his name is James Boulware — Zora Suleman (@ZoraSuleman) June 13, 2015
Police point out the name information about the man's name is not confirmed. A man named James Boulware was arrested in 2013 after allegedly threatening to go on a shooting spree. It's not known whether there's a connection. Police confirmed that four bags found outside police HQ contained at least one pipe bomb.
#breaking As the Explosive Ordinance Robot attempted to move one of the bags @DallasPD HQ, the bag exploded on its own #DallasPDShooting — Maj. Max Geron (@MaxDPD) June 13, 2015
Dallas police also warned all surrounding law enforcement to take precautions.
#breaking As the Explosive Ordinance Robot attempted to move one of the bags @DallasPD HQ, the bag exploded on its own #DallasPDShooting — Maj. Max Geron (@MaxDPD) June 13, 2015
DEVELOPING…