MCALLEN, Texas — The FBI added a Mexican woman to their most wanted list over her alleged role as the mastermind in the murder for hire of a prominent Dallas dentist. The love triangle  murder appears to have a Mexican cartel connection.
On Wednesday, the Federal Bureau of Investigation added 33-year-old Brenda Delgado to their "10 Most Wanted" list, information provided to Breitbart Texas by the FBI revealed. Delgado, who is wanted on the charge of capital murder, has deep ties to Mexico and is believed to have fled there.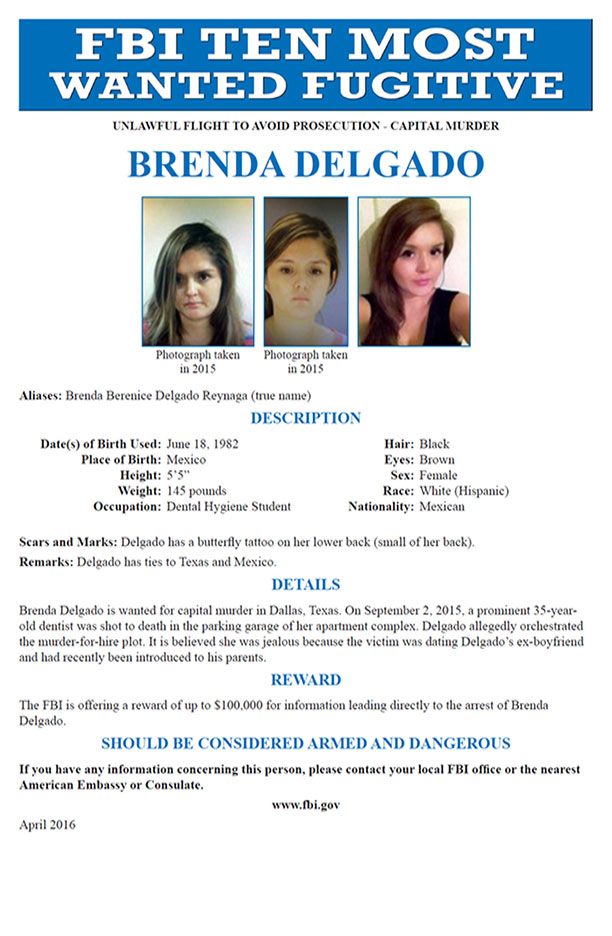 The charges against Delgado stem from the September 2, 2015 murder of Dallas Dentist Kendra Hatcher who was shot to death in the parking garage of her Uptown apartment. While Delgado was charged in state court with capital murder for her alleged role in the crime, the FBI was able to get a federal warrant charging her with unlawful flight to avoid prosecution.
According to investigators, Hatcher's murder was the result of her dating Delgado's ex-boyfriend a local dermatologist, Dallas Morning News reported at the time. The relationship had taken a serious turn sending Delgado into a rage as she allegedly hired Kristopher Ledell Love and Crystal Cortes to murder Hatcher. Court records published by the Dallas newspaper reports that the indictment mentions a "drug cartel" being linked to the murder. Delgado and "a drug cartel" are the ones who paid Ledell Love with cash and drugs for the murder. Information as to which drug cartel or their specific role in the murder was not readily available.
Hatcher's murder is not the only high profile murder near Dallas that has a Mexican drug cartel connection. As Breitbart Texas recently reported, two Mexican cops and one of their relatives are set to go to trial this month in the cartel execution of a prominent Mexican lawyer in Southlake. The victim in that case was  the attorney for the leader of Mexico's Gulf Cartel.
Ildefonso Ortiz is an award winning journalist with Breitbart Texas you can follow him on Twitter and on Facebook.