Pay-to-play journalism is alive and well at the Dallas Morning News after the paper published a laudatory article for a celebrity appeal to re-route a Texas pipeline that will transmit American natural gas to Mexican trading partners.
As a symbol of gratitude for the Big Bend Conservation Alliance's (BBCA) decision to post a print ad in the Dallas paper's Saturday edition, the nonprofit was treated to a friendly write-up in the business section on June 10. The story specifically noted how film actors to include Tommy Lee Jones (Lincoln, Man of the House) and Owen Wilson (Wedding Crashers, Zoolander) signed on to a public letter calling for the planned Trans-Pecos Pipeline to be re-routed.
"Such a re-route may cost more, but we firmly believe it is the right thing to do," the letter states.
The final effort to halt the ongoing construction of an "interstate" pipeline between western Texas and Mexico comes after the U.S. Federal Energy Regulatory Commission gave final approval on the project in early May. The BBCA predictably slammed the decision, claiming they were "disgusted" and accused the federal agency of having never "met a pipeline it didn't like", according to the Texas Tribune.
"We are musicians, artists, attorneys, archeologists, astronomers, business owners, politicians, veterans, students, university professors, religious leaders, former petroleum engineers and, perhaps most importantly, ranchers" with more than 100 signers according to the group's website. Considerable verbiage is spent accusing Dallas-based Energy Transfer Partners of colluding with Mexican interests to utilize eminent domain powers to for the exclusive benefit of Texas' southern neighbor. A BBCA fact sheet warns that it will "transport massive quantities of fracked natural gas to power plants in Mexico—enough to power a city of 6.6 million people annually." The group also doubts the domestic economic benefits to be seen in infrastructure construction, upkeep and local tax revenues.
The group's former petroleum engineers do not specify an alternate course for the pipeline already under construction.
A spokesperson for Energy Transfer Partners told Breitbart Texas that the company understands there is a wide spectrum of opinions on the matter, but they will "work with each landowner to restore the property per the specific terms agreed upon in the easement contracts."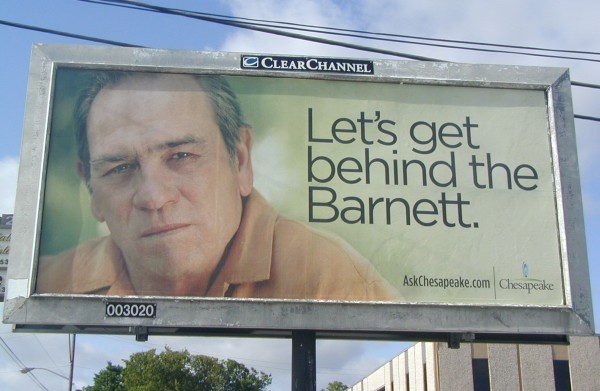 Tommy Lee Jones' NIMBY Environmentalism
The Dallas Morning News wholly overlooks Tommy Lee Jones' resume on the matter of American natural gas and the hydraulic fracturing ("fracking") techniques utilized to extract it. The Texas actor previously served as a corporate pitchman for Chesapeake Energy Corporation (NYSE: CHK.N), a natural gas giant based in Oklahoma City. Jones was prominently featured in a mixed media public relations blitz commonly appearing next to the tag line, "Let's Get Behind the Barnett." The north Texas shale formation was a core location for the company's extraction plans prior to the ongoing American energy glut. Jones also agreed to narrate Chesapeake's 30-minute "Citizens of the Shale" infomercial that was later scrapped, according to Reuters.
The Trans-Pecos Pipeline commenced construction earlier this year and Energy Transfer Partners tells Breitbart Texas that it should be fully operational by March 2017. The 42-inch buried line originates near Fort Stockton and will cross Pecos, Brewster and Presidio Counties then beneath the Rio Grande River. The effort, in conjunction with Mexico's Carso Energy, will work to convert coal-fired electricity plants to ones running on American natural gas. In a time of consistently soft markets for natural gas, the new infrastructure hopes to shore up domestic values.
Energy Transfer Partners is no stranger to organized strife surrounding its pipeline projects. Breitbart Texas recently reported on a North Dakota-based line that faced resistance from a local Indian tribe and the Obama Environmental Protection Agency.
The Big Bend Conservation Alliance bills itself as "a non-profit, volunteer-driven organization that seeks to preserve the natural and cultural resources of the greater Big Bend region of Texas."
A January 2016 editorial published by the San Antonio Express-News reminded environmentalists that such infrastructure improvements to rural Texas will help curb much of the hazy air pollution seen over the Big Bend area
"Not connecting natural gas from the Permian Basin to Mexico has environmental costs, too," the paper added.
Logan Churchwell is a founding member of the Breitbart Texas team. You can follow him on Twitter @LCChurchwell.