MONTERREY, Nuevo Leon — A state police officer reportedly gunned down a fellow cop for refusing to rob and rape a woman in this border state. The murder suspect lashed out in anger at the refusal by his partner to carry out the crime in the suburb of Apodaca.
Authorities continue their search for 33-year-old Sergio de la Rosa Pulido, an officer with the Fuerza Civil force, who is currently being sought on murder and rape charges. His fellow officers have been searching at his home and businesses he used to visit.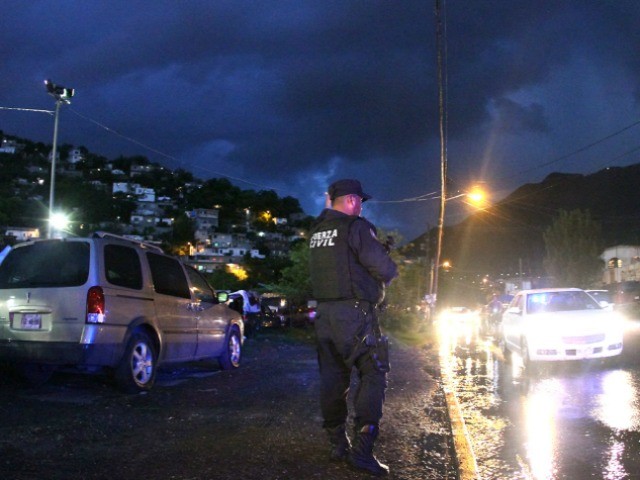 Cuauthemoc Antúnez, the Public Safety Secretary for Nuevo Leon, publicly confirmed the investigation and search of one of his officers with Fuerza Civil. The elite combat group is made up of state police officers that, according to authorities, are trained to handle high impact criminal activity such as the kidnappings and cartel gun battles which have spread through this border state.
Sources close to the investigation explained to Breitbart Texas that De la Rosa had been buying beers when he asked 26-year-old Marco Fragoso Caro to help him rob a woman in order to be able to buy more beer and then rape her. When Fragoso refused to take part in the crime, De la Rosa allegedly fired at the victim's chest with an illegally owned handgun. Unlike in the U.S., weapons are heavily restricted in Mexico making it almost impossible for an average citizen to own and carry a firearm for self-defense purposes.
While authorities have not confirmed the details of the illegal weapons, sources with direct knowledge of the case confirmed to Breitbart Texas that the weapon was a .357 Magnum handgun. The murder weapon is not the duty weapon used by Fuerza Civil officers.
After murdering his partner, De la Rosa held the woman at gunpoint as he ordered her into her vehicle. The woman was able to drive away but not before the lawman sexually assaulted her, officials stated. The female victim reported the crime setting off a massive deployment of police forces that found the murder victim, began the rape investigation, and started a manhunt for De la Rosa. The wanted officer was able to run away from the crime scene and remains at large.
De la Rosa's criminal history revealed that the officer had been accused of rape in December but the case did not move forward due to lack of evidence. The officer never went before a judge.
Editor's Note: Breitbart Texas traveled to the Mexican States of Tamaulipas, Coahuila and Nuevo León to recruit citizen journalists willing to risk their lives and expose the cartels silencing their communities.  The writers would face certain death at the hands of the various cartels that operate in those areas including the Gulf Cartel and Los Zetas if a pseudonym were not used. Breitbart Texas' Cartel Chronicles are published in both English and in their original Spanish. This article was written by Tony Aranda from Monterrey, Nuevo León.