The National Oceanic and Atmospheric Administration (NOAA) may be pushing a fraudulent narrative alleging to depict the state of Texas as a victim of climate change.
In research by the Real Climate Science blog, data purports to show how the state has actually been cooling since 1895, but how NOAA is tampering with measurements to give the illusion that Texas is has warmed over time.
"They keep cooling the past further and further to create the appearance of a warming trend," climate change critic Tony Heller writes on his blog, accompanied by a graphic showing the shift from what the NOAA measured to what the federal agency is now reporting.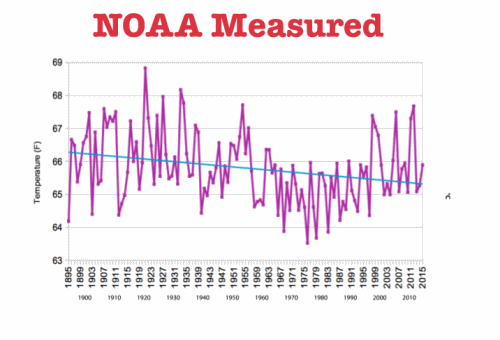 NOAA's published temperatures for Texas from 2011 and the present are quite different, as Real Climate Science points out.
The published 2011 recordings of Texas temperatures from 1901-2000 demonstrate a steady pattern of almost no abnormal increase in heat across the state.
However, the re-published, 2016 version of the same chart paints a vastly altered picture, where the state is shown to be getting progressively hotter at a rapid pace.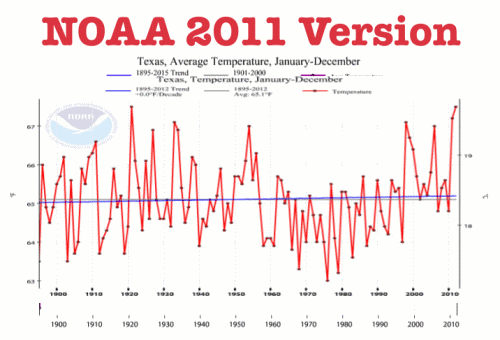 The NOAA has a history of pushing a climate change narrative; though some meteorologists say it is nothing more than weather patterns.
After the widespread floods across south Louisiana this year, NOAA released a report where the storm surge was blamed on global warming, as Breitbart Texas reported at the time.
"Human-caused, heat-trapping greenhouses played a 'measurable' role in the colossal rainfall totals, which were fueled by high humidity and a stalled storm system above the Gulf Coast," a scientist with the NOAA said in the report.
"The burning of fossil fuels such as oil, gas and coal releases greenhouse gases such as carbon dioxide into the Earth's atmosphere, which has warmed to levels that cannot be explained by natural variability, scientists say," a summary of the NOAA report stated. "Rainfall patterns and humidity levels are also affected by this process, as warmer air can hold additional amounts of water vapor."
Meanwhile, The New York Times, Washington Post, and USA Today all picked up the climate change message which claimed that rainfall in the state would occur 40 percent more often than in the past because of the region's rising temperatures.
John Binder is a contributor for Breitbart Texas. Follow him on Twitter at @JxhnBinder.