MIGUEL ALEMAN, Tamaulipas — A leaked video following a cartel firefight just south of the Texas border shows Mexican soldiers rushing to help a cartel gunman who had been firing at them just moments before.
"Seriously, thanks for saving me," the cartel gunman said in Spanish in the video.
The video was taken by Mexican military personnel this week and leaked to several outlets including Breitbart Texas. The fighting took place near Miguel Aleman, a Mexican city just south of Starr County on the Texas border. Members of the Gulf Cartel use this community as one of their main drug trafficking routes into Texas.
The soldiers were attacked by a convoy of cartel gunmen, according to information leaked by military personnel to Breitbart Texas. During the firefight that ensued, a white SUV rolled over. A cartel gunman was trapped inside the vehicle and could not get out. In the video one of the soldiers can be heard talking to the gunman in an effort to keep him from losing consciousness while other soldiers try to free him.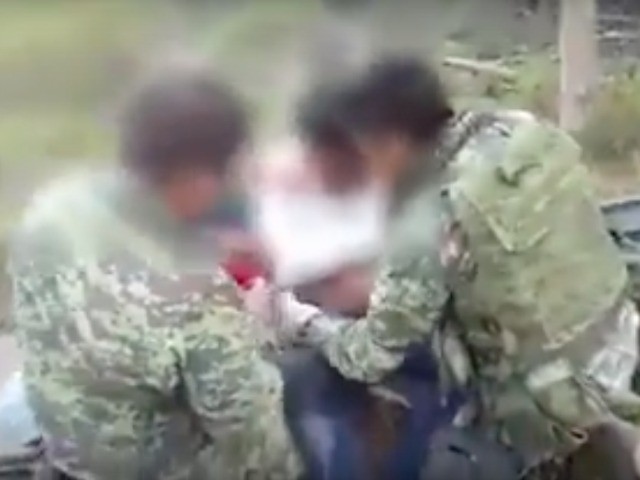 Once the soldiers were able to free the cartel gunman they began to dress his wounds. At that time the gunman can be heard thanking them. From the vehicle, authorities seized a .50 caliber Barrett rifle, three AK-47 rifles, a tactical vest, and other items.
As Breitbart Texas has reported in the past, the Mexican military has been criticized by various news outlets for apparent heavy-handed tactics in their fight against cartels.
Editor's Note: Breitbart Texas traveled to the Mexican States of Tamaulipas, Coahuila and Nuevo León to recruit citizen journalists willing to risk their lives and expose the cartels silencing their communities.  The writers would face certain death at the hands of the various cartels that operate in those areas including the Gulf Cartel and Los Zetas if a pseudonym were not used. Breitbart Texas' Cartel Chronicles are published in both English and in their original Spanish. This article was written by "A.C. Del Angel" from Reynosa, Tamaulipas.