The Mexican government has been shamed into offering a cash reward for information leading to the arrest of a former governor of the border state of Tamaulipas who is considered a fugitive by the U.S. Department of Justice.
On Tuesday evening, Mexico's Attorney Generals' Office (PGR) issued a notice announcing a cash reward for information leading to the capture of Tomas Yarrington Ruvalcaba. The announcement comes a week after Breitbart Texas and Mexico's Televisa News published separate stories revealing how the Tamaulipas government had been harboring Yarrington and providing him with police officers as armed security guards.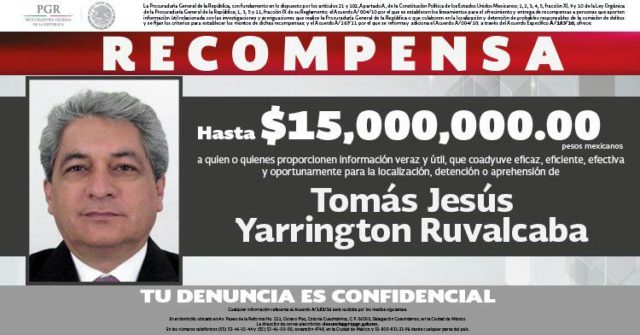 As part of the investigation, Breitbart Texas published exclusively a leaked document from the Tamaulipas government where the previous administration had ordered one state police officer outfitted with his government-issued Glock pistol and Colt carbine to join Yarrington's security detail.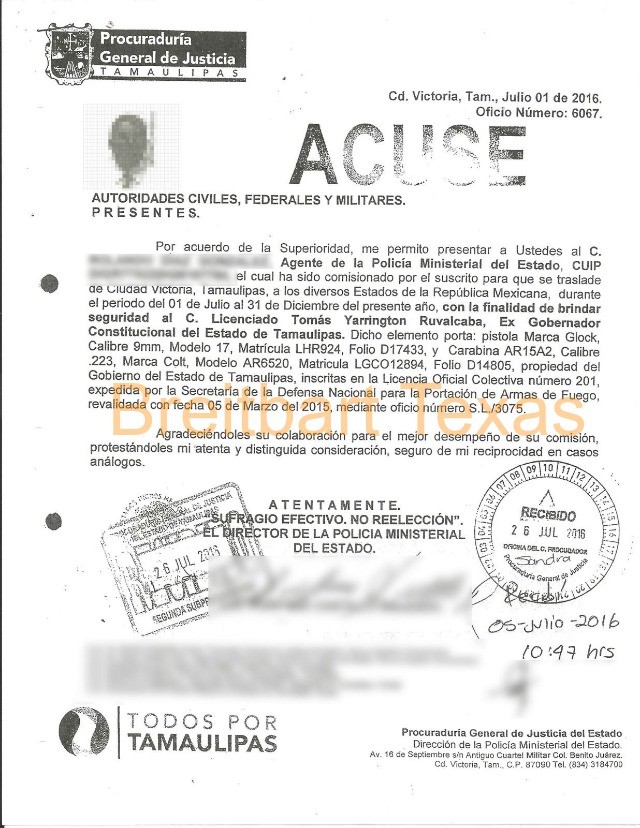 According to the newly released document from the PGR, Ruvalcaba is wanted in Mexico in connection with crimes against public health, the legal term in Mexico for drug trafficking. Breitbart Texas has reported that Yarrington is listed as a fugitive by the U.S. Department of Justice in connection with money laundering and drug trafficking charges.
Yarrington is accused of receiving bribes from the Gulf and Los Zetas Cartels to allow the criminal organizations to work in Tamaulipas during his term as governor. Some of the bribe money was placed into U.S. bank accounts or used to purchase property in Texas, which have since been seized. After his term as governor, Yarrington is accused of actively working for the Los Zetas and the Beltran Leyva Cartels to grant them access to the Port of Veracruz and protection in the state.
U.S authorities are still actively searching for Eugenio Hernandez Flores, another former governor who is wanted for money laundering charges also in connection with taking cartel bribes and kickbacks from government contractors. Hernandez, who is not wanted in Mexico, has been making public appearances throughout Tamaulipas. He also received government protection from the local government.
Yarrington, Hernandez, and former governor Egidio Torre Cantu come from the Revolutionary Institutional Party (PRI), a political faction with a long history of corruption and ties to organized crime. This year, voters elected Francisco Cabeza de Vaca, a governor from a rival party who has pledged to fight corruption and cartels. The discovery that the Tamaulipas government had been harboring and providing protection for the former governors was made after Cabeza de Vaca ordered an extensive audit of the state finances. Officials with the current Tamaulipas government confirmed to Breitbart Texas that as soon as the discovery was made, the security detail was canceled.
Ildefonso Ortiz is an award winning journalist with Breitbart Texas. He co-founded the Cartel Chronicles project and you can follow him on Twitter and on Facebook.
Tony Aranda contributed to this report.