Border Patrol agents assigned to the Laredo Sector intercepted a previously deported criminal alien with a conviction for a sexual offense against a child as he crossed the river from Mexico.
Agents working in Laredo, Texas, observed a man crossing the Rio Grande River from Nuevo Laredo, Mexico, on June 23. Agents apprehended the man on U.S. soil near the Slaughter's Park area of the border town, according to information obtained by Breitbart Texas from U.S. Customs and Border Protection (CBP) officials.
During a records check, the agents determined the man to be a previously deported Mexican national. His criminal history includes a felony conviction for a sexual offense against a child.
The agents also learned the Mexican national has two outstanding criminal warrants in Texas. He is wanted by the Dallas County Sheriff's Office and the City of Grand Prairie.
"Preventing this criminal from re-entering our country and committing another heinous crime is one of many examples that illustrate how the United States Border Patrol keeps our communities safe," Laredo Sector Assistant Chief Patrol Agent Gabriel Acosta said in the written statement obtained by Breitbart Texas.
This park is one of many areas in Laredo where no physical barrier exists between the citizens of this border community and the dangerous criminal activity of the Los Zetas cartel headquartered in Nuevo Laredo. Criminal aliens and drug smugglers are free to cross the river as they please.
In November 2015, Breitbart Texas reported on the dangers in another park in Laredo after a city councilman spoke out about the lack of law enforcement in the area.
Laredo attorney and city council member George Altgelt told Breitbart Texas in an interview that he sent letters to the Border Patrol sector chief in Laredo and the town's city manager asking for an increase in law enforcement for Father McNaboe Park. The request came after a high school student videotaped drug smugglers carrying what appeared to be large backpacks of marijuana across the riverside park while children were playing football.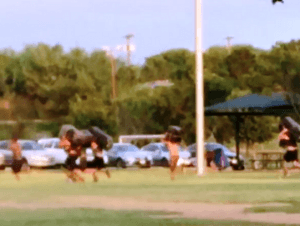 "We have a lot of middle school children who come here to practice soccer and football. In the middle of all of this," Altgelt told Breitbart Texas at that time. "Suddenly, gangs of cartel drug smugglers will come up from the river, run through the fields where the children are playing, and drop their load of marijuana with drivers who are waiting with getaway vehicles to haul off the drugs."
"The gang of drug mules then jump back in the river and swim back to Mexico," he said. "People are bewildered about how brazen they are to do this right in front of everybody."
The city manager later resigned after being connected to a border wall construction corruption investigation, Breitbart Texas reported in May.
On Tuesday, Breitbart Texas reported on the violent assaults of three women by another previously deported criminal alien from Mexico who felt free to cross the unsecured border after twice being removed by immigration officials. Police in the border town of Laredo, Texas, arrested 24-year-old Lorenzo Alonso Romero for allegedly running down three women with his car. He told police he did so because he was "upset with women in general."
Bob Price serves as associate editor and senior political news contributor for Breitbart Texas. He is a founding member of the Breitbart Texas team. Follow him on Twitter @BobPriceBBTX and Facebook.