Cartel gunmen killed a TV cameraman in Cancun. The murder marks the 13th journalist in 2018 and the third of its kind in Quintana Roo over the past two months.
Cancun's Canal 10 confirmed the murder of their cameraman, Javier Rodriguez Valladares, in a short statement on social media accounts.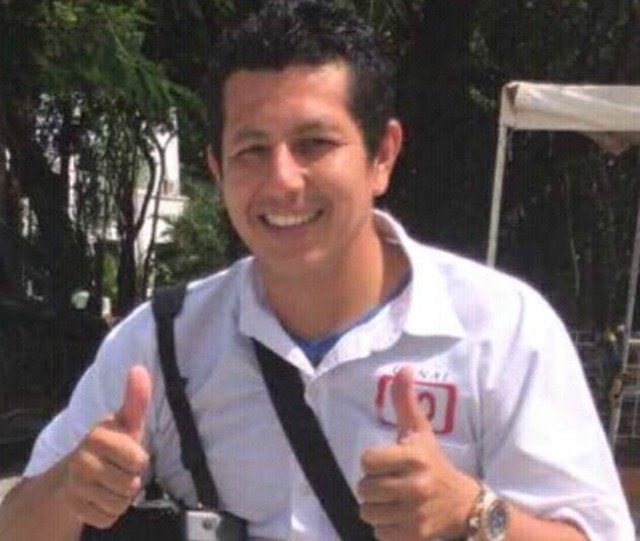 Rodriguez was killed as he talked with an artisan along one of the main avenues in the city, InfoBae reported. A motive for the murder or additional details have yet to be released.
Rodriguez's murder comes one month after gunmen shot and killed online journalist Ruben Pat Cahuich outside a bar in downtown Playa Del Carmen, Quintana Roo, Breitbart Texas reported. Cahuich was a veteran reporter who started La Playa News. That death came 26 days after a gunman killed Jose Guadalupe Chan Dzib, a former police officer-turned-crime reporter for La Playa News.
Mexican Journalists Murdered in 2018

August 8 — Rodolfo Garcia Gonzalez was a freelance photographer who often worked with Semanario7. He was shot and killed in Guanajuato. 
May 29 — Hector Gonzales Antonio was a national correspondent for Excelsior and worked in various local outlets. He was kidnapped, tortured, and dumped in a vacant lot.
May 24 — Alicia Diaz Gonzalez, a financial writer for one of Mexico's largest publications, was found beaten to death in her home in Monterrey, Nuevo Leon.
May 14 — Juan Carlos Huerta Martínez, a reporter and broadcast host, was killed by a team of gunmen outside his home in Tabasco.
March 21 — Leobardo Vázquez Atzin ran the online news site Enlace Informativo Regional in Veracruz who reported on a local mayor tied to an illicit property grab and was killed by a team of gunmen.
February 14 — Pedro Damián Gómez Bonifaz, director-owner of the Panorama Político, was found dead with obvious signs of trauma caused by a sharp-edged weapon at his home in Tijuana, Baja California.
February 5 — Leslie Ann Pamela Montenegro del Real, a popular YouTube satirist and blogger who used the pseudonym "La Nana Pelucas," was gunned down while eating dinner at a restaurant in Acapulco.
January 21 — Agustín Silva Vásquez, a freelance police reporter from El Sol del Istmo, disappeared in Matías Romero, Oaxaca, according to his family members who reported his kidnapping. Silva Vásquez is presumed dead.
January 13 — Carlos Dominguez Rodriguez was ambushed and killed by a team of assassins in Nuevo Laredo, Tamaulipas, who stabbed him to death in front of his family. Authorities arrested a relative of the former mayor of Nuevo Laredo and several other individuals allegedly linked to the case.
January 6 — José Gerardo Martínez Arriaga, an editor with El Universal, was purchasing toys for his family in Mexico City when he was robbed and killed at gunpoint.
Ildefonso Ortiz is an award-winning journalist with Breitbart Texas. He co-founded the Cartel Chronicles project with Brandon Darby and Stephen K. Bannon.  You can follow him on Twitter and on Facebook. He can be contacted at Iortiz@breitbart.com.
Brandon Darby is managing director and editor-in-chief of Breitbart Texas. He co-founded the Cartel Chronicles project with Ildefonso Ortiz and Stephen K. Bannon. Follow him on Twitter and Facebook. He can be contacted at bdarby@breitbart.com.