New-Zealand English teacher-turned-terrorist Mark Taylor, who shot into the public eye last year after publicly burning his Kiwi passport and then asking for a new one has blundered again by apparently forgetting to turn off geo-location services on his smartphone while tweeting from Islamic State safe houses in Syria.
The terrorist, who changed his name to the more appropriate-sounding 'Abu Abdul-Rahman' uploaded a series of tweets during his travels across the Islamic State, updating his twitter following on his progress with ISIS. The Daily Mail reports a Canadian jihad-monitoring group recorded 45 of these tweets containing geo-location data and passed the information on to intelligence agencies.
Describing the blunder, Canadian monitoring group IBRABO said: "It's a rookie social media mistake and one that intelligence and law enforcement agencies pray for when tracking criminals. This week one of New Zealand's well known jihadists, Mark Taylor removed 45 tweets after he discovered that he was broadcasting his twitter location to every intelligence agency… Unfortunately for him we captured all of them prior to him removing the tweets".
"Taylor isn't the first jihadist to broadcast his whereabouts via social media and in fact looking at the battlefield in Syria we see fighters from Canada, France, and other western countries making the same mistake".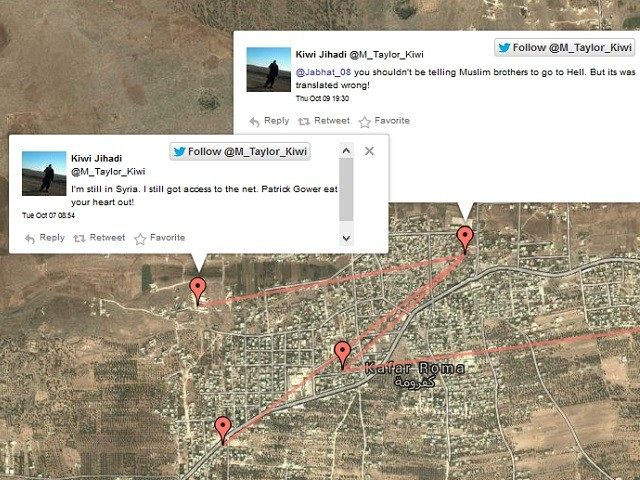 IBRABO goes on to explain that the locations of Taylor's tweets often correspond with known movements of the ISIS army, including a surge of fighters in the Kafar Roma in October.
Taylor has used his twitter account on multiple occasions to make pronouncements to his fans and followers, many of which have appeared confused. Many tweets have been about his future in the Islamic State, with one claiming he wanted to get a replacement New Zealand passport after he burned his original so he could return home. Another tweet contradicted that apparent desire, stating he would stay in the Islamic State until he received a martyrdom, a fate that may be hastened by his failure to turn the GPS off on his mobile phone.
As IBRABO remarks: "Taylor's numerous failures demonstrate the opportunities that can be gained through monitoring and tracking extremists via social media and telecommunications. Given his need for attention I'm sure this will not be the last we hear from Kiwi Jihadi. With luck he will fail to read the manual on his next shiny new phone".