The University of London, Goldsmiths is holding a racially and gender segregated event today, all in the sacred name of diversity. It's not the first time such a self contradiction in right-on undergraduate thinking has taken hold at this public research institution.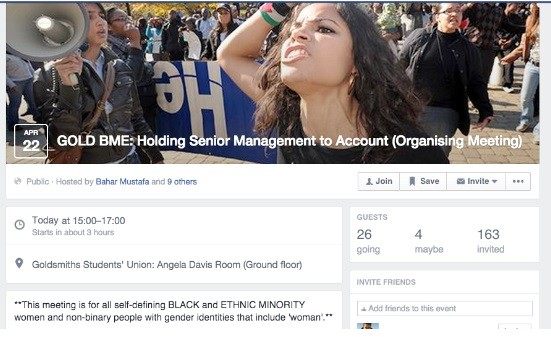 "This meeting is for all self-defining BLACK and ETHNIC MINORITY women and non-binary people with gender identities that include 'woman,'" reads the event header on Facebook.
Organizer and Welfare and Diversity officer, Bahar Mustafa, commented on the event: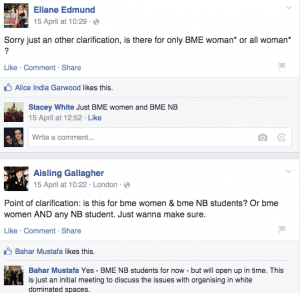 "Please invite loads of BME (black and minority ethnic) Women and non-binary (transsexual) people!! Also if you've been invited and you're a man and/ or white PLEASE DON'T COME just cos i invited a bunch of people and hope you will be responsible enough to respect this is a BME Women and non-binary event only… Don't worry lads we will give you and allies things to do."
Mustafa describes herself as a; "Queer, anti-racist feminist killjoy. Gender Studies@Goldsmiths who wants SAFER SPACES for marginalised folk."
When asked if white and male members of the university could attend, she repeatedly confirmed it was segregated.
The event will be hosted by education officer, Sarah White, "to talk about DIVERSIFYING OUR CURRICULUM [because we are] now in the process of presenting a paper to the college showing the need for students, particularly BME / BME women, to be represented in the texts we study."
Goldsmiths is an arts universities specializing in design, humanities and social sciences, which has long attracted some of the most trendy, progressive minds in the country.
Back in February, Goldsmiths held a film screening for "BME people only," specified as those of, "African, Caribbean, Arab, Asian and South American ethnic origin."
This is the same university that banned a "feminist" comedy show by Kate Smurthwaite, because she is "whorphobic," and refused to condem the holocaust because that would be "Eurocentric and Colonialist."