A buried item in the Office for National Statistics data dump today reveals that UK-born women are the least likely to give birth while married.
In 2014, the ONS reveals, "a much higher proportion of births to non UK-born women took place within marriage/civil partnership (72%) than for UK-born mothers (45%)"
"This is a similar pattern to previous years," the independent UK data office notes.
"There is considerable variation in the proportion of births within marriage/civil partnership depending on the country of birth of the mother."
"For example, 97% of births to mothers born in India took place within marriage/civil partnership in 2014, in comparison to 37% of births to mothers born in the Caribbean. These variations reflect different societal expectations between cultures, for example, the acceptability of cohabitation."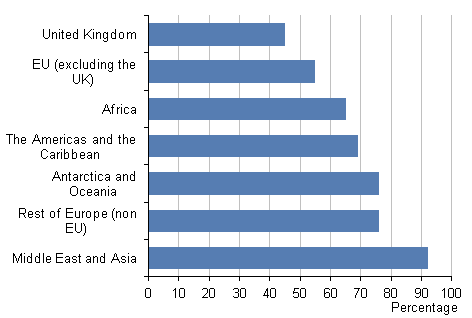 In 2013, the Guardian predicted that by 2016 most babies in the United Kingdom would be born out of wedlock. The trend appears to have increased, and that is true of 2015 now, with 55 per cent of births taking place outside marriage.
They noted, two years ago:
The decline of the traditional married family is certainly a big issue for some. After the figures were announced children's minister Tim Loughton called for the coalition government's proposed tax-allowance for the married to be revived.

Over 50% of babies being born out of wedlock would also have shocked those sixty years earlier in 1946 when just 6.6% were born to an unmarried mother.
The attack on traditional marriage by the liberal left of British politics is believed to have contributed to the decline.
The information was published alongside the latest government immigration statistics, which show that net migration into the United Kingdom is at an all time high, leading critics to describe the situation as "Borderless Britain".
The Office for National Statistics also revealed that 1 in 8 residents of the UK were born outside of the country, a sharp rise from the 1 in 11 statistic from 2004.