Red Cross workers are misappropriating donations to buy cigarettes for migrants in an Austrian town, a witness has claimed.
The man, who claims to have seen a person in Red Cross uniform making the purchase, posted a photo of the receipt to Facebook, saying: "Yesterday in Tulln at the Shell gas station, the Red Cross purchased cigarettes for the refugees. Is that what they do with donations?"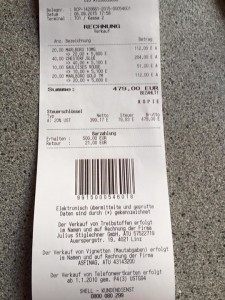 The purchase included 20 packs of Marlboro, 40 Chesterfield Blue, 10 Gauloises Rouge and 20 Marlboro Gold.
News site Meinbezirk.at says that when questioned about the bulk purchase, a man in Red Cross uniform responded: "The commander has sent me, otherwise the refugees start scrounging and it gets annoying."
The local Red Cross apparently claimed: "We definitely have not misappropriated any donations and bought cigarettes. We have distributed cigarettes locally, which were donated by individuals, however,  it is beyond our knowledge what was donated, by whom, and how much. What we also can not rule out that one of our staff has privately purchased cigarettes."
The anti-mass immigration Freedom Party criticised the purchase, with local party chief Andreas Bors exclaiming: "This is a joke!" according to tabloid Heute.
Around 450 migrants are being housed by the Red Cross at an arena in the town of Tulln, just outside Vienna, but spokeswoman Sonja Kellner denied using donations to purchase over $500 of cigarettes.
"I am stunned by these hate postings," she said. "Of course no donations were used. Every employee can do as they please with their own money."
Austria is currently dealing with a huge influx of migrants who have travelled across the border from Hungary. AP reports that Chancellor Werner Faymann has now pledge to deploy the army to guard the border as police struggle to cope with the large numbers.
The town of Nickelsdorf, on the other side of Vienna, has been particularly hard hit, with around 14,000 people arriving there yesterday. Local police expect another 2,500 in the early hours of this morning.
Between 5,000 and 10,000 people are also expected to enter the mall town of Heiligenkreuz today, overwhelming the resident population of just 1,500.
Follow Nick Hallett on Twitter:

Follow @NickJHallett

or e-mail to: nhallett@breitbart.com