A Labour MP has angrily dismissed the idea of having a parliamentary debate on issues affecting men, such as high suicide rates, as "frankly laughable" and suggested the MP who proposed it did so because he is anti-women. She then claimed to be the "victim" of a "violent hate campaign."
During a parliamentary committee meeting on Thursday, Conservative MP Philip Davis suggested: "I thought that in the spirit of gender equality, it would only be right to have a debate to commemorate International Men's Day," which is on the 19th of November.
Explaining that; "Not only do we already have International Women's Day, we also have women and equality questions every month in the chamber, which we don't have for men, so the opportunity for men to raise issues that are important to them is very limited."
Yes I am up here in my Ivory tower made of tampons wearing dungarees and dangly earrings reading Sylvia Plath https://t.co/VJ8CeSqDdd

— Jess Phillips (@jessphillips) October 31, 2015
At this point, Jess Phillips, the Labour MP for Birmingham Yardley, interrupted proceedings by loudly busting into laughter, covering her face with her hands.
"I'm not entirely sure why it's so humorous," replied Mr Davis as he paused for the interruption to pass, before going on to list the specific issues he proposed discussing during the debate:
"Such as men's shorter life expectancy, wider men's health issues, many of which go unreported because of embarrassment," he said, as well as, "the high suicide rate amongst men, the propensity for violence against men… the underachievement of boys in education compared to girls," and "the issues around father-child relationships."
Apparently we don't die as much, hands up who is immortal #highlander https://t.co/Ebj6s7Hyox

— Jess Phillips (@jessphillips) October 31, 2015
Mrs Philips immediately derided the suggestion: "You'll have to excuse me for laughing, but the idea that men don't have the opportunity to ask questions in this place is a frankly laughable thing," she scoffed.
"As the only woman on this committee, it seems like every day to me is International Men's Day," she added. "When I've got parity, when women in these buildings have parity, you can have your debate. And that will take an awfully long time."
When Davis questioned her, she said: "In the fight for equality, I'm not sure the men on this list [of people who want to see the debate take place] necessarily have that much to fight for."
Did anyone threaten to rape him when he said disabled people should get less than minimum wage https://t.co/tXC5oIzBlv

— Jess Phillips (@jessphillips) October 30, 2015
Mrs Philips later appeared on both Channel 4 and Sky News to talk about the "online abuse" she had experienced following her dismissal of men's issues, and said she had passed on the worst of it to West Midlands Police, including multiple rape threats.
The worst tweet she retweeted read: "Fucking hell. What a dumb sl*t. You'd think an MP might know that already. Lemme guess, leisure and tourism degree?" Another said: "Comical watching @jessphillips trying to #CharlotteProudman her way out of her deplorable acts."
Another Twitter user asked her to "retweet the supposed threats you've received", adding: "You wouldn't be the first false accuser." Phillips responded by sharing a screenshot of alleged abuse made on the website Reddit, with the caption: "Here you go, you complete prick!"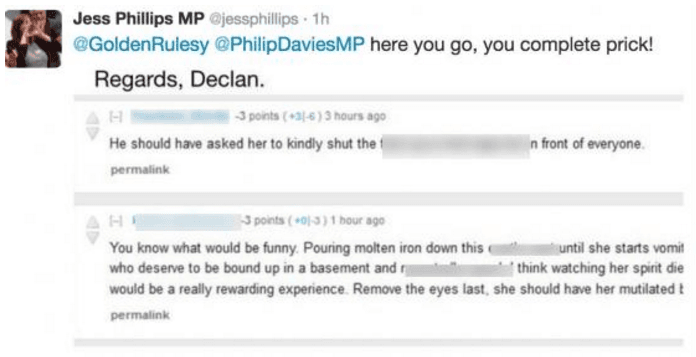 "They would never say this stuff to my face, maybe because I am actually quite tough," Mrs Phillips said on Sky News. Adding: "I'm not sitting in my home caring, thinking that anyone who talks about raping me is actually going to do it. I'm not scared."
She also claimed: "I don't think anyones guna think that Philip Davis was the bastion of equality, he came to basically have a go at the fact that we have an international women's day."