The Westminster establishment's 'Vote Leave' campaign has gone into meltdown tonight – attacking its own supporters following an attack on them by former cabinet minister Sir Eric Pickles, Breitbart London can exclusively reveal.
The ongoing battle for the Electoral Commission's official designation for the 'Out' campaign took a turn today when former cabinet minister Sir Eric attacked the Vote Leave campaign's tactics of registering fake companies and gatecrashing the Prime Minister's speaking engagements.
Lashing out at Sir Eric, Vote Leave has inadvertantly attacked one of its own supporters – Councillor Sophie Shrubsole – by tweeting a picture of her and fellow activists from a 2010 anti-Gordon Brown protest.
Even The Spectator, which has been firmly on the side of 'Vote Leave' rather than the anti-establishment 'Leave.EU' campaign, has noted, "there is a chance that [Leave.EU] might have the last laugh".
In an attempt to underscore Sir Eric's hypocrisy, Vote Leave's press operation tweeted: "Sir @EricPickles – surely you will condemn these protests against the PM as well?"
Sir @EricPickles – surely you will condemn these protests against the PM as well? https://t.co/KCIw8hOPoU pic.twitter.com/w4Ol7R3oXM

— Vote Leave Media (@Vote_LeaveMedia) November 11, 2015
But the protest included an image of Conservative Councillor Shrubsole, a firm 'out' campaigner and Holocaust Trust Ambassador whose company conducts acclaimed battlefield tours.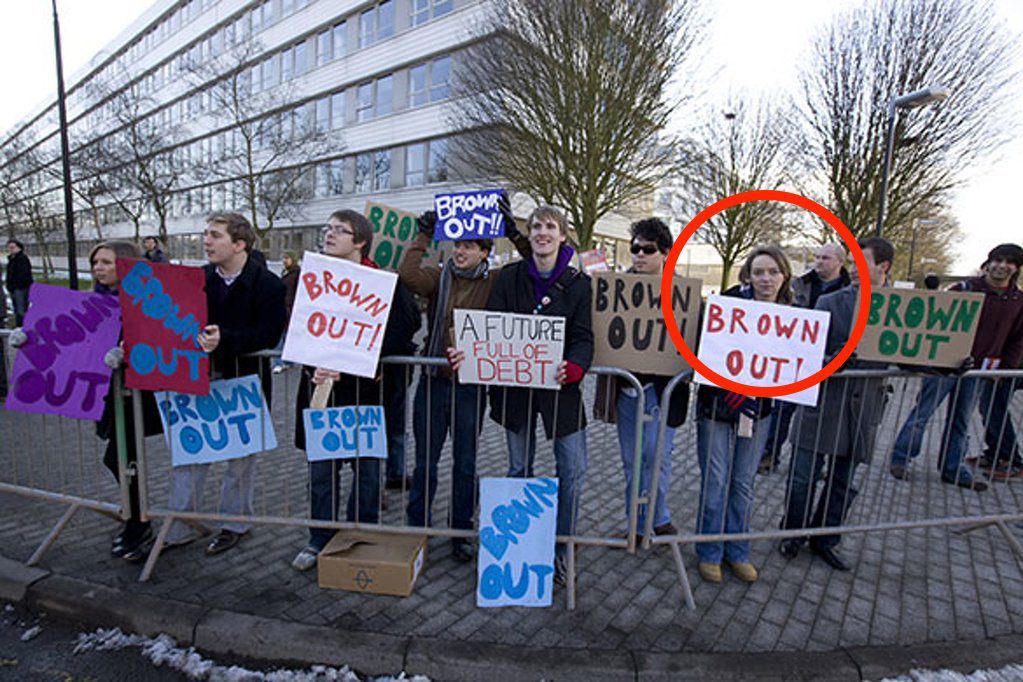 Ms. Shrubsole – who had the #VoteLeave hashtag in her Twitter biography – was disappointed to hear the news of Vote Leave's inadvertent attack on her and swiftly removed the #VoteLeave hashtag from her profile and replacing it with the phrase "Better off out".
The war between the two camps had calmed in recent weeks, as Matthew Elliott and Dominic Cummings (Vote Leave) focused its attention on agitating for a "dual referendum" – with the first to determine the will of the British people, and the second after another renegotiation with Europe.
But affirmed out campaigners have rejected such an an idea and continue to flock en masse to former UKIP donor Arron Banks's Leave.EU campaign which now has around 300,000 members, including cross party support in the form of 1,300 councillors.