A senior Labour Party activist who levelled a tirade of abuse at a disabled Ukip member has been expelled from the Party – more than a year after complaints were first made about him, and thanks only to anti-Semitic tweets he also made.
Last night the Labour Press office confirmed that Scott Nelson, a Thurrock Labour activist had been expelled from the party after a number of people raised concerns on Twitter regarding his blatant anti-Semitism.
Hi @UKLabour, can you please confirm if overt anti-Semitism is acceptable in your party under the "new politics" pic.twitter.com/SVW7HvoHlu

— Jimmy Rushmore (@JimmyRushmore) December 18, 2015
.@robfordmancs @JimmyRushmore @UKLabour the tweets are unacceptable and he has already been removed from the Party — Labour Press Team (@labourpress) December 18, 2015
His expulsion was confirmed by Polly Billington, Labour's failed Parliamentary Candidate in Thurrock for the last election, after Nelson initially denied it:
@LiberalIsland @labourpress are right. He's not a member of @UKLabour

— Polly Billington (@ThurrockPolly) December 18, 2015
Examples of his anti-Semitism include posting an image of the Israeli flag part ripped away to reveal the Nazi swastika, and declaring the supermarket Tesco, and department store Marks and Spencer's "have Jewish blood" (both were founded by Jews). He has repeatedly defended the latter tweet, insisting that he was referring to "human rights abuses" by the companies, and that the Jewish heritage of the founders is relevant in that context.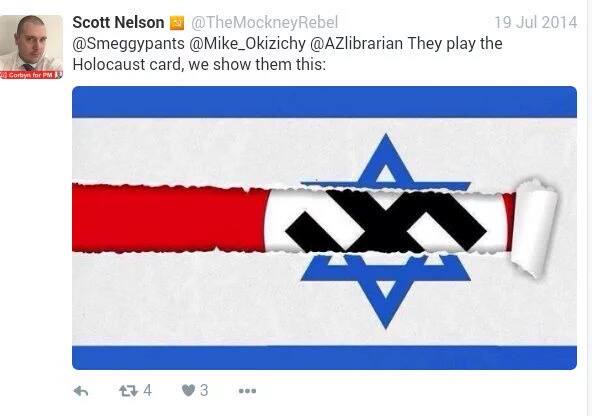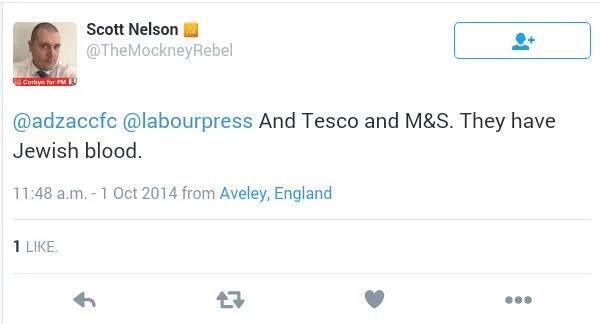 Pointing out the Jewish ancestors of Tesco & M&S and the human rights abuses of workers abroad doesn't make me an antisemite @AriOfMancunia — Scott Nelson (@TheMockneyRebel) December 18, 2015
Both of the above images were tweeted well over a year ago, however, raising questions as to why nothing was done about Nelson before now.
And, as vile as his anti-Semitism is, it appears Labour ignored repeated requests by Ukip member Thomas Evans to take Nelson in hand over a series of threats and anti-disability slurs, also dating back over a year.
Nelson describes himself on Twitter as a "Corbynite, LGBT, Social Justice, Equality and Disabled Rights Campaigner". Yet he has repeatedly made jokes about Evan's status as a disabled person (he suffers from a muscular condition which affects his mobility, and is registered as disabled)…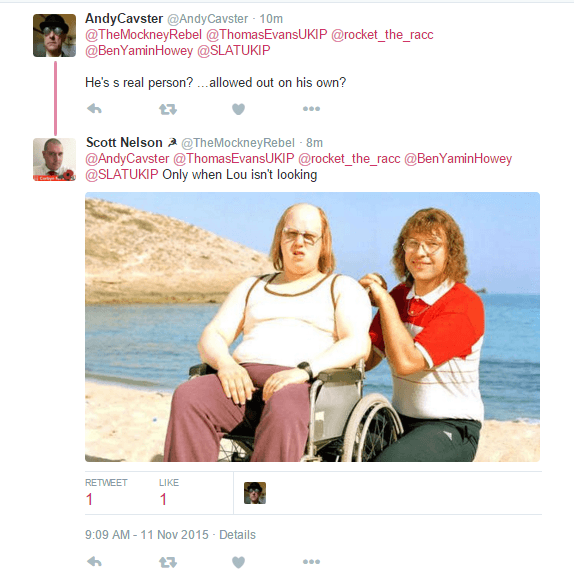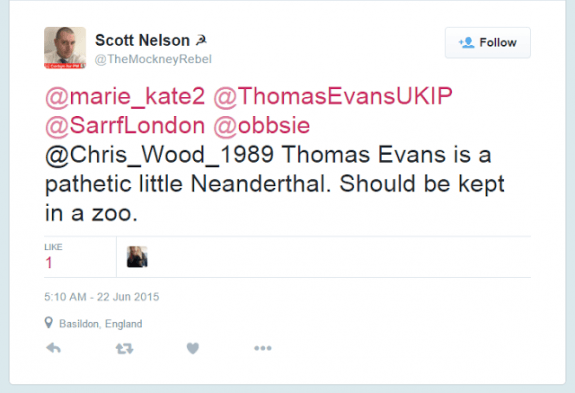 … as well as using derogatory terms for disabilities as an insult ('spacko' is a derogatory term for 'spastic', an old-fashioned name for people with cerebral palsy):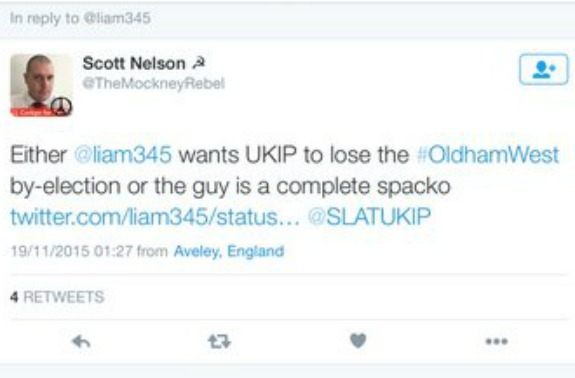 Evans has documented the abuse in a blog post, and says that he reported Nelson to Polly Billington, the Thurrock Labour party branch, Nelson's regional branch, Labour Party HQ and the Labour Party legal department, but nothing was done.
"When assured this individual would be investigated, and action be taken against him for his behaviour, I made the mistake (foolishly) of taking the Labour Party (yes I know!) at their word," Evans said.
"However they resorted to doing nothing, and actually informing him of my complaint made against him, as was confirmed by Scott Nelson himself. The torrent of abuse and inappropriate communications and mentions of me have continued."
Nelson has also been openly racist towards other Ukip members. In one tweet, he posts a picture of Ukip MEP Tim Aker next to a picture of Turkish Delight. Aker has Turkish heritage.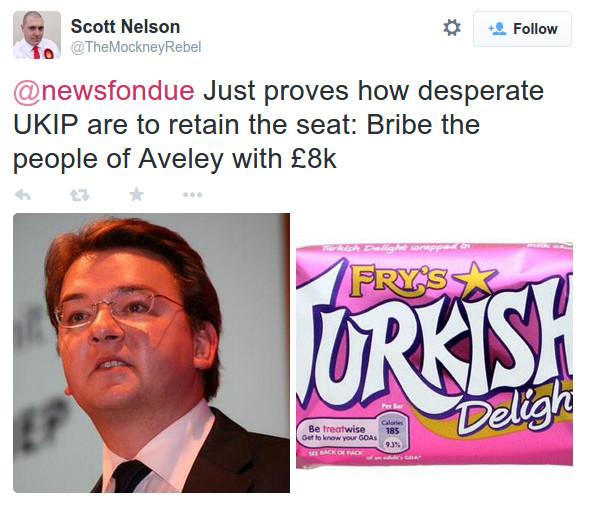 And not content with insulting Evans, in recent weeks he's also threatened violence towards him (the Dartford Crossing is a 450 ft high bridge over the River Thames):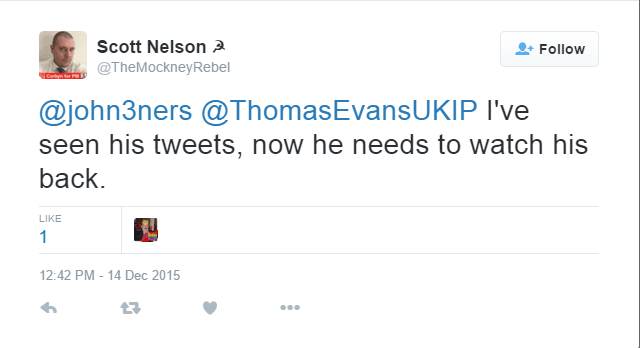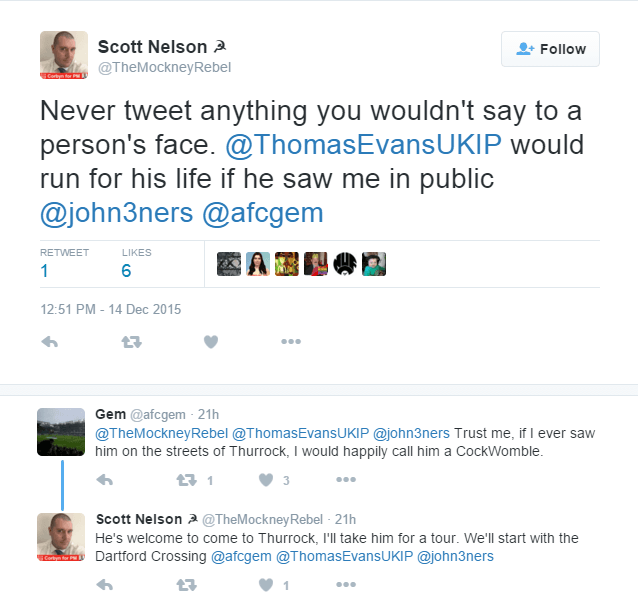 Despite his abusive, racist and anti-Semitic posts, fellow Labour members and socialist friends have rallied around him, offering their full support:
@TheMockneyRebel I've never seen anything remotely racist from you Scott-wtf has been happening?

— Trish Wilkinson (@SlashWilko) December 19, 2015
I don't think loyalty means anything to the Labour Party @ian_ianrbruce1 @lisbourne6 @ljhenshall @labourpress — Scott Nelson (@TheMockneyRebel) December 19, 2015
One thing I never do on Twitter is abuse, it weakens your argument. Professionalism comes first @creepytennis

— Scott Nelson (@TheMockneyRebel) December 19, 2015
Speaking to Breitbart London, Thomas Evans said: "Absolutely clear evidence of his anti-Semitism has been posted and yet numerous Labour party members and the Labour Thurrock pro-Corbyn Momentum Group have leaped to his defence.
"As far as I'm concerned it says a lot about the current Labour Party and what they are willing to ignore.
"Jeremy Corbyn's claims about a "kinder politics" and "cutting down on personal insults" just doesn't seem to sit true. In many parts of Labour activist circles it seems to be more aggressive than ever." 
Follow Donna Rachel Edmunds on Twitter:

Follow @Donna_R_E

or e-mail to: dedmunds@breitbart.com