A politically incorrect Twitter user has been "harassed" and by an official London police account which he alleges stalked his social media presence and/or scoured police databases to identify his family members by name and threaten them on the social media site.
The police account claimed to "focus on hate crime and responding to trollers" and publicly labelled the user a "racist" and "homophobe". The user said he felt intimidated and is demanding an apology, insisting he has been "slurred" by the police, who say they take "concerns such as this seriously". 
The incident began when Paul Perrin, a former IT consultant and founder of RadioFreeUK.org, tweeted out a Daily Mail article focusing on the sexuality of two athletes.
"Is the whole of teamgb gay/or ethnic?" asked Mr. Perrin, who told Breitbart London that the tweet was merely, "a comment on 'gay' being included in the media at every opportunity".
UK police consider anything that is "perceived" as "offensive" as a possible hate crime, and London's Metropolitan Police (Met) announced plans just last week to spend millions of pounds on a new "online hate crime hub" to target "trolls" who offend "communities" on the internet.

However, instead of attempting to charge Mr. Perrin with any perceivable so-called 'hate crime', one officer decided to take matters into his own hands and began trolling, insulting and even threatening a member of the public.
The Twitter account for the "MET LGBT Network" – which the force confirmed with Breitbart London "is a recognised staff association account for Met employees" – picked up on Mr. Perrin's tweet, quoting it and accusing him, vaguely, of an "undercurrent of homophobia, racism and just general nastiness".
The network was launched in June of this year at London's gay pride celebrations and is described in a statement as the "Met's newest Staff Support Association, representing… (LGBT) officers and staff."
Their Twitter account encourages people to report so-call "hate crimes" if they are offended by anything. It runs provocative online polls and indulges in other online activist work.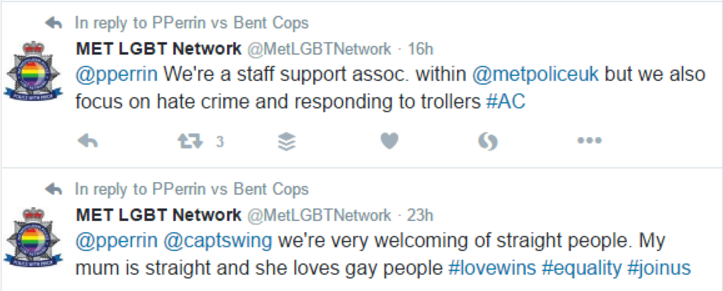 Startled, Mr. Perrin responded: "Are you presenting yourself as an official officer".
"We're a staff support [association] within [the Met] but we also focus on hate crime and responding to trollers", replied the police account.
"We're very welcoming of straight people. My mum is straight and she loves gay people", they added.
Mr. Perrin responded angrily before things took a dark turn. "Delighted you've taken an interest in us. We'll take an interest in too. Open source is a goldmine. Give my love to [a named member of his family]", wrote the officer.

"Someone naming a member of my family is an early warning sign that it is a genuine nutter tweeting me", Mr. Perrin told Breitbart London in a statement.
"As this person is a police officer I am sure he has plenty of additional tools to dig for information on me – this is surely what he was implying in his tweet", he said
Mr. Perrin then filed a complaint with the Met's Police Professional Standards service. When he didn't receive a response and discovered the trolling police account had blocked him, he filed a criminal complaint with his local force about the "malicious communication".
A spokesman for the Met's Press office told Breitbart London: "We have received a complaint regarding activity on one of our staff association's Twitter accounts and are investigating this matter.
"We expect the highest standards from our officers when interacting with the public and we take concerns such as this seriously."
Mr. Perrin has now received a response but is not satisfied.
"The police naming me, an identifiable individual using a perfectly legal tweet and branding me 'racist, homophobic and nasty', is out of order and disgusted me", he said.
Adding: "It is a slur – and if [the police] are significantly slurring me it needs to be fixed (an anonymous troll I can just block and ignore)".
He also insisted that he didn't "believe I have ever said anything against homosexuality… what adults do in private is their business". However he also said: "I reject all 'minority' rights. There are only 'human rights' applicable to all…"

Following the Brexit vote, London Mayor Sadiq Khan told AP he had, "asked our police to be extra vigilant for any rise in cases of hate crime", adding: "We will have a zero-tolerance approach to any attempt to hurt and divide our communities."
The new Met "hate crime hub" he launched last week will be staffed by "a dedicated police team" backed by "volunteers" who will monitor social media full time for so-called "hate crimes" and "trolls" to criminalise.
The officers and civilians will be tasked with, "filtering and identification of online hate crimes" and "identifying the location of the crime and allocating to the appropriate force…"
"The purpose of this programme is to strengthen the police and community response to this growing crime type" is was announced, and will be "delivered in partnership with social media providers".
This June, it was reported that the number of people arrested in London for so-called "online crimes of speech", mainly made on social media, had already shot up by nearly 40 per cent in the past five years.