A Brussels focused think tank has claimed the European Union (EU) will face a massive financial "shock" after Brexit, with an £8.6 billion hole in its budget.
The Paris-based Jacques Delors Institute concluded that "without the UK, the EU budget would face a permanent funding gap", in its recent report.
"We estimate that the 'Brexit gap' in the budget would amount to approximately €10 billion per year", the organisation, set up by former European Commission president Jacques Delors, adds.
There will be "no easy way to fill the Brexit gap", the document explains, which could lead to conflict over how to pick up the bill, which "would likely deepen the existing cleavage between 'net contributors' and 'net recipients'".
Britain's sizable net contribution has increased in recent years as the UK economy has grown faster than other European countries.
Other countries, whose net contribution is close to balance, such as France, Ireland, Italy, and Spain "could either support spending cuts or a rise in contributions" in the face of the "Brexit gap" the authors say.
However, "increased contributions would likely be resisted by net contributors, who would have to shoulder most of the burden" and "countries that currently benefit from a 'rebate on the rebate' would be among the most affected", they say.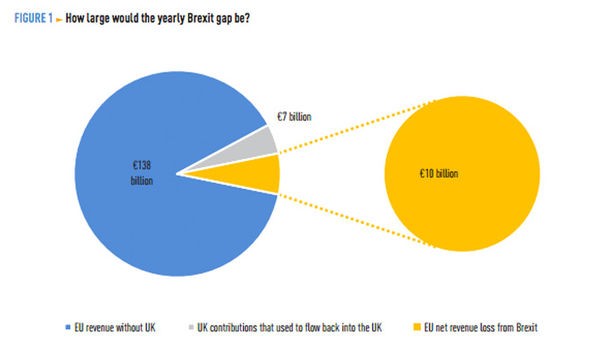 The assertions of the report seem to confirm the pro-Brexit argument that the UK will save a lot of money by leaving the EU.
"The Leave campaign's claim that Brexit would free up 350 million British pounds per week for the British National Health Service was hugely successful. But is the opposite also true?" the report asks.
And they found that "there is no doubt that Brexit will affect the EU budget. In fact, the outcome of the Brexit referendum has already had an impact on the 2016 annual budget."
However, "the policy paper concludes that Brexit could have a quite significant, although not devastating, impact on the EU budget…"
The think tank calculated that the EU would save around £6 billion that it spends every year on projects in the UK. But, it would collect £2.6 billion less via its Traditional Own Resources (TOR) and lose £12 billion in direct contributions from the UK government.