A man was shot dead Saturday morning at Paris's Orly airport after he rushed a group of soldiers and seized one of their firearms.
Update 1300 GMT — Soldier was taken hostage, Family of would-be killer arrested
An eyewitness to today's attack has told French media that he saw the attacker seize one of the soldiers on patrol at Paris Orly airport by the neck, holding her hostage while threatening the other two with the rifle he had taken. That the attacker was killed by gunfire from the soldiers and that no members of the security forces were injured in this confrontation suggests how the situation then panned out.
The father and brother of the dead suspect have now been arrested, a move which Le Figaro reports is normal procedure in such cases. The dead man was wanted by police for previous acts of armed robbery and his rap sheet had nine entries for crimes including drug trafficking and armed robbery.
Update 1120 GMT — Security camera image emerges
French news agency AFP has acquired an image from security cameras inside Orly airport, apparently showing the body of the 39-year-old terrorist who is believed to have committed two attacks this morning — one against police in northern Paris, and a second at Orly airport, where he was shot dead.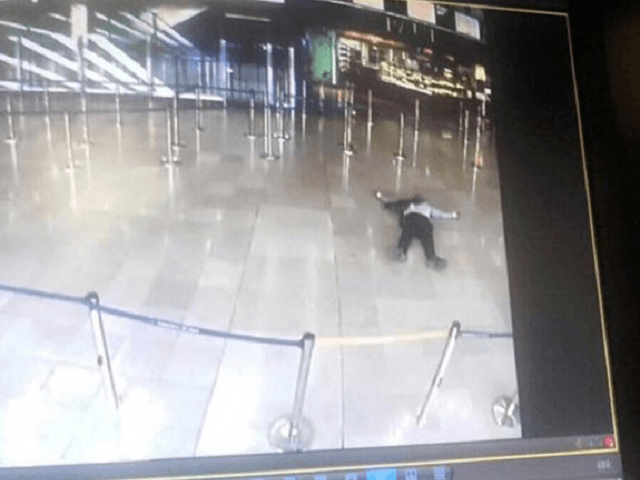 Update 1045 GMT — Bomb squad clear airport, counter-terror police take over investigation
The first details about this morning's assailant, whose attack is now officially being treated as a terror case following the assumption of responsibility for the case by counter-terror investigators, have now been released. Born February 1978, the 39-year-old male is known to police for drug offences and is suspected of having "self-radicalised" during a spell in prison.
The French national, who it is believed shot a police officer in the head with a shotgun before wrestling a military rifle from a soldier at Orly airport, had previously been under surveillance but that watch was curtailed. He has also at times been homeless.
In other developments, the French bomb squad have now completed their search of the airport and have declared it free from devices. It was previously believed the attacker may have been wearing an explosive vest, but this was not the case.
Update 1000 GMT — attack linked to earlier shooting
French police have now established a link between this morning's attack at Paris Orly and an earlier shooting in Stains, Seine-Saint-Denis, a region well known as being the present epicentre of anti-government and anti-police sentiment among Paris's migrant communities.
According to a report by BFMTV at 0655 CET police in Stains stopped a car for a roadside check, asking the driver for identification. After taking out his identification papers the driver also drew a weapon, reported by Le Soir to be a shotgun, and opened fire on officers.
One officer was hit in the head by the shots fired. The attacker then drove away, later abandoning his vehicle in Val de Marne, the Paris department which borders Orly airport. Stealing a car, the attacker is then reported to have driven to Orly airport, where it is believed the same individual grabbed a FAMAS military rifle from a soldier.
Although these reports have come to French media from a "police source", official police spokesman have not yet confirmed an "absolute link" between the two events.
The story so far:
Paris Orly airport, located approximately seven miles to the south of the city centre was evacuated around 0830 CET Saturday after a man was shot dead by soldiers of operation Sentinel, the French counter-terrorism military deployment to the mainland.
French daily newspaper Le Figaro reports the individual rushed a group of three soldiers and was successful in wrestling one firearm, which he then took into an airport shop. The assailant was subsequently shot dead by "security forces".
No passengers or members of the security servies are understood to have been injured in the incident.
#Orly – Fermeture totale de l'aeroport. Les voyageurs terminent le voyage à pied sur l'autoroute. pic.twitter.com/aZTAWu91Qq

— Remy Buisine (@RemyBuisine) March 18, 2017
Approximately 3,000 passengers were evacuated from the airport, with Twitter users posting images and videos of the procedure as they went on foot away from the terminal. Among those tweeting from inside the airport was candidate for the forthcoming Presidential election Nicolas Dupont-Aignan. The Gaullist politician is expected to pick up 3 per cent of the vote.
#Orly
Ne diffusez pas de rumeurs, relayez uniquement les messages des comptes officiels 👉 https://t.co/dvCZiGhPcN pic.twitter.com/ja1BHWOFaq

— Gouvernement (@gouvernementFR) March 18, 2017
France, which has been the victim of a number of actual and attempted terror attacks in recent years put into place the well-rehearsed social media plan as news of the attack began to spread. The national emergency alert system 'SAIP' has been activated and declared the airport a red-alert zone, an update flashed to French mobile phones.
A tweet from the official government account pleaded with citizens to not spread rumours and speculation through Twitter.
The potential terror attack comes just one day after French police responded to a double murder in Paris by a mid-30s male who slit the throats of two while wearing traditional North African dress and reportedly while shouting "Allahu Akbar" and praying.
The killing of the attacker at Orly Saturday also comes six weeks after a similar incident at the Louvre museum in Paris, where a patrol of soldiers opened fire on an Egyptian national who charged the group with a machete while shouting "Allahu Akbar". It is reported he also had a military style knife on his person, and was carrying a number of paint bombs in a rucksack and apparently intended to destroy historic works of art.
This story is developing