Britain's is set to elect a new Government on the 8th of June. Find the latest polls and predictions here.
7th June: ICM 12-Point Tory Lead
As Britain sees her last day of campaigning before the nation goes to the polls Thursday morning, the last ICM poll puts a 12 point gap between the Conservatives and Labour. The poll predicts a significantly broader gap than other polls this week, including Survation who put Labour at just one point behind.
A sneak peek at ICM's final poll of this election, showing a 12-point lead for the Conservatives over Labour.

Full poll out later #GE2017 pic.twitter.com/Ns1Whl64KE

— ICM Unlimited (@ICMResearch) June 7, 2017
Survation are to publish another poll tonight — and then as of midnight, under British electoral law no more polls can be published before polling closes at 10pm Thurdsay.
6th June: Labour remains only a point behind
A Survation poll for ITV which shows Labour chasing just one per cent behind the Tories shows the Conservatives' parliamentary majority could be in jeopardy if its results were replicated on election day.
The poll, which was conducted Friday and Saturday before an Islamist attack in London killed seven people and injured 48, found support for the Conservatives and Labour rise slightly to 41.5 per cent and 40.4 per cent, respectively.
CON Lead Over LAB Drops 16 points In a Month: CON 42*% -2 LAB 40% +3 LD 6% -3 UKIP 3% -1 Others 9% (+2) Details: https://t.co/FU39sxUoGq

— Survation. (@Survation) June 6, 2017
4th June: Labour just one per cent behind the Tories 
The Tory lead over the Labour Party going into the final week of the general election campaign has been cut to just one point, according to a Survation poll for the Mail on Sunday.
The shock survey gave the Conservatives 40 per cent of the vote and Jeremy Corbyn's Labour 39 per cent. UKIP languished on five per cent, behind the Liberal Democrats on 8 per cent.
Post-Debate Poll For MOS Cuts CON Lead To 1pt: CON 40% -6 LAB 39% +5 LD 8% (nc) UKIP 5% +1 OTH 9% +1 Full details:https://t.co/v0MzczfhuF pic.twitter.com/Y25jTKUyK0

— Survation. (@Survation) June 3, 2017
1st June: Labour overtake Tories in London 
For the first time, more voters in the capital say they think Labour's Jeremy Corbyn (37 per cent) would make a better Prime Minister than Theresa May (34 per cent).
According to the YouGov poll produced for Queen Mary University of London, Labour is on 50 per cent and the Tories are on 33 per cent.
The current standing of the parties reflects how London voted in 1997 when Tony Blair won his landslide first victory.
London Westminster voting intention:

LAB: 50% (+9)
CON: 33% (-3)
LDEM: 11% (-3)
UKIP: 3% (-3)
GRN: 2 (-1)

(via @YouGov / 26 – 31 May)

— Britain Elects (@britainelects) June 1, 2017
31st May: Smallest gap between Labour and Tories so far 
A YouGov poll has the narrowest gap between the main two parties so far during the campaign. It has the Conservatives on 42 per cent and Labour on 39 per cent – their highest rating in any poll since 2014.
Westminster voting intention:

CON: 42% (-1)
LAB: 39% (+3)
LDEM: 7% (-2)
UKIP: 4% (-)

(via @YouGov / 30 – 31 May)

— Britain Elects (@britainelects) May 31, 2017
30th May: Modeling suggest Tories could lose seats 
With just a week until the election, modelling by YouGov for The Times, based on 50,000 interviews, suggests the Conservative Party could be in line to lose 20 seats and Labour gain nearly 30. If true, the nation could be left with a hung parliament.
The Tories could fall from 330 MPs to 310, as Jeremy Corbyn's Labour Party pick up 257. The Scottish National Party could gain 4 seats, the model suggests, and the Liberal Democrats just one.
The controversial projection allows for big variations, however, and suggests that the Tories could get as many as 345 seats on a good night, 15 more than at present, and as few as 274 seats on a bad night.
26th May: Labour closes gap
A tumultuous week in British politics with the general election campaign unanimously suspended following the worst terror attack in over a decade, which killed 22 in Manchester. Two polls are showing Labour closing the gap with the Conservatives who started the race well ahead. The first, which was taken before the attack on Monday evening shows the Conservatives on 42, with an eight-point lead.
Westminster voting intention:

CON: 42% (-5)
LAB: 34% (+5)
LDEM: 9% (+1)
UKIP: 4% (-2)
GRN: 4% (-)

(via @TNS_UK / 18 – 22 May)

— Britain Elects (@britainelects) May 25, 2017
The second, taken after the attack by YouGov shows the Conservatives on 43 per cent with a five-point lead.
Westminster voting intention:

CON: 43% (-1)
LAB: 38% (+3)
LDEM: 10% (+1)
UKIP: 4% (+1)

(via @YouGov / 24 – 25 May)

— Britain Elects (@britainelects) May 25, 2017
We can expect these figures to shift again in the coming days as campaigning resumes, perhaps with a renwed focus on national security that it has lacked up until this point.
22nd May: Conservative lead slashed
More bad news for Theresa May as her Conservatives continue to take a drubbing in the polls after plans to reform care for the elderly failed to hit the right note with voters.
Bad news too for UKIP, who at four per cent seem to have lost a decade's worth of progress in poll standing.
The lates Survation poll has the Conservatives down five points to 43 per cent — meaning their lead over Labour has been slashed to single figures. The Conservatives have some work to do if they want to walk the June election as early predictions had them doing.
Westminster voting intention:

CON: 43% (-5)
LAB: 34% (+4)
LDEM: 8% (-)
UKIP: 4% (-)

(via @Survation / 19 – 20 May)
Phone method.

— Britain Elects (@britainelects) May 21, 2017
The elderly care measures have proven so unpopular PM May was forced to issue a u-turn Monday, announcing a cap on care spending for the so-called "Dementia Tax". Read all about it at Breitbart London.
18th of May: Labour climb again to 34 per cent after manifesto launch 
The first telephone poll since Labour launched their manifesto shows them continuing to climb in popularity. Jeremy Corbyn's party is now sitting at 34 per cent, but the Conservative still hold a 15 point lead.
The Liberal Democrats were at seven per cent and UKIP slid back down to four per cent, the Ipsos MORI survey for the Evening Standard revealed.
Significantly, Mr. Corbyn's notoriously low personal leadership ratings slightly improved. However, six in 10 voters said Labour is not ready to govern and Theresa May was only party leader whom more people say they are satisfied than dissatisfied with.
Gideon Skinner, head of political polling at Ipsos MORI, told the Standard:  "Labour shouldn't get too carried away by the rise they see in the polls.
"The focus on their manifesto may have helped them this week, but on many fundamentals such as leadership the public still puts them a long way behind the Conservatives, and their vote is much softer, with one in six of their supporters considering voting for Theresa May's party."
Westminster voting intention:

CON: 49% (-)
LAB: 34% (+8)
LDEM: 7% (-6)
GRN: 3% (+2)
UKIP: 2% (-2)

(via @IpsosMORI)https://t.co/GLMpKNTbZI

— Britain Elects (@britainelects) May 18, 2017
17th of May: Labour up as Conservative lead begins to slip 
A YouGov poll for The Times, conducted on the 16th and 17th of May, shows the Conservatives down significantly to 45 per cent. Labour are on 32 per cent, giving the Tories a 13 point lead.
The Liberal Democrats, meanwhile, slipped slightly to 8 per cent and UKIP bounced back up to 6 per cent.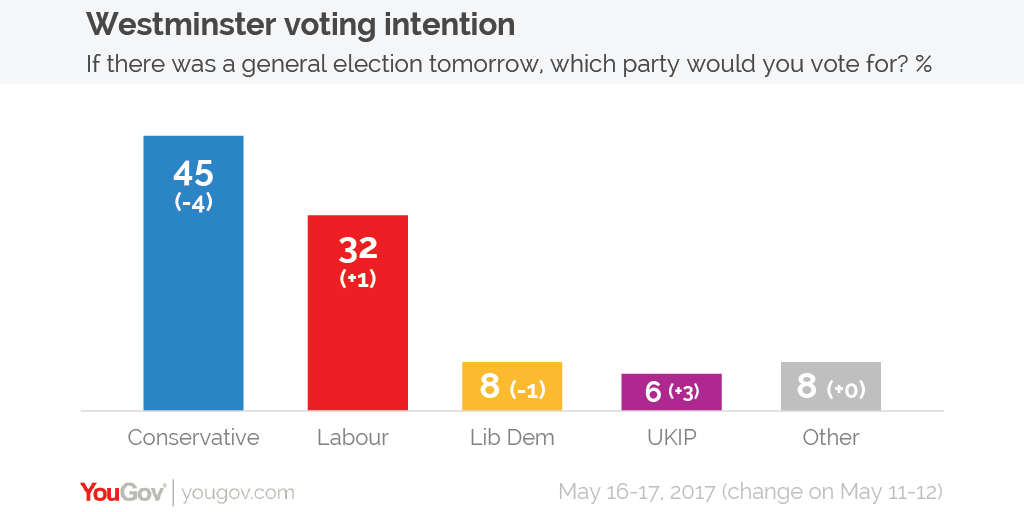 13th – 15th of May: Labour Improving, polling over 30 per cent  
Four polls over the weekend (the 13th, 14th and 15th of May) show Labour climbing from their disastrous start in the campaign. The ORB, Opinium, ComRes and YouGov surveys all had them at 30 per cent or above. However, this increase has largely not come at the expense of the Conservatives who remain firmly above 40 per cent with a commanding lead.
This increase, however, does not appear to have come at the expense of the Conservatives who well abobe 40 per cent. UKIP continue to be the main losers, down in the 3-6 per cent range.
Westminster voting intention:

CON: 48% (-2)
LAB: 30% (+5)
LDEM: 10% (-2)
UKIP: 5% (-2)
GRN: 3% (-)

(via @ComRes)

— Britain Elects (@britainelects) May 13, 2017
Our polling average update:

Con: 46.8% (+9.0)
Lab: 29.8% (-1.4)
LDem: 9.1% (+1.0)
UKIP: 5.8% (-7.1)
Grn: 2.8% (-1.0)

Chgs w/ 2015 result pic.twitter.com/5oQlOxUqH4

— Britain Elects (@britainelects) May 15, 2017
6th of May: Conservatives on track to win 160 seat majority
Analysis of the political betting markets following the local election results by IG Group suggest that the Conservatives are on track to win 405 seats in June's general election, handing the party a majority of 160.
Labour is expected to take 147 seats, the Scottish National Party 46 seats, and the Liberal Democrats to bounce back from their catastrophic 2015 result to take 24 seats. The UK Independence Party isn't expected to win any seats. 

Unsurprisingly the markets strongly back a Conservative win, giving the party a 91.8 per cent chance of taking an overall majority, against Labour's 2.5 per cent chance. 
Matt Brief, Head of Dealing at IG said: "The results of Thursdays UK elections are confirming what many already thought; the Conservatives are going to win the General Election.
"Our various markets show just how emphatic traders are expecting the win to be. With the Conservatives predicted to win a massive 405 seats which is only 13 short of what Labour won in 1997. Adding together the other prices in the seats market it the Conservative will have a majority of over 160 in Parliament."
IG also looked over the Channel at the French Presidential elections, giving Marine Le Pen a 10.2 per cent chance of winning, against Emmanuel Macron's 89.5 per cent. 
30th of April: Conservatives regain ground after uncertain week
After a steady start, this week has shown some wild difference in polling with the General Election less than six weeks away. While the commanding lead of Theresa May's conservatives has yet to be seriously challenged, her party poll lead has fluctuated from highs of 23 per cent to as low as 11.
The latest, Sunday's ICM/Sun poll may go some way to calm nerves in CCHQ, showing the Conservatives with a clear 19 point lead at 47 points overall. A respectable result — but still something short of Conservative PM Stanley Baldwin's 55 per cent result in 1931, the best in British politics in the past century.
ICM/Sun:

CON 47 (-1)
LAB 28 (+1)
LD 9 (-1)
UKIP 8 (+1)
GRN 4 (+1)
SNP 4 (=)

Fieldwork end of the weekhttps://t.co/4tehjremPZ#GE2017 pic.twitter.com/sGnSqZ3O0K

— Number Cruncher Politics UK (@NCPoliticsUK) April 30, 2017
27th of April: UKIP Climb to 7 Per Cent as Tory Lead Shrinks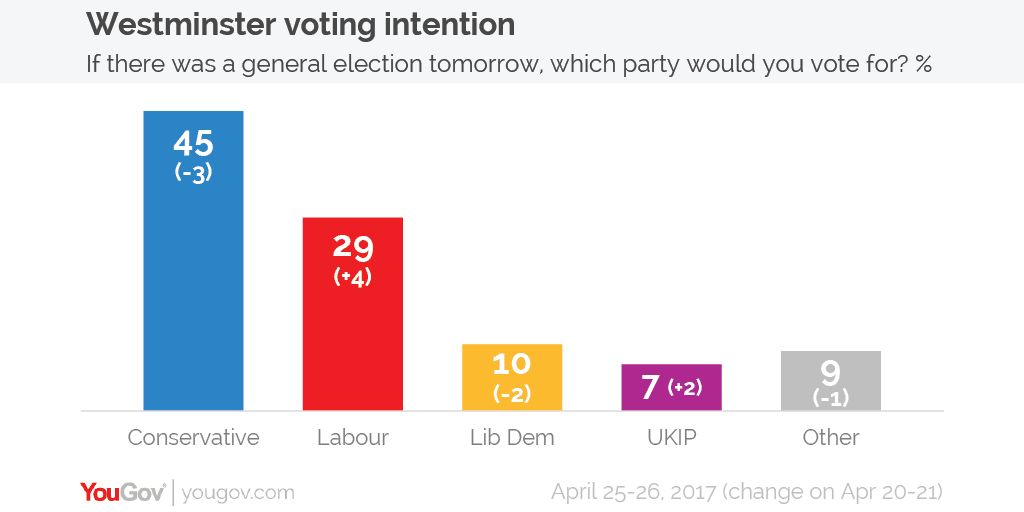 The Conservative Party's lead shrunk to 45 per cent with UKIP recovering slightly, rising to seven per cent. The Labour Party are also up, at 29 per cent, and the Liberal Democrats are on 10 per cent.
Asked who would make the best prime minister, 48 per cent said Mrs. May, down six, and 18 per cent said Mr. Corbyn, up three.
Unlike Wednesday's Ipsos Mori poll, this YouGov poll for The Times was conducted by phone.
26th of Aril: UKIP on Four Per Cent As May Rated 'Most Capable PM Ever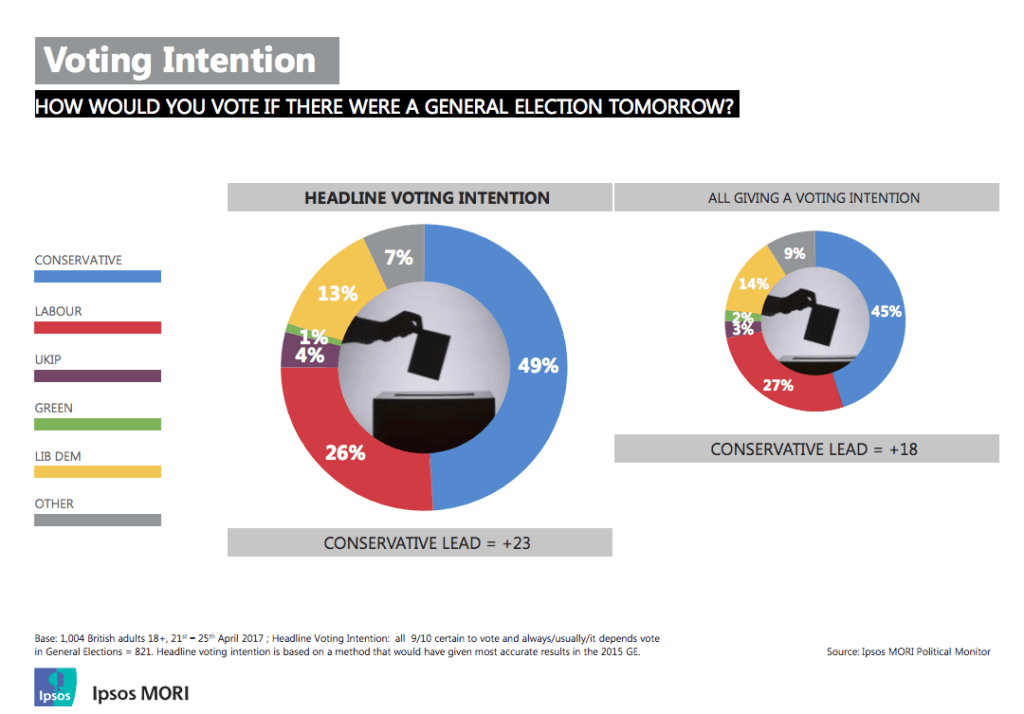 UKIP slipped to just four per cent, with the Conservatives pulling ahead with almost twice as much voter support as Labour.
According to the Ipsos MORI poll, the Tories' lead is equal to that commanded by Margaret Thatcher before her 1983 landslide victory.
Conservative leader Theresa May also has the best "most capable" leadership score ever, far higher than Tony Blair or Margret Thatcher ever achieved.
The telephone poll of 1,004 adults, conducted April 21-25, had the Tories up six per cent to 49 per cent, Labour down four percentage points on 26, the Liberal Democrats unchanged at 13 per cent, and UKIP down two percentage points to four per cent.