Statistics reveal that 1.3 million 'EU8' citizens live in the UK compared to just 14,100 UK citizens who have gone to live in those same Eastern European nations. More than half of EU migrants from those states work in low-skilled employment.
The EU8, comprised of the Czech Republic, Estonia, Hungary, Latvia, Lithuania, Poland, Slovakia, and Slovenia, represent 1.3 million of people living in the UK, or approximately two per cent of the total population.
The biggest component is Poles estimated at 813,700.
However, UK citizens living in EU8 countries in 2016 combined is relatively small at just 14,100.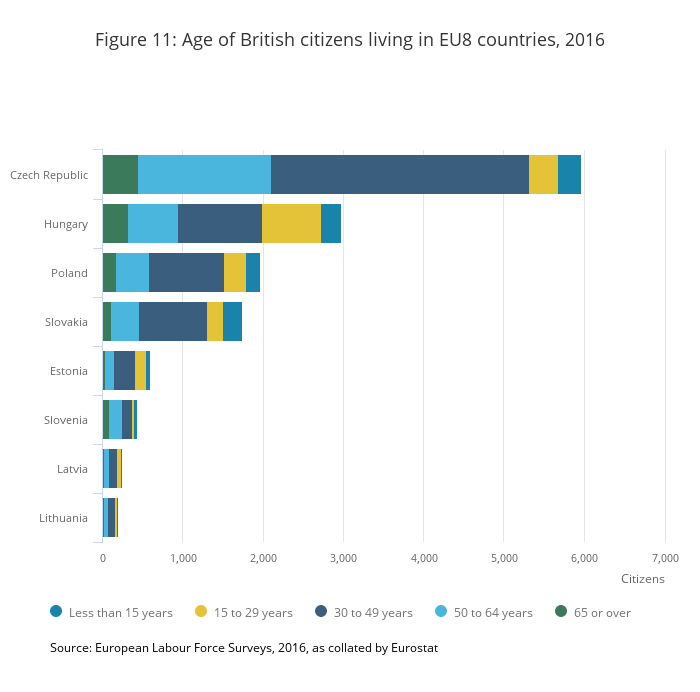 These figures also do not include 'EU2' migrant numbers from Bulgaria and Romania, who joined the bloc in 2007. In a separate report released in February, the Office for National Statistics (ONS) noted the "highest estimate recorded" in arrivals from these Eastern European countries to 74,000 for the year to September 2016 – an annual increase of 19,000.
The ONS report, Living Abroad: Migration Between Britain and the EU8, show that EU8 citizens work in predominantly low-skilled sectors. 225,400 EU8 citizens, or 27.6 per cent, work in distribution, hotels, and restaurants (representing  4.4 per cent of the total UK workforce), and 186,500, or 22.9 per cent, in manufacturing (6.7 per cent of the workforce).
Previous analysis by the ONS shows that 40 per cent of EU8 nationals are over-educated for the jobs they work in.
Unemployment in the UK for those 16 and over, measured from February to April 2017, sits at 4.6 per cent of the total population.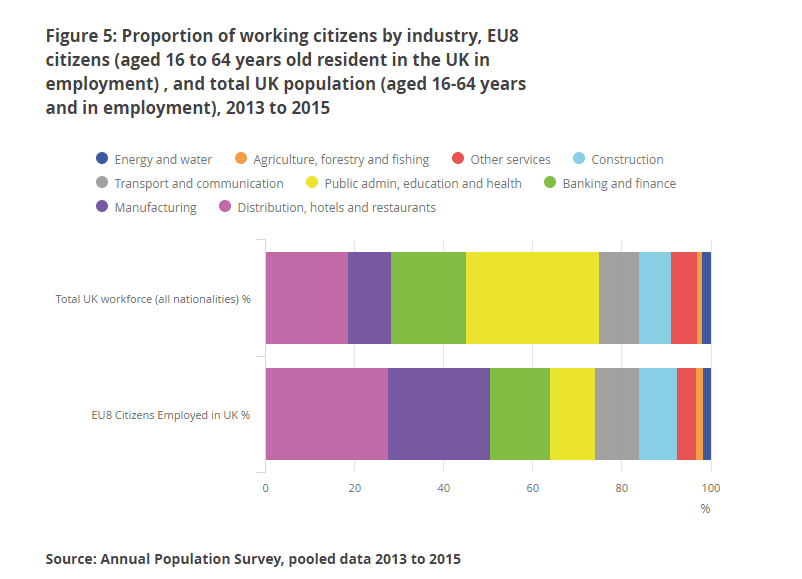 Unlike Romania and Bulgaria, which had immigration controls imposed by the UK from 2007 until they expired in 2014, no such controls were in place for the EU8 when they joined the bloc in 2004 – meaning that from the moment of membership, EU8 citizens had freedom of movement to the UK immediately. 
In March, former prime minister, Europhile, and Free Movement advocate, Tony Blair admitted he had no idea how many people would migrate to the UK from the EU8 nations after 2004, and refused to impose temporary immigration controls whilst leading the Government. 
These new figures come after Prime Minister Theresa May's offer to give EU citizens "settled status" in the UK after Brexit was described by EU figures as being "far short of what citizens are entitled to", with MEPs threatening to veto the Brexit deal if EU nationals' rights were not improved.
In response, Conservative MP Jacob Rees-Mogg has accused the EU of a "condescending, high handed, colonialist approach" to the rights of EU citizens residing in the UK.