Criminals could be allowed to sidestep charges if they agree to attend rehabilitation lessons, under a scheme designed to reduce supposed "racial bias" in the criminal justice system.
Secretary of State for Justice David Lidington is currently in talks with London Mayor Sadiq Khan to extend the so-called "deferred prosecution" scheme from the West Midlands to some London boroughs, The Telegraph reports.
The plan was recommended in a government report prepared by Labour's David Lammy —previously best known for his "hysterical" call to cancel Brexit with a vote in Parliament shortly after the EU referendum.
Report: Swap Prosecution for Therapy to Bring Down Ethnic Minority Prison Population https://t.co/RqpkVAVLfC

— Breitbart London (@BreitbartLondon) September 8, 2017
The Lammy Review found criminality is rife in certain minority communities, with black and minority ethnic (BAME) men and women accounting for 25 per cent of the adult prison population and 40 per cent of young people in custody, despite comprising only 14 per cent of the general population.
Lammy believes that the discrepancy can in part be explained by the fact that BAME criminals are much less likely than white criminals to plead guilty, which typically results in somewhat stiffer sentences following conviction.
The MP claims BAME criminals roll the dice on a 'Not Guilty' plea more often because they lack trust in the courts, police, and even their own lawyers — and suggests this is a problem which society at large is to solve.
The deferred prosecution scheme attempts to do so by putting criminals in control, allowing them to choose to attend rehab rather than face charges.
Reported rapes are running three times higher in London than in NYC https://t.co/oc60cWbDAZ

— Breitbart London (@BreitbartLondon) October 21, 2017
The Telegraph report suggests the scheme will only be open to suspects accused of so-called low-level crimes, provided they have no more than one previous conviction.
However, it goes on to note an increase in reported satisfaction levels among victims of violent offenders who were dealt with by deferred prosecutions in the West Midlands, which suggests a very generous interpretation of "low-level crime".
Police in London, where Lidington would like to extend the pilot, are already reported to have handed out 1,115 simple cautions for sex offences — including 16 rapes — between 2012 and 2016 — a figure unlikely to inspire confidence that deferred prosecution will be reserved for graffiti artists and shoplifters.
"Not tyrannical" pic.twitter.com/MDY1QCjCh6

— Raheem Kassam (@RaheemKassam) November 7, 2017
Some of the evidence the Lammy Review presents to support its contention that black and minority ethnic individuals are subject to bias and discrimination appears highly questionable.
For example, Lammy notes that BAME women are more likely than white women to be tried in Crown Court instead of the lower Magistrates' Court, but appears to be uninterested in the fact that arrests of white women are significantly more likely to result in prosecution than arrests of BAME women, despite BAME women being arrested with greater frequency.
This would tend to suggest there is no systemic bias against BAME women at all, or even that prosecutors are more eager to prosecute white women than their ethnic minority counterparts.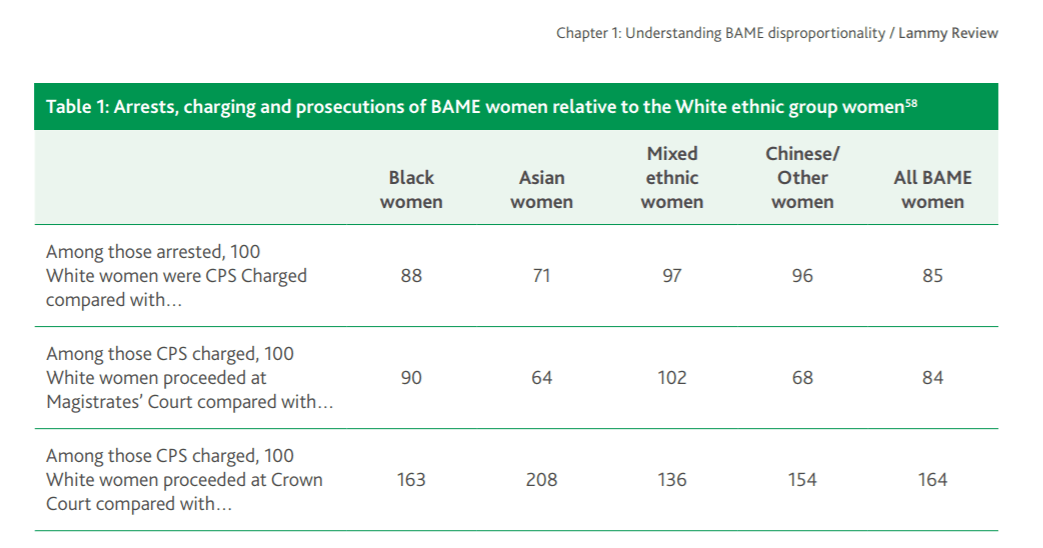 Follow Jack Montgomery on Twitter:

 @JackBMontgomery
Follow Breitbart London on Facebook:

 Breitbart London