The French President Emmanuel Macron joined other dignitaries and survivors in Paris Sunday to mark the third anniversary of the Charlie Hebdo and Hyper Kacher attacks, laying wreaths at the sites of the attacks.
President Emmanuel Macron and Paris Mayor Anne Hidalgo laid a wreath together at the offices of French satirical Magazine Charlie Hebdo Sunday, marking three years since Islamic radical gunmen Saïd and Chérif Kouachi stormed the building and killed nine members of staff, a receptionist, and two police officers, claiming "revenge for honour" after the magazine published cartoons of Mohammad.
The president also laid a wreath down the street where a French police officer, one of the 12 killed there, was shot dead execution-style on the pavement.
The attack was followed by a number of other shootings in which several were injured, including a street sweeper, a number of pedestrians, and several wounded inside the Hyper Kacher supermarket. Accomplice to the Kouachi brothers Amedy Coulibaly held several people hostage inside the store, killing four before being shot dead by police himself.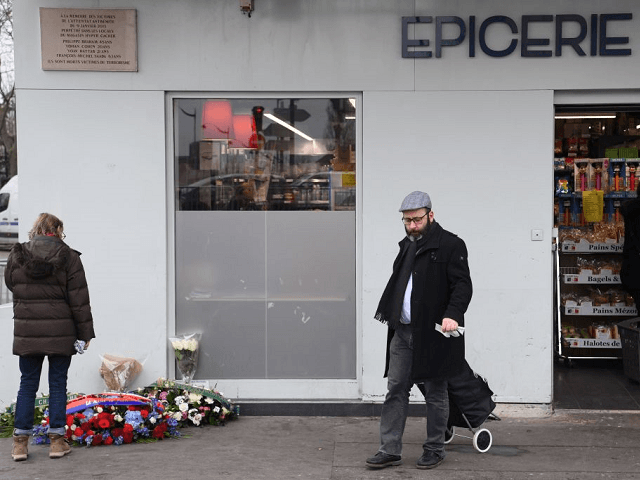 While the Charlie Hebdo attacks shocked France and the magazine decided to stop publishing images of Mohammed shortly after the attack, according to Laurent 'Riss' Sourisseau who took over as editor after Charb was assassinated in the 2015 attack revealed in November 2017 that the hate mail and death threats "never really stopped".
Charlie Hebdo Gets Fresh Death Threats over Tariq Ramadan Cartoon https://t.co/N1VxhQIQQp

— Breitbart London (@BreitbartLondon) November 7, 2017
Remarking that the situation was worsening, the satirical journalist said: "calls to murder have become commonplace… we take them seriously".
The Jewish-owned, Kosher Hyper Cacher supermarket has also been the victim of further intimidation recently. Breitbart London reported last week that branches of the chain had been vandalised with Swastikas in the days leading up to the attack anniversary.
Remarking on the vandalism, the French National Office of Vigilance against Antisemitism said they believe the swastikas were drawn to coincide with the anniversary of the radical Muslim attack, and were not a coincidence.