LOS ANGELES — Roughly 500 demonstrators gathered on the steps of the Los Angeles City Hall for a "Rally Against Steve Bannon" on Wednesday evening.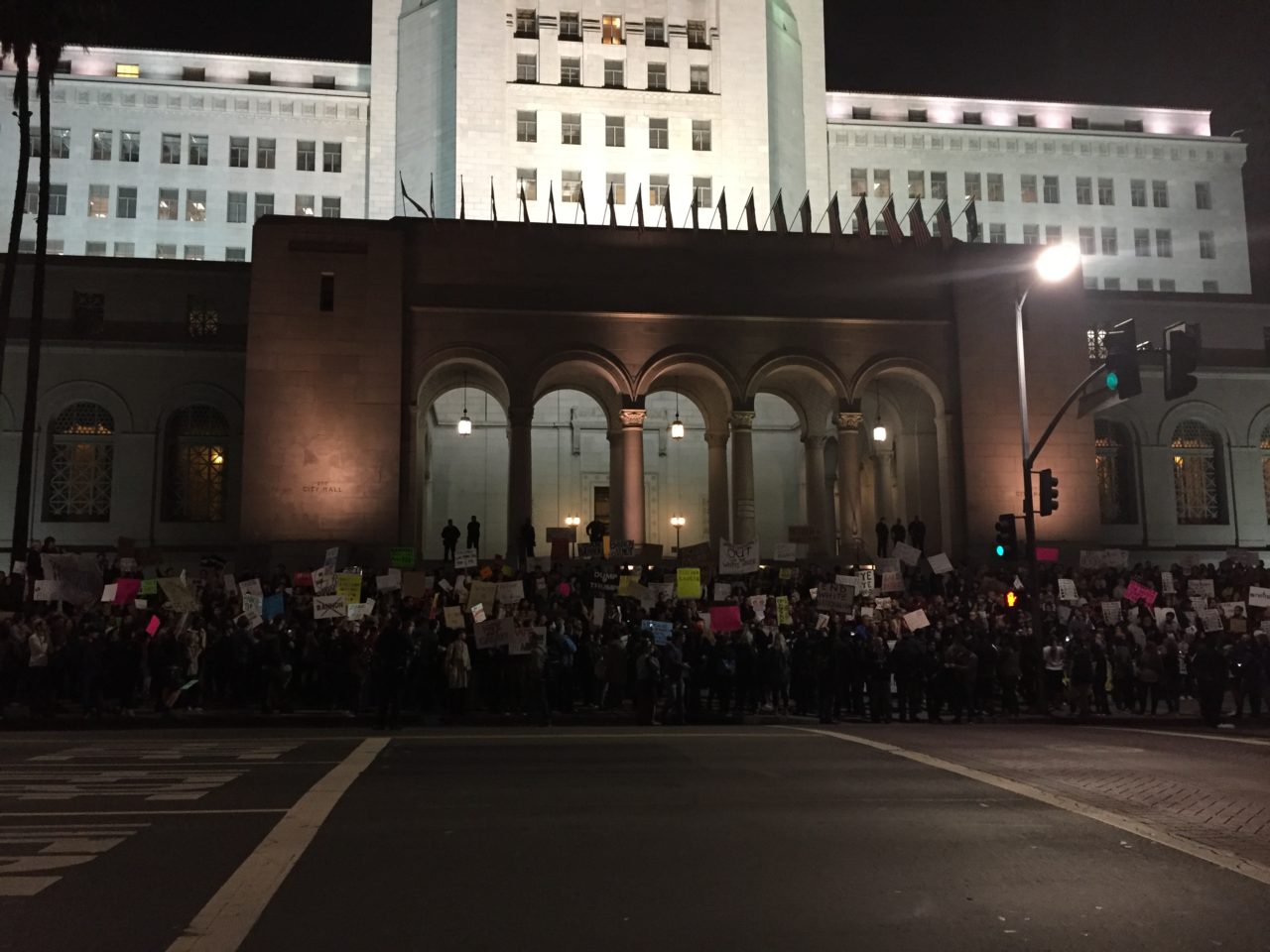 The purpose of the demonstration was to object to the appointment Sunday of Breitbart News Executive Chairman Stephen K. Bannon as the Chief Strategist and Senior Counselor to President-elect Donald J. Trump.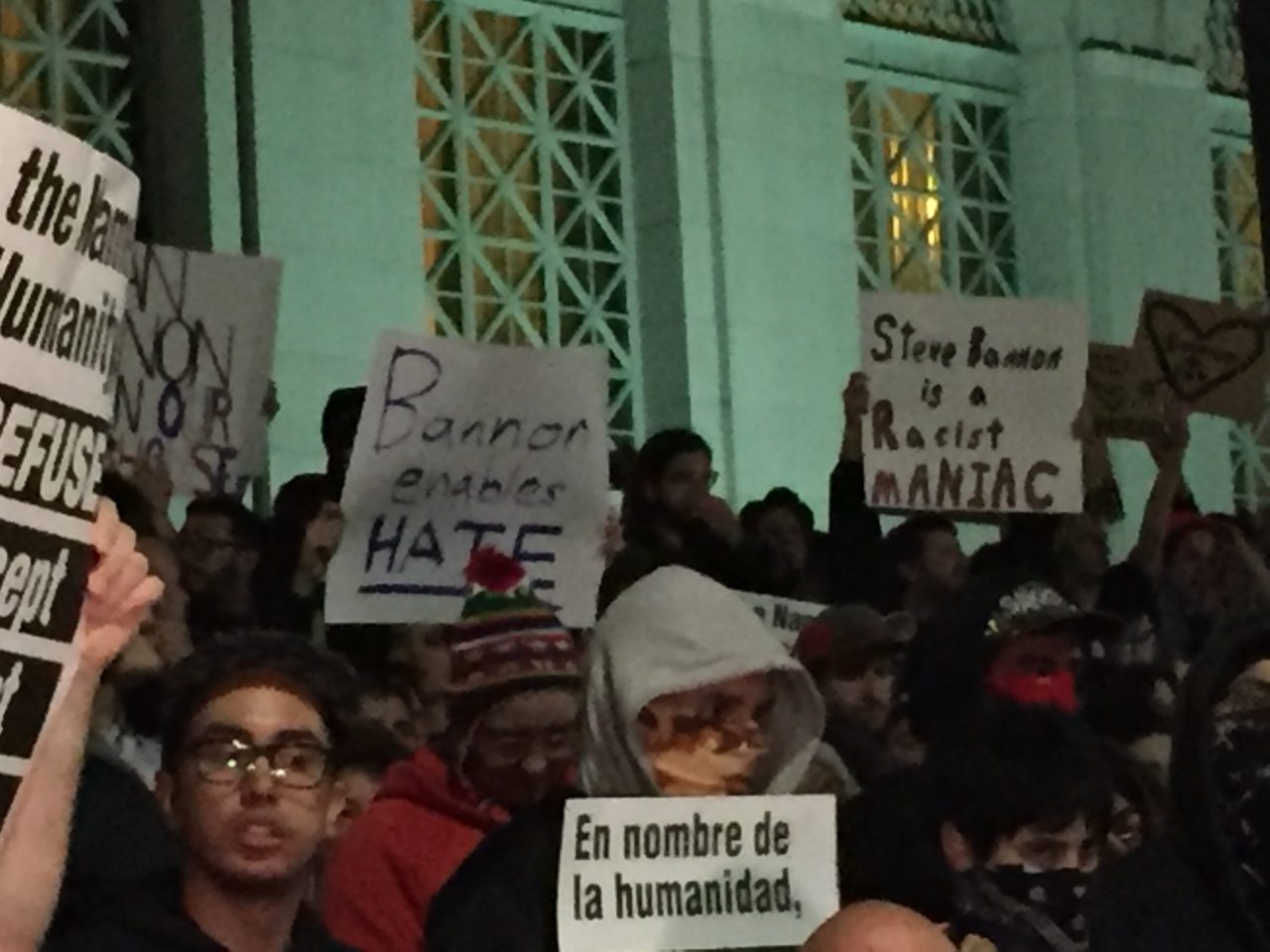 When he was named CEO of the Trump campaign in August — taking a leave of absence from Breitbart News as he took up the post — Bannon was hit with false and unsubstantiated accusations of antisemitism. Those allegations were recycled this week, as Bannon and Breitbart News were falsely accused of being antisemitic and racist.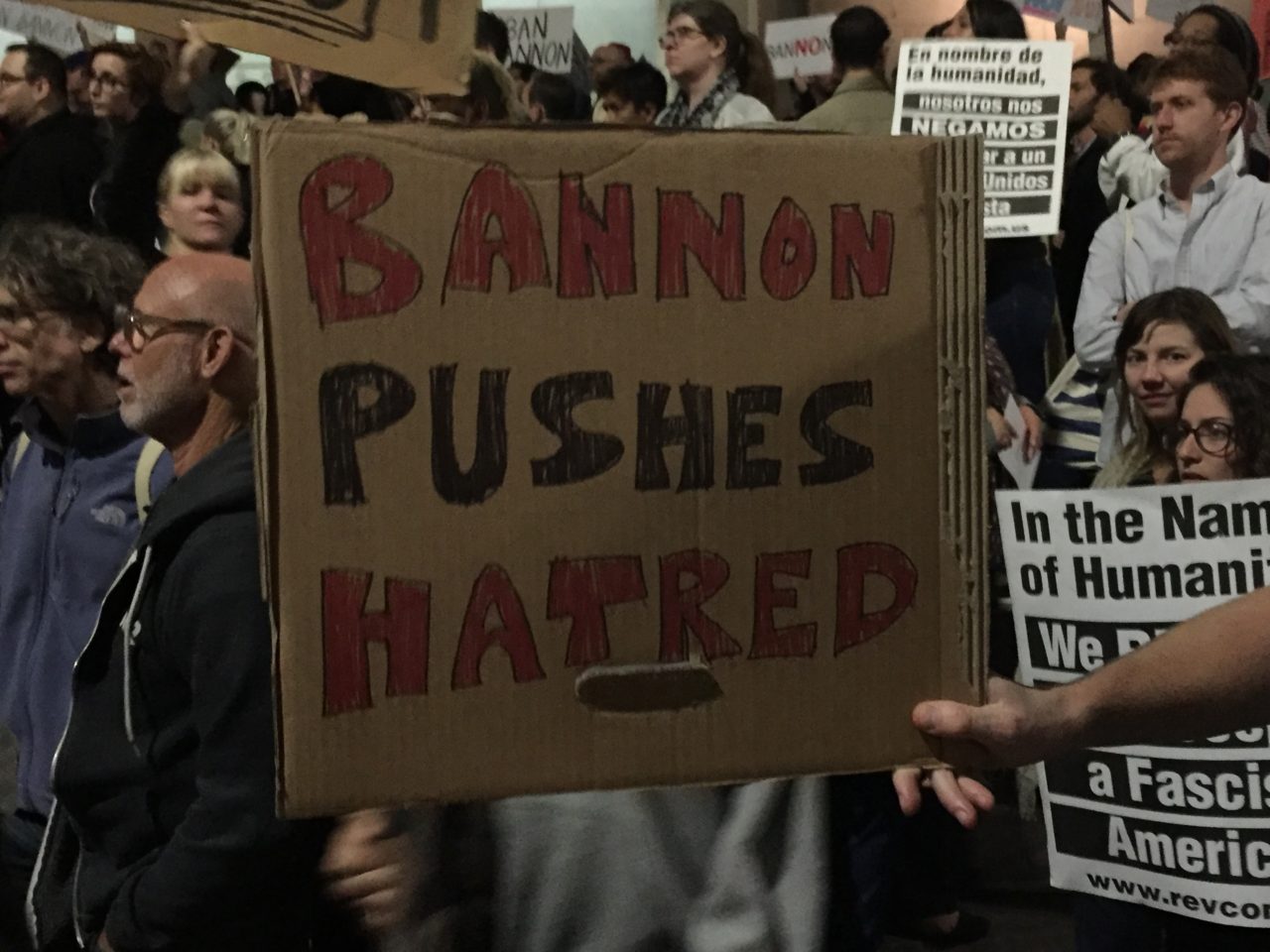 While the allegations are demonstrably false, they are evidently widely believed on the left, as protesters — many of whom had apparently gathered on previous nights to demonstrate against the election results — took up the accusations in their signs and chants.
The group waved signs — many of which were innovative, and original — and chanted slogans. Some of the signs were profane, and even scatalogical: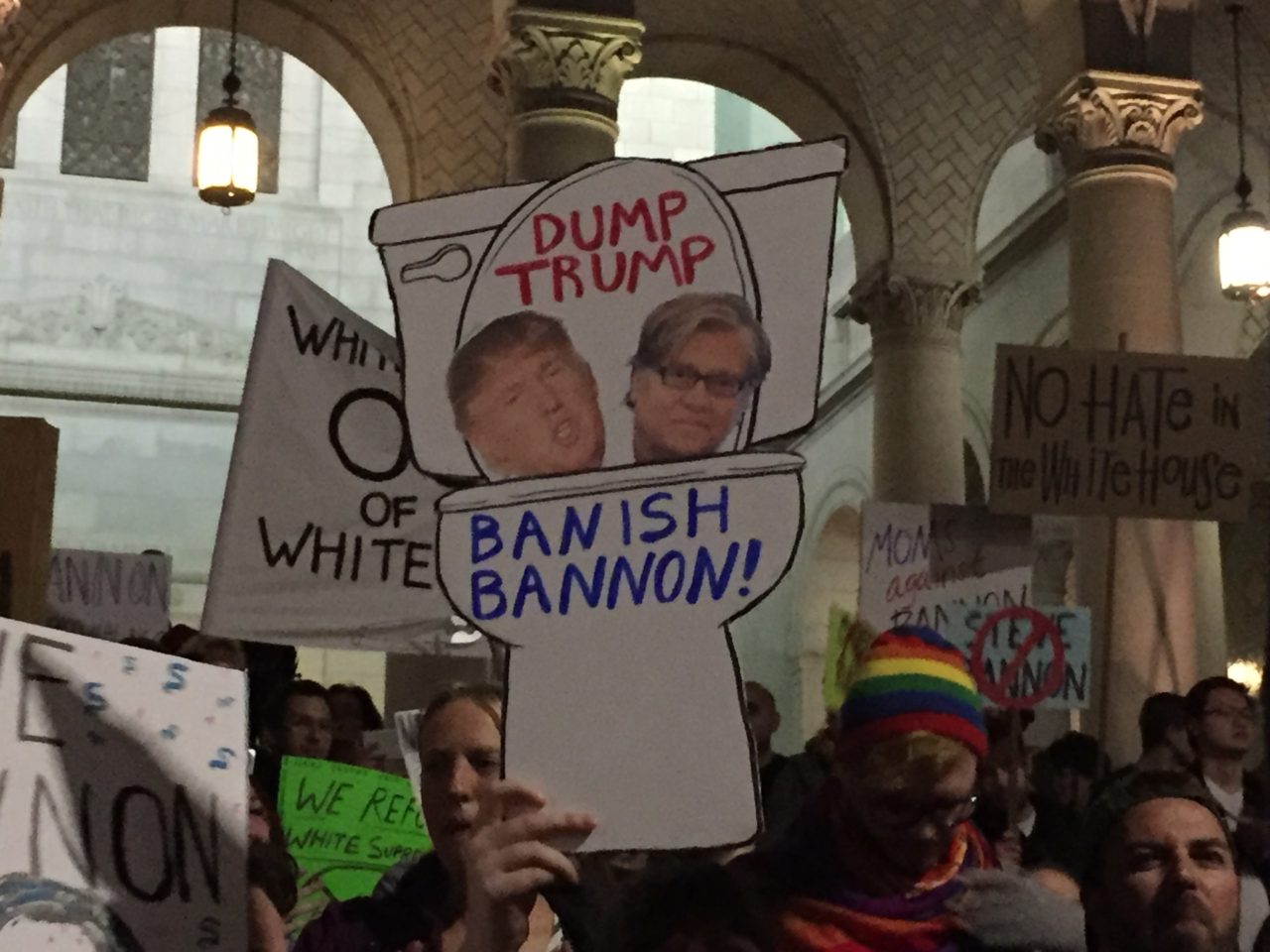 The demonstration was peaceful, as Los Angeles Police Department officers looked on, both at the top and bottom of the stairs. There was a smell of marijuana at one side of the demonstration.
Some demonstrators wore masks. At least one waved a Mexican flag; one later hoisted a much larger American flag.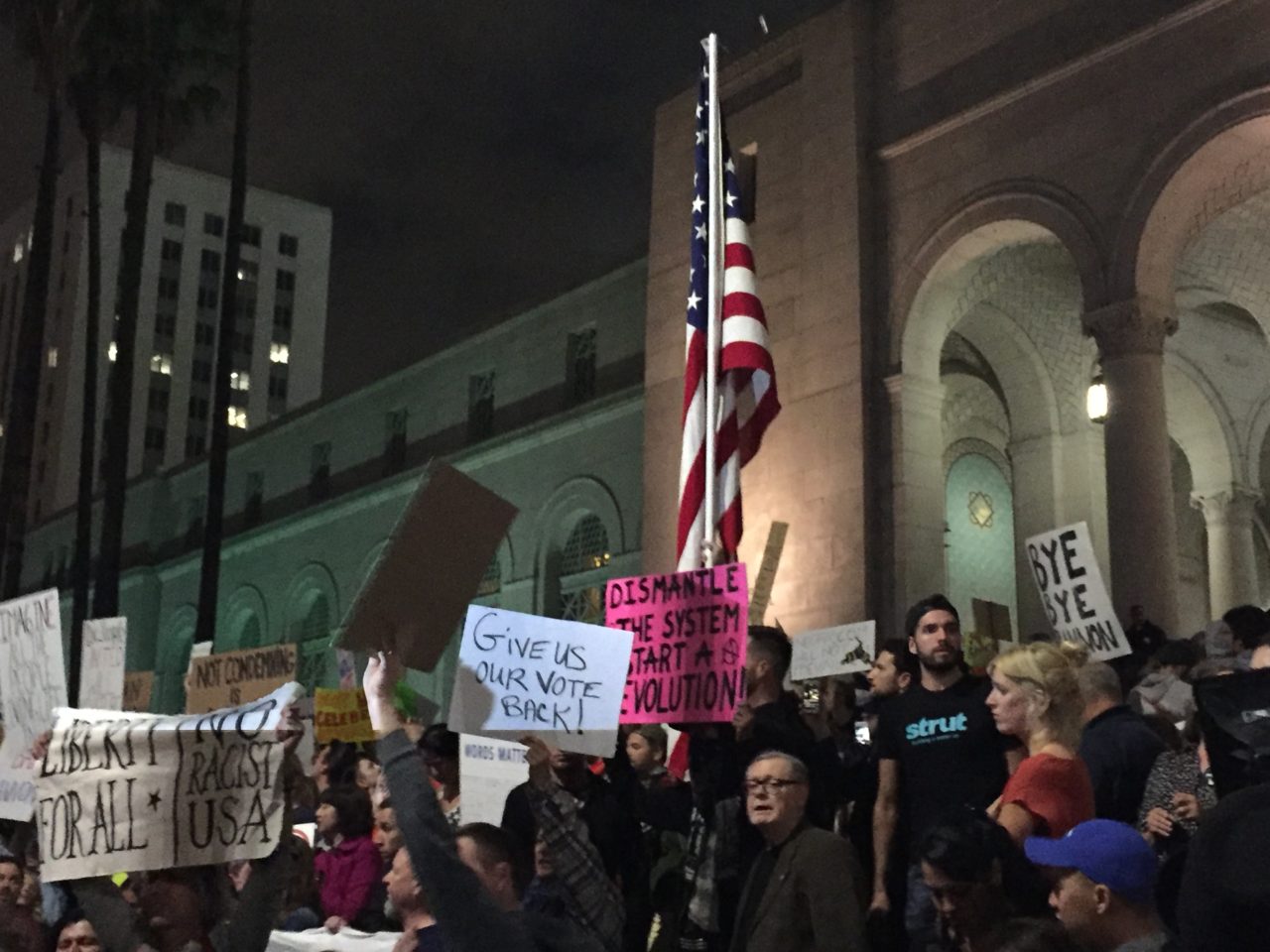 Some of the protesters recognized this reporter from television, and attempted to identify him to other protesters, and to argue. Two attempted to prevent filming, and followed this reporter around the sidewalk near the demonstration.
One group of protesters, raising their fists in unison, chanted: "We refuse to accept a fascist America!"
Another chant was "We reject the President-elect!"
Bannon is a former officer in the U.S. Navy, a graduate of Harvard Business School, and a successful investor, entertainment executive and filmmaker. In addition to serving as Executive Chairman of Breitbart News during several years of rapid growth and expansion at the company, he also launched Breitbart News Daily, a popular morning program on Sirius XM satellite radio's Patriot channel (125).
Joel B. Pollak is Senior Editor-at-Large at Breitbart News. His new book, See No Evil: 19 Hard Truths the Left Can't Handle, is available from Regnery through Amazon. Follow him on Twitter at @joelpollak.