The authorities have begun releasing the names of the four Marines killed in Muhammed Youssef Abdulazeez' attacks on a military recruiting office and Navy -Marine training center in Chattanooga, Tennessee.
One of the victims was 40-year-old Marine Gunnery Sergeant Thomas Sullivan of Springfield, Massachusetts. "Terror comes home to Massachusetts. God Bless Tom Sullivan and his family and friends," wrote Governor Charlie Baker, who extended his condolences to the family, as reported by the Boston Globe.
The mayor of Springfield, Domenic J. Sarno, described Sullivan's killing as an "assassination" and said his death was "a tragic loss not just for the Springfield community but for our entire nation."
Cathedral High School, the Catholic school he graduated from in 1994, posted a Facebook message reading, "This morning it is with heavy hearts that we share the news of the passing of our Cathedral brother, Thomas Sullivan '94. Thomas, a Gunnery Sgt., Iraq veteran and Purple Heart recipient was killed yesterday in Chattanooga, Tennessee."
Sullivan's brother Joseph, who MassLive reports is also a war veteran, is part-owner of an establishment called Nathan Bill's Bar & Restaurant, which also commemorated him with a Facebook message: "Rest In Peace Gunnery SGT. Thomas Sullivan. Anyone who went to Holy Cross School, Cathedral High School or grew up in the East Forest Park knew who Tommy was. He was our hero and he will never be forgotten. Please keep his family & friends in your thoughts & prayers. Thank you Tommy for protecting us."
According to Fox News, Sullivan "served in India Battery, 3rd Battalion, 12th Marines and fought in the 2005 Battle of Abu Ghraib, where he earned a Combat Action medal and Purple Heart."  A friend testified there was "no Marine you would want that was better in combat than him."
"For those who have not heard yet, one of the four Marines murdered today was one of our own – Thomas Sullivan. Please keep his family in your thoughts and prayers. Semper Fidelis Zimminite!" reads a post on Facebook from the India Battery, 3rd Battalion, 12th Marines.
A second Marine killed in the attack has been identified as 21-year-old Lance Corporal Skip Wells of Marietta, Georgia.  The UK Daily Mail reports that Wells was fresh out of boot camp, and had just returned from a trip to DisneyWorld with his mother.
A family friend described Wells by saying he "felt called to serve."
Wells graduated from Sprayberry High School in Marietta in 2012, and attended Georgia Southern University.  He was a musician, playing clarinet in the school marching band.
The Atlanta Journal-Constitution reports that condolences and memories are being posted on the high school's memorial Facebook page, and quotes one friend describing him as "a really good leader" and "someone you could always depend on."
Georgia Southern also issued a statement on Wells, as quoted by the Times Free Press: "The entire Georgia Southern University community is saddened by the news that former student and Marine Skip Wells was killed yesterday in the Chattanooga tragedy along with three fellow Marines. Skip was enrolled as a student from 2012 through fall of 2013. The Eagle Nation offers our deepest condolences to his family and the families of those killed and wounded during this incident."
Heavy.com notes that Wells' wrote a Facebook post in April which strongly defended the American flag against those who would disrespect it:
Dear people walking and desecrating the National Flag,
Not like people died under that flag to free slaves in 1861-1865, not like the 54th Mass infantry (all black infantry) with their white commander charged into a Fort under that flag. Not like MLK jr marched while CARRYING that flag. Not like myself and countless others have fought and died under that flag to provide the blanket of security that you sleep under, it's okay you feel so strongly? How about you grab a rifle and stand a post with us…. Oh wait of course you don't know anything about sacrifice or anything of that nature, everything has to be given to you because you "earned it" and you "deserve it" it's okay, we, the .05 percent of the nation with protect you.
You're welcome for that blanket,
Veterans and currently serving Military
The New York Daily News posted a photo of Wells and his mother standing proudly with the flag: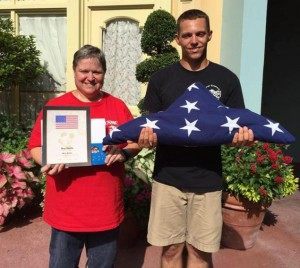 A third victim has been identified as Staff Sergeant David Wyatt of Chattanooga.  Wyatt originally hailed from Arkansas, and lived in Chattanooga with his wife and children, according to the New York Daily News.  
The Tennessean says Wyatt was identified on Facebook by neighbors, who observed a large number of cars converging on the family home Thursday night, and initially believed the Wyatts were hosting a party:
Another neighbor, who declined to give her name, began to tear up after learning of Wyatt's death. She said that Wyatt seemed like a nice man.

An American flag hangs outside the Wyatt home, and a deputy from the Hamilton County Sheriff's Office guarded the residence Friday morning.

Meanwhile, friends and family of Wyatt flooded social media with condolences.

"There is no sleep tonight," a family member posted on Wyatt family members Facebook page late Thursday night.

"None," Lorri Wyatt responded in a subsequent post on her page filled with condolences.

Another post read, "My heart aches for you and your kids. There are no words. You are in my thought and prayers."
Heavy.com reports Wyatt was Facebook friends with Gunnery Sgt. Sullivan, and also attended high school with St. Louis Rams official Casey Pearce, who said on Twitter that he was "heartbroken to learn one of the Marines killed in Chattanooga yesterday was a classmate of mine.  Thank you David Wyatt for your service."
The fourth Marine was identified by the Daily Mail as Sergeant Carson Holmquist, reportedly from Jacksonville, North Carolina.  WSMV News in Chattanooga says he was 27 years old.  No additional information about him was available at the time of this writing.
Fox News also has some information about the wounded:
Three other people —  a Navy sailor, a Marine Corps recruiter and a police officer — were wounded in the attack. Sources told Fox News early Friday that a female sailor, who is in serious condition, underwent surgery and made it through the night much to the relief of doctors. The police officer was shot in the ankle. The recruiter was wounded in the leg and has been released from the hospital.
Watch this space for further updates on the lives lost this Thursday.
Update: Some more details about Sgt. Carson Holmquist, from a CNN report:
He enlisted in the Marines in January 2009 and had already had two tours — one in 2013, the other in 2014 — in Afghanistan. Holmquist got numerous recognitions for his work; the military identified him as an automotive maintenance technician.

His Facebook page indicates Holmquist is from Grantsburg, Wisconsin, and was living in Jacksonville, North Carolina. It also features a number of heartbreaking pictures of him sharing tender moments with his wife and son.

In one of those images, the little boy is wearing what look like his father's combat boots next to a sign that says, "We miss you Daddy." In another, he holds up a sign saying "Welcome home Daddy."

His mother has her own sign that read, "We've waited 244 days for this moment. Welcome home Sgt. Holmquist."
SeattlePi relates that Holmquist was so proud to be a Marine that "when he finished boot camp, he returned to his hometown of Grantsburg, Wisconsin, and paid a visit to his high school dressed in his formal blues."
He graduated from Grantsburg High School in 2008, and enlisted in January 2009.  The principal remembers him as a "strong football player, avid sportsman who loved to hunt and fish, and a young man committed to succeeding."