A propaganda video published by the North Korean government called "Last Chance" depicts a nuclear strike on Washington, D.C.
The government issued the video to warn the U.S. not to aggravate the hermit kingdom through objections to its myriad UN sanctions violations and human rights violations against its own people.
"If the American imperialists provoke us a bit, we will not hesitate to slap them with a pre-emptive nuclear strike," reads the subtitles. "The United States must choose! It's up to you whether the nation called the United States exists on this planet or not."
It also shows supposed North Korean victories over the U.S., which include the "capture in 1968 of an American ship, the Pueblo, and the shooting down of an American helicopter in 1994." It ends with a nuclear bomb blowing up the Lincoln Memorial.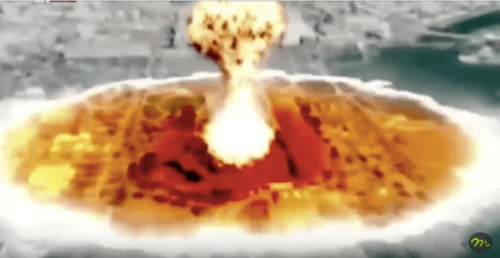 After that, the video shows an exploding Capitol Hill.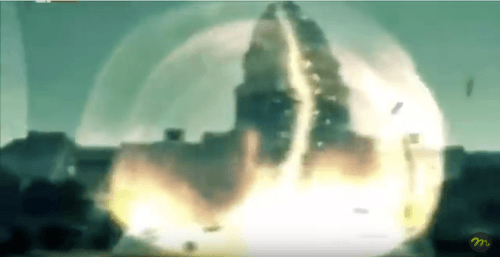 Earlier this month, the North Korean government threatened South Korea and the U.S. with a nuclear strike.
"The indiscriminate nuclear strike… will clearly show those keen on aggression and war, the military mettle of (North Korea)," stated officials on the state run Korean Central News Agency (KCNA). "If we push the buttons to annihilate the enemies even right now, all bases of provocations will be reduced to seas in flames and ashes in a moment."
The KCNA condemned joint military exercises between the U.S. and South Korea, accusing the countries of "violat[ing] the sovereignty of the DPRK."
Two days later, Russia, one of North Korea's few allies, told the communist nation to back down from the threats.
"We consider it to be absolutely impermissible to make public statements containing threats to deliver some 'preventive nuclear strikes' against opponents," declared the Russian Foreign Ministry. "Pyongyang should be aware of the fact that in this way the DPRK will become fully opposed to the international community and will create international legal grounds for using military force against itself in accordance with the right of a state to self-defense enshrined in the United Nations Charter."
Yet, only a week later, the North Koreans threatened a nuclear attack on Manhattan in DPRK Today. The government has rarely used the outlet to spew their anti-American propaganda.
"Our hydrogen bomb is much bigger than the one developed by the Soviet Union," wrote DPRK Today. "If this H-bomb were to be mounted on an intercontinental ballistic missile and fall on Manhattan in New York City, all the people there would be killed immediately and the city would burn down to ashes."