Fidel Castro, the dictator who used firing squads, labor camps, beatings, torture, and hunger to oppress his people for more than half a century, died Friday night at the age of 90. His demise – though his brother, Raúl, remains in power – has led many to ask what the future holds for Cuba's anti-communist dissident community.
While the number of vocal anti-communist dissidents in Cuba is likely smaller than the number of Cubans who support a change in government, Cuba boasts an active community of former prisoners of conscience, activists, artists, and community organizers working to bring international attention to the human rights abuses on the island. Below, four of the most prominent of these dissident leaders, many who have endured beatings, arbitrary arrests, mob violence, and other horrors under the Castro regime.
Guillermo Fariñas
Guillermo Fariñas was once a psychologist by trade, a veteran of Castro's war in Angola who has served a total of 11 years in prison for his political beliefs. An advocate of peaceful dissidence, Fariñas has completed 23 hunger strikes against the regime, the latest concluding in September after the Cuban government spread a false rumor that the European Union was considering new sanctions on the regime in his name. The Victims of Communism organization credits him with the liberation of dozens imprisoned during the 2003 crackdown known as the "Black Spring," and the European Union awarded him in 2010 with the prestigious Andrei Sakharov Prize for human rights advocacy.
Fariñas has been a vocal opponent of "normalization" of relations between Cuba and the United States under President Barack Obama, and is widely considered the conscience of the Cuban dissident movement on the island, though he has not publically stated any interest in a leadership role in a post-Castro, anti-communist government.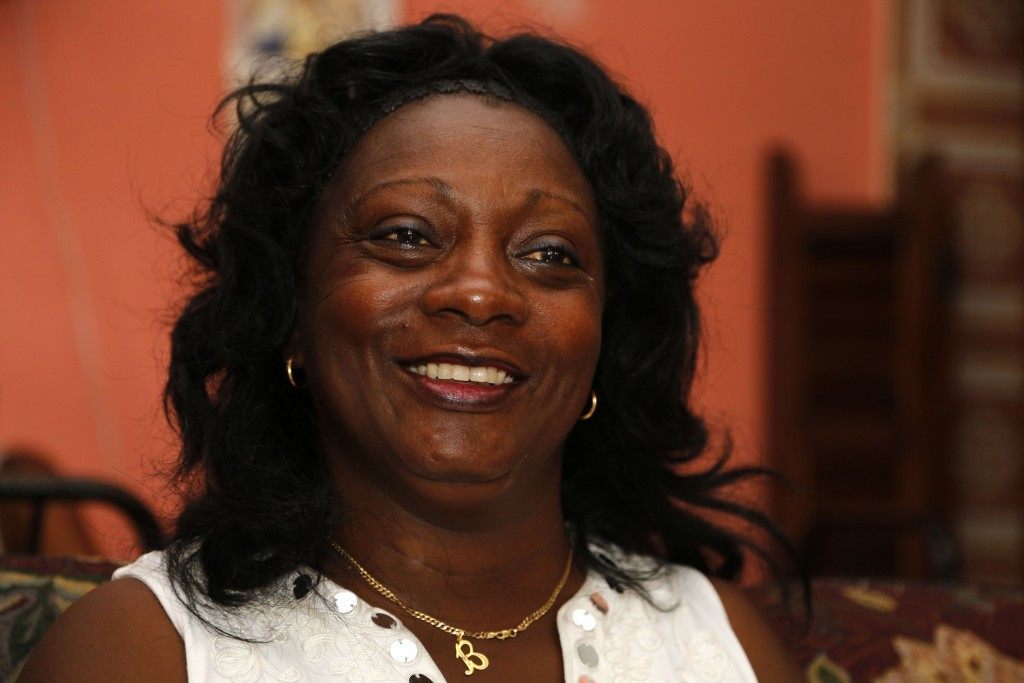 Berta Soler/Ladies in White
The Ladies in White (Damas de Blanco) and their leader, Berta Soler, are the wives, daughters, sisters, and mothers of Cuba's prisoners of conscience. For years they have congregated in Havana every Sunday to attend Catholic Mass, marching to their church in silence wearing white and carrying the photos of their imprisoned relatives. For this, the Cuban government has arrested many every Sunday for years, beating them and shoving them into police vans, later abandoning them hours from their homes with no way of getting back.
Shortly before President Barack Obama landed in Havana in March, video showed a state-commissioned mob beating a group of Ladies in White who assembled the Sunday before, shouting vulgar slurs at them, tossing money their way (an insult meant to accuse them of receiving payment for their protest), and dragging them by the feet. In other "actos de repudio," as the mob attacks are known, communist agents have burned copies of the UN's Universal Declaration of Human Rights, slathered the women in tar, and dragged them out of their homes by the hair. Soler herself was dragged onto a bus by the hair to keep her from attending Pope Francis's Mass on the island in September 2015.
Shortly after Fidel Castro's death, Soler told Univisión that she feared a new wave of repression on the island. "Raúl is afraid that we will start protesting in the streets [like] in Miami," he noted.
José Daniel Ferrer/Zaqueo Báez/UNPACU
The Patriotic Union of Cuba (UNPACU) and its leader, José Daniel Ferrer, have worked in tandem with the Ladies in White to stage acts of protest – some as simple as stating opposition to the Castros openly, some less overt, like starting illegal businesses and sneaking humanitarian aid to the victims of Hurricane Matthew when the Cuban government failed to. It is, however, a less centralized group whose members engage in protest acts independently. It describes itself as a "group of patriots who have dedicated years to struggling for the liberty and human rights of all Cubans, some former political prisoners, some the youth of new generations that have recently been incorporated into the struggle.
Like the Ladies in White, UNPACU faces regular actos de repudio, including mob attacks on its headquarters. Its members have gotten arrested in dramatic fashion and remained imprisoned for years. Among the most notable recent UNPACU arrests was that of Zaqueo Báez in 2015, who was beaten and arrested in front of Pope Francis for saying the word "freedom" (the pope would later deny the incident, though video of it exists). He has since been arrested on multiple occasions for other public acts of rejection of communism, or – in the case of President Obama's visit to the island – under no charges, just in case.
Jorge Luis García Pérez (Antúnez)
García, more commonly known by his pseudonym Antúnez, is one of Cuba's longest-serving political prisoners. He served 17 years in prison, from 1990-2007, after publicly calling communism "a mistake." In prison, he kept extending his sentence by refusing to wear prison uniforms and failing to participate in political "re-education" indoctrination mandatory for all political prisoners. Antúnez has personally testified to suffering beatings and torture in prison as an attempt to get him to participate in "re-education."
Antúnez remains active in the dissident community, often participating in Ladies in White marches and thus, being subject to arbitrary arrest yet again every Sunday he takes to the streets with them. He has publicly called for the United States to oppose any attempts at diplomatic "normalization" with the Castro regime unless the human rights situation changes on the island, and has stated that, with President-elect Trump, he expects "political prisoners will become a priority again."
Rosa María Payá
Payá came into human rights advocacy through her father, Oswaldo Payá, the head of the anti-Castro Christian Liberation Movement. The elder Payá died in a car accident many of his supporters say was orchestrated by the Cuban government. The government has done little to investigate the incident, adding to speculation that the car causing the damage, bearing state license plates, meant to cause the damage it did.
Payá, spending much of her time advocating for change in Miami, has become a more prominent international figure than the aforementioned dissidents or even her own father, lobbying for the rights of Cuban dissidents before the United Nations, emphasizing before international audiences that, despite President Barack Obama's assurances that the island's regime is softening, "they're not reforming anything." Thus, governments abroad have also tried to silence her, though the United States has welcomed her as a guest of honor.