UPDATE: Video has since been removed from YouTube
By now, you've probably seen the mob-scene that developed on the front lawn of the private residence of Greg Baer, deputy general counsel for corporate law at Bank of America. This was planned for some time by the SEIU as part of a larger national event, their Showdown on K Street, which was shared with National People's Action and thousands of other activists from MoveOn.org and other left-wing groups.

Prior to the main event on K Street in Washington DC, SEIU and company made a little pit stop. According to Fortune magazine Washington editor Nina Easton, 14 busloads of riled up protesters unloaded on Baer's private property and stormed up to his doorstep, while his teenage son was home alone. Easton is a neighbor of Baer's and had called to check on her neighbor's son when she heard and saw all the commotion outside. Easton writes,



"Waving signs denouncing bank "greed," hordes of invaders poured out of 14 school buses, up Baer's steps, and onto his front porch. As bullhorns rattled with stories of debtor calls and foreclosed homes, Baer's teenage son Jack — alone in the house — locked himself in the bathroom. "When are they going to leave?" Jack pleaded when I called to check on him.

Baer, on his way home from a Little League game, parked his car around the corner, called the police, and made a quick calculation to leave his younger son behind while he tried to rescue his increasingly distressed teen. He made his way through a din of barked demands and insults from the activists who proudly "outed" him, and slipped through his front door.

"Excuse me," Baer told his accusers, "I need to get into the house. I have a child who is alone in there and frightened."
Imagine what you would have done if your child were inside that house and that mob was on your front lawn as you tried to reach him.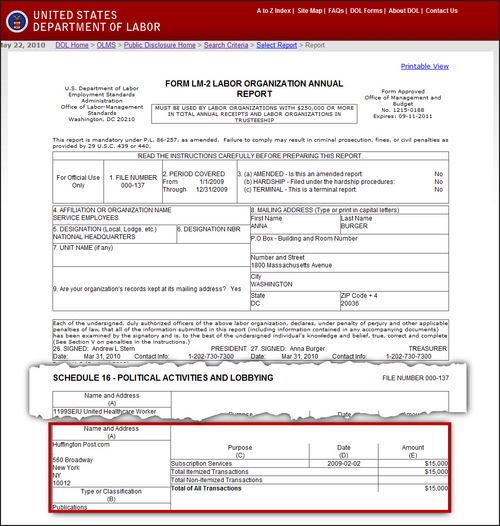 Amazingly, the SEIU has actually taken aim at Easton for reporting on this incident. Their defense? Easton's husband is a Republican strategist and has a lobbyist as a client – oh, the horror! (Especially considering that the SEIU itself is also a lobbyist). In their post "Nina Easton & the Bank Lobbyists: Too Close for Comfort," SEIU's crack Googlers researchers break the case wide open:

"The really interesting question here is: why is Ms. Easton so angry? And why has she decided to use her position as a member of the media to air her own personal rant at the people who showed up to share their foreclosure stories?

Nina Easton's husband's firm has Business Roundtable as a client, a special interest group that counts giant banks like Bank of America as members.

One Google search clears it up pretty quickly. Her husband is Russell Schriefer, Republican strategist and consultant to several big corporate interest groups. In fact, her husband's client list includes the Business Roundtable, a special interest group that counts Bank of America and other Wall Street banks among its members.

Ms. Easton's husband used to be a corporate lobbyist himself, before he started his own consulting firm for Republican politicians and corporate interest groups like the Business Roundtable and the Chamber of Commerce. Now, according to his website, he helps garner positive media for "a wide range of corporate clients including Fortune 500 companies and national associations."
Wow. Amazing. That kind of muckraking puts my time working at LexisNexis to shame. Perhaps I should take SEIU's employment recruiters up on one of their recent job offers sitting in my email inbox. (really, they are hiring, and they did email…can you imagine that job interview?)
But what's even more interesting, to use SEIU's phrase, is the labor union's odd relationship with its own business and advocacy partners. They specifically mention above their disdain for Business Roundtable, for their part as what they term as a Republican corporate interest group. But, just like Bank of America – which is a lender to SEIU, mortgage partner to ACORN, and is also the leading lending partner to SEIU advocacy partner, Center for Responsible Lending – one of SEIU's own partners is also Business Roundtable.

"Today, three of the nation's leading consumer, business and labor organizations announced that they will work together to urge action from political leaders in a partnership called Divided We Fail. AARP, Business Roundtable and SEIU will use the influence of their over 50 million combined memberships to amplify the message that attaining health and long-term financial security is vital for all Americans and these issues must be included in the national political debate.

Divided We Fail is a national effort designed to engage the American people, elected officials and the business community to find broad-based, bi-partisan solutions to the most compelling domestic issues facing the nation – health care and the long-term financial security of Americans."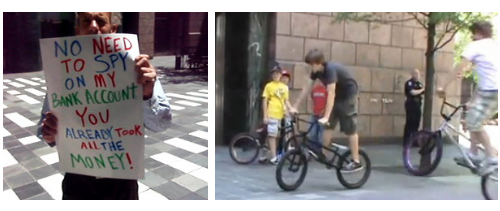 Ouch, talk about biting the hand that feeds you.
The current circumstances are also rather interesting because recently, Tea Party and 912 Project groups have been protesting Bank of America, too. For SUPPORTING the financial regulatory reform bill currently in Congress. You know, the one that Big Labor is supporting with Democrats – the one that proposes the big banks and government spy on your bank accounts and report your loan info to a big government database for all to see? Yeah, that bill. Bank of America lobbyists have been busy lobbying Democrats and donating money to Democrats.
I think the folks at SEIU may be a bit confused over there – first they storm private property and intimidate a teenage child, then they bite the hands that feed them, and they overlook all the money flowing into the Democratic coffers on this bill and selectively go after only seemingly Republican targets. Only, their targets aren't Republican at all. This one in particular – definitely not a Republican, as Easton describes Baer:

"Instead, a friendly Huffington Post blogger showed up, narrowcasting coverage to the union's leftist base. The rest of the message these protesters brought was personal-aimed at frightening Baer and his family, not influencing a broader public.

Of course, HuffPost readers responding to the coverage assumed that Baer was an evil former Bush official. He's not. A lifelong Democrat, Baer worked for the Clinton Treasury Department, and his wife, Shirley Sagawa, author of the book The American Way to Change and a former adviser to Hillary Clinton, is a prominent national service advocate."
Just imagine if the union of We the People mobilized its own protests to put a stop to the tactics of domestic terrorism of today's leftist unions.
——–
Also be sure to catch this related post from LaborUnionReport titled "The SEIU, the NPA & Organized, Premeditated Intimidation".