The Islamic State (ISIS/ISIL) has been terrorizing the Middle East for almost three years. Unfortunately, the mainstream media and President Barack Obama act as if they want the public to remain ignorant about a radical Islamic group so horrific that al-Qaeda does not want anything to do with them.
These are the facts that every American must know.
1. ISIS IS WINNING THE SOCIAL MEDIA WAR
Facebook. YouTube. Twitter. If it is a social media outlet, ISIS knows how to use it to amp up their recruits and spread their message.
In February, former National Security Council staffer Hillary Mann Leverett claimed the terrorist group sends out 90,000 social media messages a day. While that seems like a lot, others believe the number is actually double that number.
"My best estimate is something over 200,000 a day, including retweets, but that comes with a lot of caveats," explained J.M. Berger, a non-resident fellow at the Brookings Institution. "It is not entirely possible to break down members vs. fanboys and the bulk of accounts don't visibly differentiate. But a plurality of the accounts we examined for the study appeared to be based in Iraq and Syria."
Breitbart News regularly reports how militants use social media to recruit Westerners, especially women. The Institute for Strategic Dialogue and the International Center for the Study of Radicalization at King's College discovered that the feeling of "sisterhood" was just as much of a draw as finding a mujahid groom for the majority of women from the West.
2. ISIS RAKES IN BETWEEN $25 TO $90 MILLION A MONTH FROM OIL SALES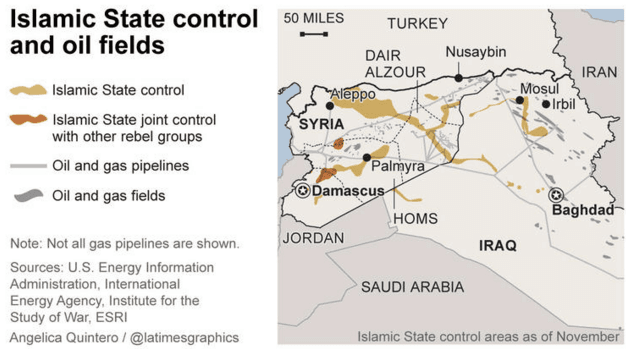 The squabble between Turkey and Russia pushed the subject of ISIS-controlled oil fields into the headlines. Both countries accuse each other of purchasing oil from ISIS, but how much does that give the group?
In July 2014, experts believed oil earned ISIS at least $3 million a day, or roughly $90 million a month. The group captured numerous oil fields in Syria's Diar Alzour province, including the Omar oil field. Almost a year later, the U.S. claimed ISIS was weakening, but militants "seized most of the Baiji oil refinery, the largest in Iraq."
Other analysts said that ISIS only makes $2 million a month from oil, which is around $24 million a year.
3. ISIS CALIPHATE SPANS UP TO 35,000 SQUARE MILES
On, November 17, GOP presidential candidate Jeb Bush tweeted out this picture of the caliphate.
A terrorist caliphate the size of Indiana can't be contained. It must be destroyed. pic.twitter.com/kxJVUNMYPx

— Jeb Bush (@JebBush) November 17, 2015
The picture shows the state ISIS has formed so far is about the size of Indiana, with over 8 million residents. They established Raqqa, Syria, as the capital of their caliphate. In 2014, one publication said the the caliphate sized at 12,000 square miles while others put it at 35,000 miles. Either way, one thing remains constant: "They would like the entire world to be Muslim, but they want the world to be Muslim in a very, very narrowly defined manner," said William Beeman, chair of the anthropology department at the University of Minnesota. "They are fundamentalist Muslims and their idea of Islam is quite different from the rest of the Islamic world."
4. FBI RUNNING OVER 900 INVESTIGATIONS OF ISIS OPERATIVES IN THE 50 STATES
In October, FBI Director James Comey told intelligence officials his department is currently running at least 900 investigations against alleged ISIS operatives in America. However, the stats also showed that the majority of Americans are not fleeing to ISIS. That only means the domestic threat rises if they stay in the states.
5. THOSE INVESTIGATIONS SPAN TO ALL 50 STATES
Comey also alerted the nation that ISIS "tentacles" spread to all 50 states. Unfortunately, though, potential recruits and ISIS use encrypted software to communicate.
"ISIS is sending a poisonous message that buzzes in the pockets of troubled souls, unmoored people, all day long," said Comey. "The challenge we face is finding those needles in a nationwide haystack, assessing where they are on a spectrum between consuming this poison and acting on it, and disrupting them before they act."
6. 72 DEPARTMENT OF HOMELAND SECURITY EMPLOYEES ON FEDERAL WATCHLIST
The second amendment clearly states that "the right to keep and bear arms shall not be infringed." But Sunday night, President Barack Obama pushed for more gun control at the federal level by urging Congress to make sure people on the federal no-fly list can buy a gun. However, that list is far from perfect.
On December 1, Rep. Stephen Lynch (D-MA) revealed an investigation in August showed 72 employees of the Department of Homeland Security were on the watch list. This led to Lynch and other Democrats voting with Republicans on a bill to "ramp up screening requirements for Syrian and Iraqi refugees." He said:
Back in August, we did an investigation—the inspector General did—of the Department of Homeland Security, and they had 72 individuals that were on the terrorist watch list that were actually working at the Department of Homeland Security. The director had to resign because of that. Then we went further and did and eight-airport investigation. We had staffers go into eight different airports to test the department of homeland security screening process at major airports. They had a 95 percent failure rate. We had folks—this was a testing exercise, so we had folks going in there with guns on their ankles, and other weapons on their persons, and there was a 95 percent failure rate.
Which leads us to the final fact:
7. ZERO SAN BERNARDINO TERRORISTS WERE ON THAT NO-FLY LIST
The no-fly list mentioned 72 Homeland Security employees. In the past, the name "T. Kennedy" appeared on the list, causing troubles for former Sen. Ted Kennedy (D-MA). Civil Rights icon John Lewis ended up on the list, which caused numerous headaches and travel delays. Babies and toddlers remained on the list.
But Obama and Democrats want to rely on the list, even though San Bernardino terrorists Syed Farook and Tashfeen Malik never appeared on the list. They slaughtered 14 people in cold blood. Investigators believe Malik pledged allegiance to ISIS. Others said the bombs the couple made mirrored those in al-Qaeda's Inspire magazine. CBS confirmed reports that both of the attackers viewed ISIS propaganda online.
They never once appeared on the no-fly list.