House Speaker Paul Ryan and Democratic leaders have hidden a bipartisan plan in the 2016 appropriations bill that would outsource blue-collar jobs held by almost 200,000 Americans to lower-wage temporary foreign workers.
The covert plan could also cut the salaries of many additional American workers, and force taxpayers to pay additional billions in welfare costs, so companies can boost their profits.
Nonpartisan public opposition to cheap imported-labor defeated the massively-lobbied 2013 immigration bill, prompted primary voters to fire the GOP's majority leader in June 2014, helped to fire five Democratic Senators in November 2014, and has helped outsider Donald Trump dominate the GOP's 2016 race. Meanwhile, the presidential candidates who are backing low-productivity, cheap-labor policies — chiefly Gov. Jeb Bush and Sen. Marco Rubio — have fallen to very low levels, despite huge support from business donors and media personalities.
The H-2B program brings in cheap workers, mostly from Latin America, to work for companies in seasonal sectors such as landscaping, forestry, seafood, hotels, resorts and country clubs and hotels. Those workers displace Americans youths and lower-skilled Americans, including many Hispanic-Americans and African-Americans supposedly championed by Democrats. The program is backed by a large business coalition.
The covert new measure was pushed by a bipartisan coalition including Sen. Barbara Mikulski (D-MD) and Sen. Mark Warner (D-VA), by Sen. Thom Tillis (R-NC), and Sen. Bill Cassidy (R-LA) — despite bipartisan opposition from Sen. Bernie Sanders (D-VT), Richard Blumenthal (D-CN), and Jeff Sessions (R-AL).
In the House, it is pushed by Rep. Steve Chabot, (R-OH) chairman of the Small Business Committee and by Rep. Bob Goodlatte, (R-VA) chairman of the House Judiciary Committee.
The program has come under increasing criticism from a wide range of media and advocacy outlets, so congressional leaders sought to hide the replacement program from the public in the huge 2016 appropriations budget, and then rush it though Congress in only a few days.
The critical paragraph is obscured by complex language that doesn't include the name of the overall program, dubbed the H-2B program. It was inserted into page 701 of the 2,009-page closed-door deal, between a paragraph about an arms-trade treaty and a paragraph about a $14 million account related to free-trade and the border patrol.
Normally, the program is capped at 66,000 workers per year. But the hidden language exempts the prior three years of H-2B workers from the cap, allowing the companies to bring in four years of workers each year. That will gradually quadruple the size of the current program up to 264,000 workers in 2019.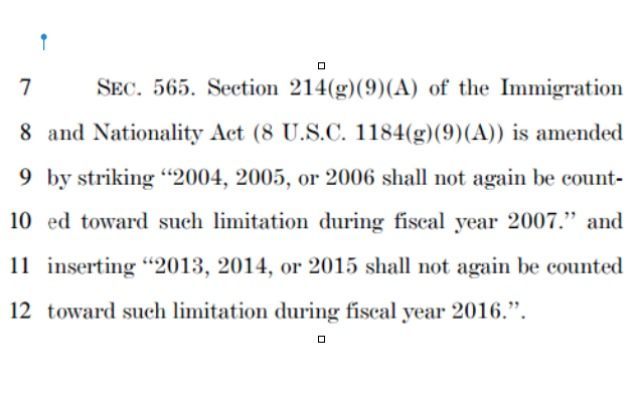 Congress has the authority to end the program, which might force companies to hire 66,000 Americans instead of today's H-2B guest-workers. 
Employers really like the pink-slip program because it provides them with cheap and tough workers — and it also allows them to also cut the salaries of their long-term Americans workers.
The extra benefit was described by Maryland landscaper Josh Denison in the October 2015 issue of the industry magazine, Lawn & Landscaping. The Labor Department is planning to bump up the 2016 hourly wage of H-2B workers to $13.80, he complained.
"This causes a ripple effect in all wages across the board," Denison says. "If your $10.30 [an hour] basic domestic or H-2B laborer has an arbitrary wage increase, then you have to adjust wages across the board in a sliding scale to keep it fair and balanced. What happens to the $12 guy if the new guy is making more? And what happens to the $15 guy?"
Denison is the hiring chief at Denison Landscaping in Oxon Hill, Md., in Democratic Rep. Donna Edwards's district. She is running to replace Sen. Mikulski.
The new 2016 appropriations bill also allows employers to set their own wage-scales for the migrant workers, regardless of federal data about local wages. That wage-cutting language is placed on page 888 of the 2,009-page bill.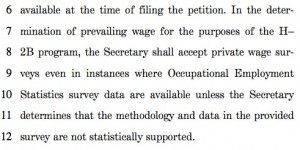 The worker-replacement program also pushes many Americans onto welfare programs, so imposing a multi-billion dollar cost on taxpayers.
In 2015, Denison said he had to hire more than 100 Americans because the Labor Department was slow to deliver his foreign H-2B work-crews.
If those Americans left Maryland's unemployment line for an average of six months, the state taxpayers' welfare bill would have dropped by almost $900,000. Nationwide, the taxpayers' cost for supporting the 200,000 Americans that may be sacked under Congress's plan would add up to roughly $1.4 billion — every six months. And another $1.4 billion during the next six months.
The gradual increase to 264,000 workers is only for 2016, according to the 2016 language. But once appropriations language is approved, it becomes difficult to remove it in future years.
Also, the one-year extension means that quadrupling can become a Democratic bargaining chip during the immigration "reform" negotiations expected in 2017 or later. In 2013, Democrats offered more white-collar and blue-collar outsourcing programs to business groups on condition they pushed reluctant GOP legislators to approve an amnesty for the 12 million Democratic-leaning illegal migrants now living in he United States.
The industry group that lobbied for the measure thanked Congress Dec. 16.
On account of the hardworking employees and workforce who operate lodging facilities and help boost the local economies in communities across the United States, especially during peak tourism seasons, the hotel industry applauds the Congressional leaders in both chambers who recognized the importance of including H-2B provisions in the omnibus bill," said Brian Crawford, vice president of Government and Political Affairs at the American Hotel & Lodging Association and Co-Chair of the H-2B Workforce Coalition. "Incorporating these measures in the 2016 funding package will ensure the success of small businesses and provide American employers the tools they need to recruit workers for temporary employment in this country.
The H-2B outsourcing program is supported by Speaker Ryan. In the past, he has endorsed the "any willing worker" claim that U.S.-based executives should be allowed to offer any job to any foreign workers if Americans workers won't take the job at an advertised wage. "We want to have a system where people can come here and work– go back and forth if they want to," Ryan said in 2013.
In fact, Ryan endorses the H-2B worker program on his website. "Employers should be able to hire workers on a temporary or seasonal basis when they can't find Americans to fill the jobs. Wisconsin, for instance, relies on seasonal labor for agriculture and other industries, but due to a lack of seasonal H-2B visas, some Wisconsin businesses face annual labor shortfalls. If we can link legal immigrants with small businesses, we can help spur economic growth."
In Oct. 2015, only 62.4 percent of adult Americans had jobs. That's down from 66.9 percent in April 2001, and level with the June 1977 level.