The Kellogg Company, famous for its breakfast cereals, is giving far-left activists hundreds of millions of dollars to promote left-wing causes and projects, including "white privilege" and "structural racism."
The company's project to promote "coming to grips with racism" was touted at its "American Healing Conference." The conference promised to "move the conversation from hope to possibility."
In an article on its webpage, the W.K. Kellogg Foundation (WKKF), the activist NGO sponsored by the Kellogg Company, states that "racial privilege and structural inequities have influenced" America and are at the core of nearly everything the country has done.
"Since the birth of America, racial privilege and structural inequities have influenced the nation's policies and social systems, from healthcare, education and child welfare to media, food consumption, justice and countless other facets of everyday life," the foundation states. "In America, those who differ from the majority because of race, color, sexual orientation, religion, gender, weight and other characteristics face a deluge of outright discrimination and unconscious bias."
The foundation goes on to claim that the nation is racist without even realizing it.
"This paradox is routinely denied by its individual and institutional perpetrators, and sometimes even by its victims. But the impact is real," the foundation writes. "The social consequences of discrimination can be devastating for everyone, as its targets struggle to overcome barriers from artificial constructs, while those in the majority may consciously or subconsciously wrestle with the root causes of their behavior." The foundation then announced a five-year $75 million initiative to "combat structural racism in America."
Its first four-day conference was held in May of 2011, with the foundation telling participants, "We believe that achieving racial equity will require changing hearts, minds and deeply held (often unconscious) beliefs that manifest in and through persistent residential segregation patterns and related disparities in access to opportunity."
The foundation's America Healing Conferences were  held annually over that five-year period. The most recent conference was in 2015 and featured the theme "All Children Must Thrive."
The foundation sent the New York-based Calhoun School a $250,000 donation for a "three-part youth-based project on issues of white privilege and institutionalized racism."
The foundation has also opposed voter ID laws by funding opposition to such organizations as the Texas-based TrueTheVote.org. The WKKF put millions into funding the Applied Research Center (ARC), a New York-based "racial justice think tank that uses media, research and activism to promote solutions." The ARC, now known as RaceForward, accused supporters of voter ID laws of being proponents of Jim Crow-styled racism.
"ARC produced a steady stream of vicious propaganda aimed at conservative and Tea Party groups like True the Vote through its www.ColorLines.com website," the Capital Research Center reported in 2013.
Most recently, one of the company's board members even tried to damage the candidacy of GOP presidential candidate Dr. Ben Carson when Kellogg board member Donald Knauss tried to connect Carson to the left-wing causes the board of Costco often engaged in when both Knauss and Carson served together there.
WKKF has funded a long list of liberal ideas, causes, and programs, including a virtual Who's Who of leftwing organizations and causes:
According to DiscovertheNetworks.org, past recipients of donations and grants [from WKKF] have included the American Civil Liberties Union; Aspen Institute; Association of Community Organizations for Reform Now (ACORN); Center on Budget and Policy Priorities; Center for Community Change; Children's Defense Fund; Council on Foundations; Earth Island Institute; Environmental Defense Fund; Friends of the Earth; Mexican American Legal Defense & Education Fund; Ms. Foundation for Women; NAACP; National Committee for Responsive Philanthropy; National Council of La Raza; National Public Radio; Natural Resources Defense Council; Nature Conservancy; Rockefeller Family Fund; Save the Children Fund; State Voices; Tides Foundation and Tides Center; United Nations Foundation; United States Student Association; Urban Institute; Waterkeeper Alliance; World Resources Institute; and the World Wildlife Fund.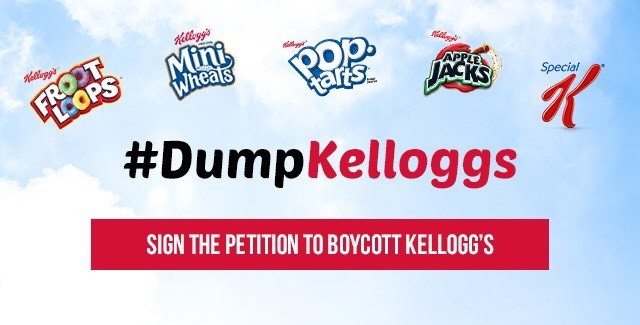 Follow Warner Todd Huston on Twitter @warnerthuston or email the author at igcolonel@hotmail.com.