Alabama Senate candidate Roy Moore has promised to oppose the proposed record-breaking Dream Act amnesty for "DACA" illegal immigrants, one day after incumbent Sen. Luther Strange declined to answer questions from Breitbart News.
"Roy Moore opposes DACA and the Dream Act and supports military patrol of the borders while the [border] wall is being constructed," a spokesman for Moore's campaign told Americans for Legal Immigration PAC.
Bill Gheen, ALIPAC's founder, promptly endorsed Moore: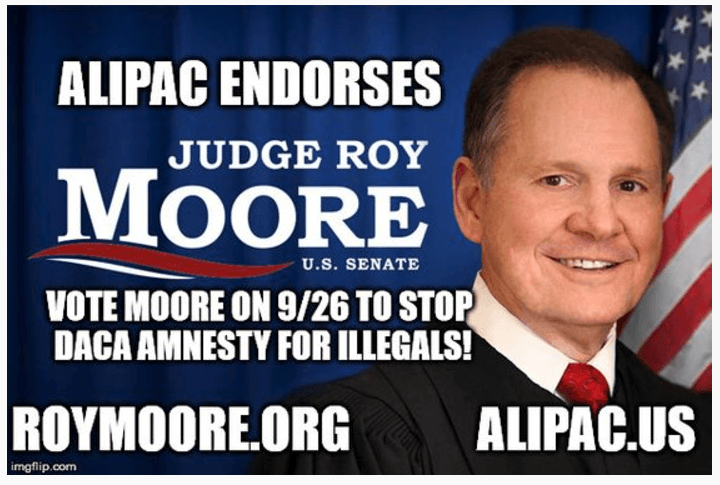 ALIPAC is a grass-roots group which helped defeat amnesty pushes by President George W. Bush and President Barack Obama. It also helped the primary defeat of GOP Majority Leader Eric Cantor in June 2014.
"This is the first clearly drawn line" between Strange and Moore, Gheen told Breitbart News. It has "just given us the contrast between Moore and Strange," he added. The group will use its extensive membership list to encourage support for Moore, Gheen said.
The immigration issue helped outsider Donald Trump beat the GOP and Democratic establishments in 2016. But the federal policy of importing 1 million new legal immigrants a year generates so much extra revenue for business and for government agencies that Trump is facing intense pressure from the establishment to provide an amnesty to many of the 11 million illegal immigrants living in the United States.
The DACA issue blew up September 13 when the two Democrats declared that Trump had agreed to accept a DACA amnesty without getting funds for a border wall.
The cost of the proposed amnesty is far bigger than the Democrats or their media allies admit. Instead of covering 690,000 younger illegals now enrolled in former President Barack Obama's 2012 "DACA" amnesty, the Democrats are pushing for passage of their much more ambitious "Dream Act," which would legalize the 690,000 registered DACA recipients plus many additional migrants.
The Dream Act would cover at least 3.3 million illegals, according to a pro-immigration group, the Migration Policy Institute.
Once provided with amnesty and citizenship, the 3.3 million illegals would be able to get Obamacare grants — at an estimated cost of roughly $115 billion per decade —  and also sponsor many of their foreign-based relatives to join them in the United States, so inflating the scale and cost of the amnesty.
In contrast to Moore, Luther Strange has a record indicating support for large-scale immigration, and he even has a personal investment in a company which trades green cards for overseas funds.
Strange's campaign website ducks the high-profile DACA issue, saying only that:
It is our duty to uphold and enforce immigration law. Individuals who enter our country illegally should not receive the benefits that taxpaying Americans do. Immediate deportation of criminal aliens, building President Trump's border wall, and cutting off funding for sanctuary cities are all effective means to enforce America's laws and strengthen its borders.

Enforcing immigration law is also crucial to protecting Americans from terrorists seeking entry into our country under false pretenses. Luther Strange stands with President Trump and supports banning refugees in terrorist countries from entering our borders.
Strange has not responded to media questions about his policy towards the DACA amnesty.
When serving at the state's Attorney General in 2011, Strange sought to weaken the state's draft HB 56 law curbing the employment of illegal immigrants. He initially failed, but when Obama's federal government later sued the state to stop enforcement of the law, Strange used his power as Attorney General in October 2013 to stop defending the law and allow most of it to be eliminated.
Reportedly, Strange also has a one-sixth share in a company which effectively trades EB-5  visas and green cards to wealthy Chinese people who want to live in the United States. On September 19, his campaign staff told WHNT that "Luther agrees with the Trump administration that there are serious concerns over the EB-5 visa program, which is not being used as originally intended. It's time for Congress to get to work on these issues." The Strange statement did not propose to eliminate the often-criticized EB-5 program.
Four million Americans turn 18 each year and begin looking for good jobs. However, the government imports roughly 1 million legal immigrants to compete against Americans for jobs.
The government also hands out almost 3 million short-term work permits to foreign workers. These permits include roughly 330,000 one-year OPT permits for foreign graduates of U.S. colleges, roughly 200,000 three-year H-1B visas for foreign white-collar professionals, and 400,000 two-year permits to DACA illegals.
That Washington-imposed policy of mass-immigration floods the market with foreign labor, spikes profits and Wall Street values by cutting salaries for manual and skilled labor offered by blue-collar and white-collar employees. It also drives up real estate prices, widens wealth-gaps, reduces high-tech investment, increases state and local tax burdens, hurts kids' schools and college education, pushes Americans away from high-tech careers, and sidelines at least 5 million marginalized Americans and their families, including many who are now struggling with opioid addictions.
Amid the huge inflow of new workers, wages for men have remained flat since 1973, and the percentage of working Americans has declined steadily for the last few decades: