GOP Senators Roy Blunt and Jerry Moran have introduced legislation which would outsource another 125,000 white-collar jobs to foreigners each year.
The outsourcing bill is being pitched as a pro-technology, pro-entrepreneurship bill even though many young and middle-aged Americans in the two Senators' home states of Missouri and Kansas are already working with technology or as entrepreneurs.
The outsourcing bill is dubbed the "Startup Act," and it closely models prior bills sought by the high-tech sector, where executives and investors are working to raise profits by further reducing the salaries paid to American college graduates and technology experts.
If enacted, the bill would import roughly 125,000 additional foreigners each year to take jobs sought by the 800,000 young American dreamers who graduate from colleges with technology, business, medical or scientific degrees each year.
The federal government already provides work permits or green cards to at least 600,000 foreign college graduates each year.
Few Senators understand how they are being used by business interests to sideline Americans, or how many ordinary Americans hate to see the cheap-labor outsourcing, an immigration lobbyist told Breitbart News. But the election of President Donald Trump showed that if GOP Senators want to stay in power, "it is essential that they open their eyes and realize that American people want immigration laws enforced, and they want immigration kept at a sustainable level," he said, adding:
Americans are capable of doing the all the work out there, from the bottom to the highest levels … [but] it seems like the new narrative in Congress is that there are no jobs Americans are capable of doing.
The Senators' focus on white-collar jobs reflects the federal government's expanding cheap-labor economic policy, which has already outsourced roughly half of farmworker jobs to foreigners, plus a huge portion of blue-collar jobs, and is now quietly outsourcing many well-paid white-collar jobs. The outsourcing trend is little noticed by pro-diversity, art-school journalists, few of whom have social contacts with the many Americans being forced out of technology, medical, science, and business jobs, but it is being pushed by Wall Street because it gooses profits and stock values.
However, American graduates pushed out of jobs by imported worker flood into other professional sectors, such as teaching, journalism and p.r, dragging down white-collar wages nationwide.
This decline in white-collar wages was highlighted by a new report from the Wall Street-backed Hamilton Project, which showed that the wage growth for college graduates has flattened from 2000 onwards;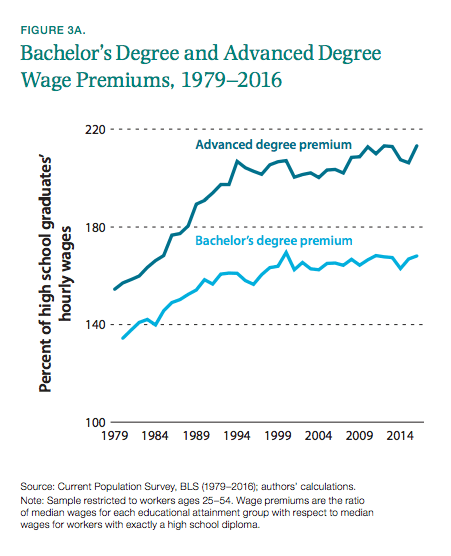 Neither Senator responded to questions from Breitbart News asking why it is fair for the federal government to help companies hire cheap foreign graduates instead of young American graduates.
In a press statement, Moran said foreigners are needed because Americans are not up to the job of growing their economy fast enough. "New business formation and the rate of entrepreneurship have reached historic lows," he said, continuing:
Simply put, America is falling behind and losing talent and jobs to countries overseas. Congress must work to reverse these trends and support policies that allow better opportunities for someone to take an idea, bring it to market, and in the process of pursuing that success, create jobs for other Americans. I am proud to introduce the latest version of the Startup Act and help make certain America remains the land of opportunity for innovators and job creators.
The bill is also sponsored by a technology-millionaire, Virginia's Democratic Sen. Mark Warner, and by Democratic Sen. Amy Klobuchar, whose home state also imports many foreign white-collar professionals for jobs sought by Americans.
Blunt is a top-ranking GOP Senator, fourth behind Majority Leader Sen. Mitch McConnell. He narrowly won his 2016 rate by three points and will face the voters again in 2022. He maintains an apartment in Springfield, Mo., where companies and Missouri State University asked for 49 H-1B outsourcing visas in 2016.
Moran was also reelected in 2016 and has long worked with build GOP support among software and Internet companies. In 2014, he helped the GOP win nine seats after New York Sen. Chuck Schumer and the Democratic Senators tried to push through the disastrous Gang of Eight cheap-labor-and-amnesty bill. Moran lives in Manhattan, Kansas, where Kansas State University annually imports roughly 60 cheap foreign white-collar professionals instead of hiring young Kansas professionals.
The Blunt/Moran outsourcing act directs the Department of Homeland Security to annually grant conditional green cards to 50,000 foreign graduates of American universities if the foreigner has a post-graduate technology degree and "is diligently searching for an opportunity …. [or] if the alien remains actively engaged in a STEM field."
The act would provide a one-year work-permit to unemployed foreign graduates so they can compete directly against Americans for good technology jobs. It provides an indefinite work-permit to foreign graduates who take and keep jobs sought by Americans.
In both cases, Moran/Blunt legislation offers the huge reward of U.S. citizenship to foreigners — and to all their descendants — if they take jobs from Americans, perhaps by offering to do the jobs at much-reduced wages. That federal offer of citizenship creates an indirect financial subsidy to any Americans employers who bypass Americans and instead hire the foreigners who are likely to work longer hours at lower wages to get the deferred and untaxed federal bonus of citizenship for themselves and their chain-migration families.
The outsourcing legislation also annually offers green cards to 75,000 "qualified alien entrepreneurs" who can invest $100,000 and register a business which employs at least two Americans after one year.
The process matches proposals by Silicon Valley investors — including former American Online chief Steve Case — who are seeking to invest in business proposals from foreign graduates of U.S. colleges, even though many American graduates also have business proposals.
The bill's definition of "business" is so broad that the green cards could also go foreigners who have the funds to buy a franchise or to launch a cheap-labor service company, such as a maid service. This breadth means the Moran/Blunt program would give U.S. immigration lawyers a lucrative business of selling citizenship via a low-rent version of the $500,000 EB-5 green-cards-for-investors program.
Four million Americans turn 18 each year and begin looking for good jobs in the free market.
But business groups have used their political power to tilt the labor market in their favor,  via the federal policy of importing 1 million consumers and workers each year. The government also hands out almost 3 million short-term work permits to foreign workers. These permits include roughly 330,000 one-year OPT permits for foreign graduates of U.S. colleges, roughly 200,000 three-year H-1B visas for foreign white-collar professionals, and 400,000 two-year permits to DACA illegals. Universities employ roughly 100,000 foreign guest workers.
That Washington-imposed economic policy of mass-immigration floods the market with foreign labor, spikes profits and Wall Street values by cutting salaries for manual and skilled labor offered by blue-collar and white-collar employees. It also drives up real estate prices, widens wealth-gaps, reduces high-tech investment, increases state and local tax burdens, hurts kids' schools and college education, pushes Americans away from high-tech careers, and sidelines at least 5 million marginalized Americans and their families, including many who are now struggling with opioid addictions.
The cheap-labor policy has also reduced investment and job creation in many interior states because the coastal cities have a surplus of imported labor. For example, almost 27 percent of zip codes in Missouri had fewer jobs or businesses in 2015 than in 2000, according to a new report by the Economic Innovation Group. In Kansas, almost 29 percent of zip codes had fewer jobs and businesses in 2015 compared to 2000, which was a two-decade period of massive cheap-labor immigration.
Americans tell pollsters that they strongly oppose amnesties and cheap-labor immigration, even as most Americans also want to favor legal immigrants, and many sympathize with illegals.
Because of the successful cheap-labor strategy, wages for men have remained flat since 1973, and a growing percentage of the nation's annual income is shifting to investors and away from employees. This chart by the business-funded Hamilton Project suggests that shift is transferring $1 trillion per year from 160 million employees to the nation's investors.