GOP Sen. Lamar Alexander told CNBC that he will vote again for an amnesty, even though his vote for the Democratic-led 2013 amnesty bill helped demolish his establishment GOP peers during the 2016 primaries and election.
"We need a legal immigration system, and we need to put that behind us," he told CNBC's John Harwood.  "We tried to do it in 2013; I voted for it. It would've solved many of the problems … I would vote for it again."
Alexander, aged 77, was born before World War II in 1940, and was first elected as Tennessee governor in 1979, 38 years ago. Since then, the Democratic Party has been captured by aggressive progressives who are using mass-immigration to fracture the United States' once-cohesive society into a multicultural, government-run territory. Democrats hoped the 2013 bill would help them import more government-dependent voters, but it instead caused a ballot box pushback by Americans in 2014 and 2016.
In his CNBC interview, Alexander echoed the long-standing consensus in the establishment GOP that amnesty legislation is needed to win support from alienated Latinos:
Harwood: Are you comfortable with the message that the Republican Party under Donald Trump is sending on race right now?

Alexander: What I'd like for President Trump to do is to do for immigration, which involves race, what [President Richard] Nixon did for China. And I've said that to him twice. And he's responded very well. He could, more than any other president I can think of right now, help us solve the immigration problem in this country. We need a legal immigration system, and we need to put that behind us. We tried to do it in 2013; I voted for it. It would've solved many of the problems.
But the 2013 legislation strongly favored investors over voters — including Latino voters — by adding roughly 33 million legal immigrants to the labor pool over the subsequent decade. The bill also changed the legal immigration system to allow universities to provide green cards to an unlimited number of salary-cutting foreign white-collar professionals. The Congressional Budget Office admitted the legislation would have cut wages for Americans while increasing profits for Wall Street investors.
The public's worries about the economic and civic impacts of the 2013 legislation were recognized by Trump, who demolished the GOP establishment and then won higher ballot-box support among Latinos than won by the GOP's 2012 candidate, Gov. Mitt Romney.  Trump and his pro-American immigration reforms got 29 percent of the Hispanic vote, while Romney got only 27 percent in 2012. Aided by a huge turnout of blue-collar Americans, Trump also won the election, whereas Romney lost to President Barack Obama
Trump's Hispanic vote was only two points lower than the received by the failed 2008 candidate, Sen. John McCain, who also supported a massive cheap-labor amnesty.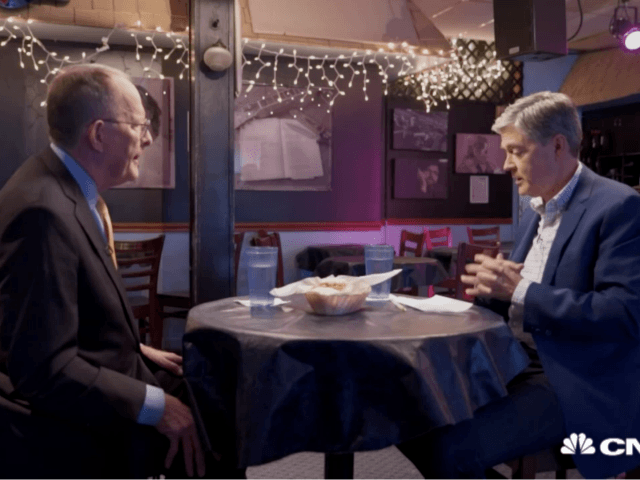 Alexander's views matter because GOP Senators are trying to develop an immigration policy that would allow them to win the 2018 elections, please business donors, and mollify Hispanic voters. Several GOP Senators — including Oklahoma Sen. James Lankford and South Carolina's Lindsey Graham– have proposed plans to amnesty at least 2 million young 'dreamer' illegals, without offering any significant benefits to Americans except a token "border security" upgrade.
But Georgia Sen. David Perdue and Arkansas Sen. Tom Cotton have drafted the pro-America RAISE Act which would raise wages for Americans — including Latinos — by cutting legal immigration levels.
Trump and GOP Senators tell Spkr Ryan to not package DACA amnesty in Xmas budget omnibus. Something bigger for 2018? https://t.co/GDogb5mgoR

— Neil Munro (@NeilMunroDC) November 3, 2017
In the House, a task force of several GOP legislators is considering a similar pro-American, wage-raising package of immigration reforms.
GOP leaders debating proposal to cut legal immigration by 50 percent. Huge b/c it would raise wages & shrivel biz addiction to imported worker/consumers. To get Dem votes in Senate, plan would amnesty some DACA/'dreamer' illegals. Wall St. & Biz hates plan https://t.co/FXJ8POT8gn

— Neil Munro (@NeilMunroDC) November 18, 2017
Harwood did not ask Alexander why he viewed the immigration issue as a solution to racial problems, nor did he ask him about the economic impact of the 2013 legislation.
Alexander also urged President Trump to get involved in the immigration debate — but the CNBC interview includes no indication that Alexander knows about Trump's willingness to accept a limited amnesty if the amnesty legislation also includes his election-validated, pro-American immigration principles. Alexander said:
It needs the president to say, "Let's solve all these problems now." Let's solve border security; let's solve the problem of legal status. Let's deal with these children who were brought here, who didn't know they were being brought here at the time. Let's make this a country of laws. Let's have a legal immigration system, not a perpetual argument about who's legal and who's not.
Trump says his pro-American principles must be included in any amnesty for the roughly 3 million 'Dreamer' illegals,  which includes the 690,000 DACA recipients, only a few of whom have four-year college degrees. Trump's principles include an end to "visa lottery" which has given green cards to 5 million people from distant cultures, such as Uzbekistan. Trump also wants an end to so-called "chain migration," which allow new immigrants to pull their distant relatives into the United States. Ending those two categories would halve the annual inflow of wage-cutting immigrants.
Alexander's office declined to answer questions from Breitbart News, but instead responded with a September 5 statement:
Just as President Nixon went to China, President Trump uniquely can lead a revision of our immigration laws that secures our borders, improves our system of legal immigration and solves problems such as the 800,000 children who grew up here, but were brought here illegally. I voted for such a law in 2013 and am willing to work with the president to do that again."

In 2013, Alexander voted for the Border Security, Economic Opportunity, and Immigration Modernization Act of 2013 which would have dramatically strengthened border security, ended de facto amnesty and helped fix our legal immigration system. The legislation would have allowed law abiding children who were brought into the U.S. illegally to apply for legal permanent resident status if they earned a high school diploma and completed at least two years of college or honorably served in the military for four years. The U.S. Senate passed the legislation, but the bill was not considered by the U.S. House of Representatives.
Attn. Tenn. voters: Lamar Alexander still supports Gang of 8 monstrosity. https://t.co/ALbAeeIJUX

— Mark Krikorian (@MarkSKrikorian) November 21, 2017
Many legislators do not understand public attitudes about immigration, in part, because their usual pollsters also being paid by their business clients to tout an amnesty.
The industry-funded "nation of immigrants" polls pressure Americans to say they welcome migrants. But other "fairness" polls show that voters also put a much higher priority on helping their families, neighbors, and fellow nationals get decent jobs in a high-tech, high-immigration, low-wage economy. That political power of that fairness priority was made clear in during the GOP primaries and again in November 2016.
Also, an amnesty for young illegals is a "top priority" for only 23 percent of American voters who identify as Independents, says a poll by Morning Consult and Politico. The no-strings amnesty was strongly opposed by 16 percent in the November survey, and likely by many of the 23 percent of people who say they have no comment or don't know.
Each year, four million Americans turn 18 each year and begin looking for good jobs in the free market.
But the federal government inflates the supply of new labor by annually accepting 1 million new legal immigrants, by providing almost 2 million work-permits to foreigners, by providing work-visas to roughly 500,000 temporary workers and doing little to block the employment of roughly 8 million illegal immigrants.
The Washington-imposed economic policy of mass-immigration floods the market with foreign labor and spikes profits and Wall Street values by cutting salaries for manual and skilled labor offered by blue-collar and white-collar employees. It also drives up real estate prices, widens wealth-gaps, reduces high-tech investment, increases state and local tax burdens, hurts kids' schools and college education, pushes Americans away from high-tech careers, and sidelines at least 5 million marginalized Americans and their families, including many who are now struggling with opioid addictions.