Democrats were dismayed Wednesday to learn the news of Supreme Court Justice Anthony Kennedy's imminent retirement. His departure will allow President Donald Trump to choose a new associate justice, likely replacing a swing vote with a conservative.
Tommy Vietor, former spokesperson for President Barack Obama's National Security Council, and co-host of the influential left-wing podcast Pod Save America, spoke for many in his party:
FUUUUUUUUUUUUUCK

— Tommy Vietor (@TVietor08) June 27, 2018
Splinter News, a site owned by Univision, expressed similar sentiment.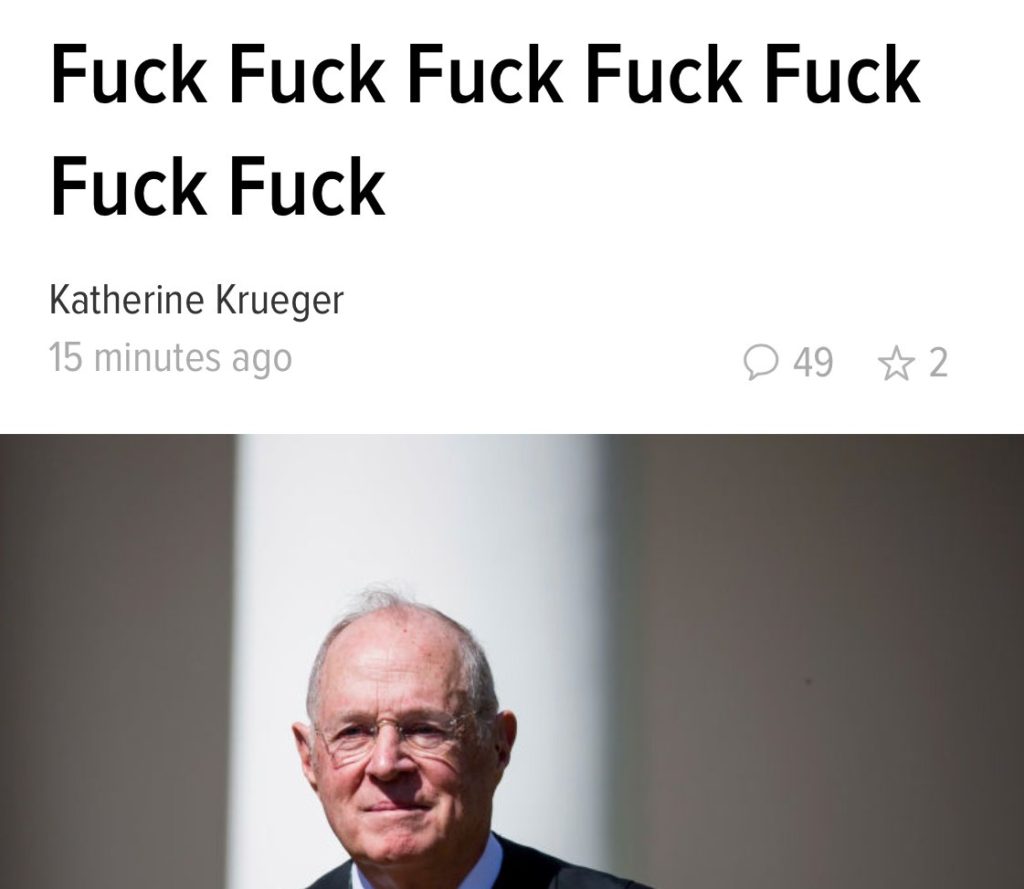 Others were somewhat more articulate, but no less upset.
BREAKING
Justice Kennedy has officially announced his resignation. Trump and his anti-choice allies have already stolen one #SCOTUS seat, and we've seen the devastating effects on our rights already. Now, he'll get the chance to steal another. https://t.co/1p8ggBQrr9

— NARAL (@NARAL) June 27, 2018
Here's 3,000 words from me on why Kennedy's retirement could mean the end of Roe v. Wade and affirmative action, and shuts the door on basically any progress against the death penalty and solitary confinement https://t.co/TLOjM4DjQ9

— Dylan Matthews (@dylanmatt) June 27, 2018
The retirement of Kennedy is one of the most depressing and unsettling pieces of news of the Trump era…and that is saying a mouthful. It is a very dark moment & one during which I am incapable of not harboring bitter thoughts about all those who made Trump's election possible.

— David Rothkopf (@djrothkopf) June 27, 2018
Earth-shaking&gut-wrenching. Departure of Justice Kennedy means a historic challenge is ahead. The President must appoint an open-minded&fair jurist in Justice Kennedy's mold.

— Richard Blumenthal (@SenBlumenthal) June 27, 2018
CNN legal analyst predicts abortion will be illegal in 20 states soon after Kennedy retires https://t.co/OFvcyNHLkR pic.twitter.com/MViVIJvQ7K

— The Hill (@thehill) June 27, 2018
Some took the opportunity to trash Kennedy — or to praise him:
Kennedy had two great legacies.

One was the law's recognition that gay people are people.

The other is unlimited spending by wealthy corporations in on elections.

He chose to sacrifice the former to safe the later.

He is a terrible person.https://t.co/q6Asq83WJL

— Ian Millhiser (@imillhiser) June 27, 2018
In 2003, Kennedy broke with the conservatives to strike down sodomy laws in 13 states.

— Q. Allan Brocka (@allanbrocka) June 27, 2018
And others held out hope that Justice Ruth Bader Ginsburg, 85, would remain in her seat to keep the Court's liberal minority at four members, with hope of adding to their number under a future Democratic administration:
Meanwhile, colon AND pancreatic cancer survivor, and Kennedy's senior by four years, Ruth Bader Ginsburg, is out here REFUSING TO YIELD.

— Nish Weiseth (@NishWeiseth) June 27, 2018
Joel B. Pollak is Senior Editor-at-Large at Breitbart News. He is a winner of the 2018 Robert Novak Journalism Alumni Fellowship. He is also the co-author of How Trump Won: The Inside Story of a Revolution, which is available from Regnery. Follow him on Twitter at @joelpollak.