Trump campaign surrogate Kimberly Guilfoyle appeared at a Women for Trump event in Nevada on Thursday evening alongside special guest, former Ms. Nevada Katie Williams.
Williams is the U.S. combat veteran who was nixed from the Ms. America pageant and stripped of her title over her pro-America, pro-Trump views –  and told the crowd, "no woman should ever be oppressed" for her ideological beliefs.
The event, which was part of the Trump campaign's national coalition push coinciding with the upcoming 99th anniversary of the passage of women's suffrage, was held at Las Vegas's Bootleggers Copa. It drew over 400 attendees, the majority of whom were women.
Guilfoyle, who serves as a senior adviser for President Trump's re-election campaign, introduced her guest of honor, telling the crowd, "This is why we stand, because no woman should ever be oppressed about her political, personal or ideological beliefs."
"Under President Trump, we don't put up with that … She's fierce. She's brave. She's a warrior. She deserves our respect and support," Guilfoyle added before Williams delivered brief remarks, thanking the crowd for their support.
"The last four days have been so crazy. I'm sure you guys have seen all the videos, all the articles, and all the things coming out. But I just want to say thank you to everyone who has offered their support," Williams said.
"I'm just not ready to roll over yet," she added, triggering applause.
Guilfoyle also reminded the crowd of Williams' military service and thanked her for her dedication.
"You may not know but she also served faithfully right in the National Guard and our military, deployed to Afghanistan. Thank you for your service, your dedication. She's fighting for our liberties and our freedoms and we stand for her," she added.
(A selection of images from the night appear below)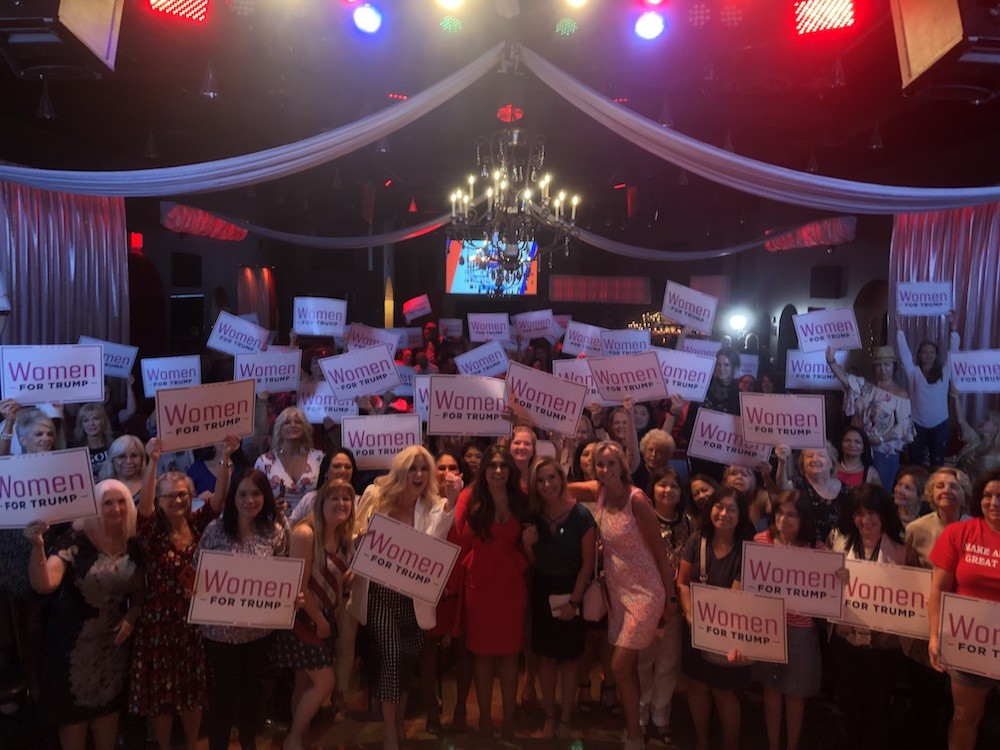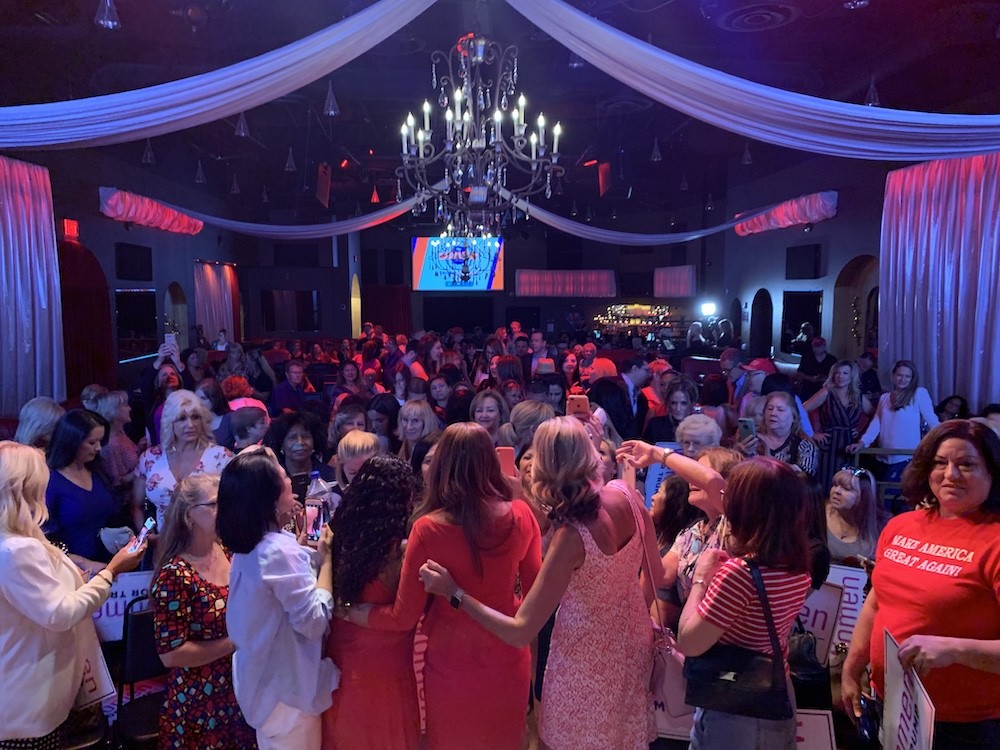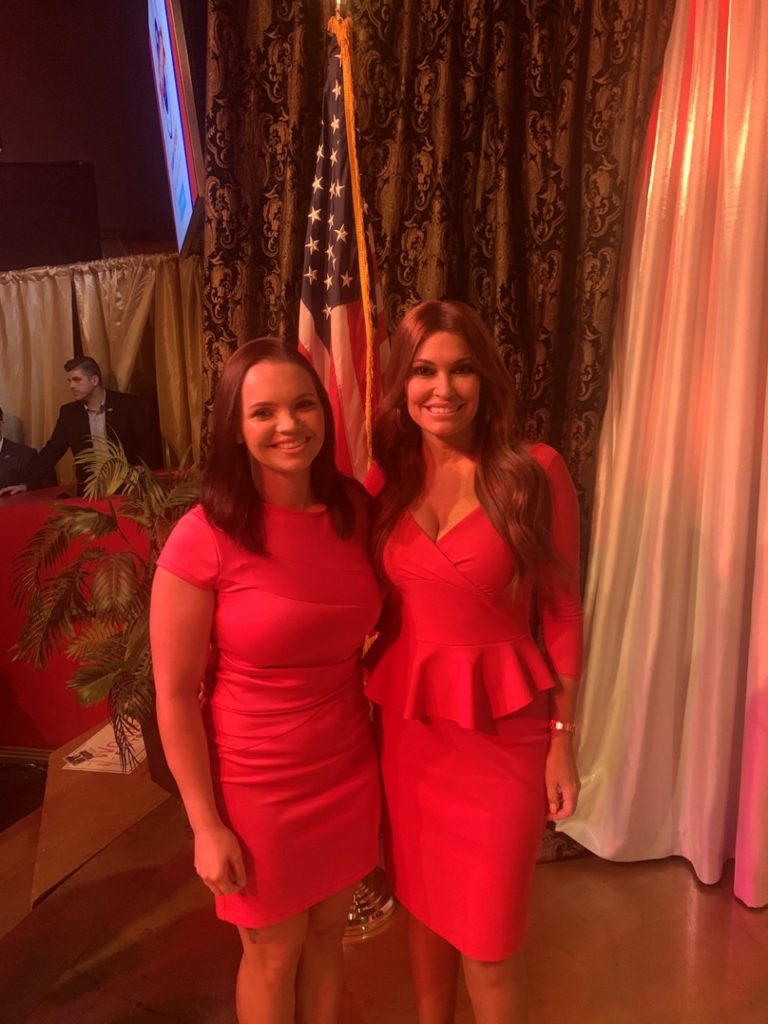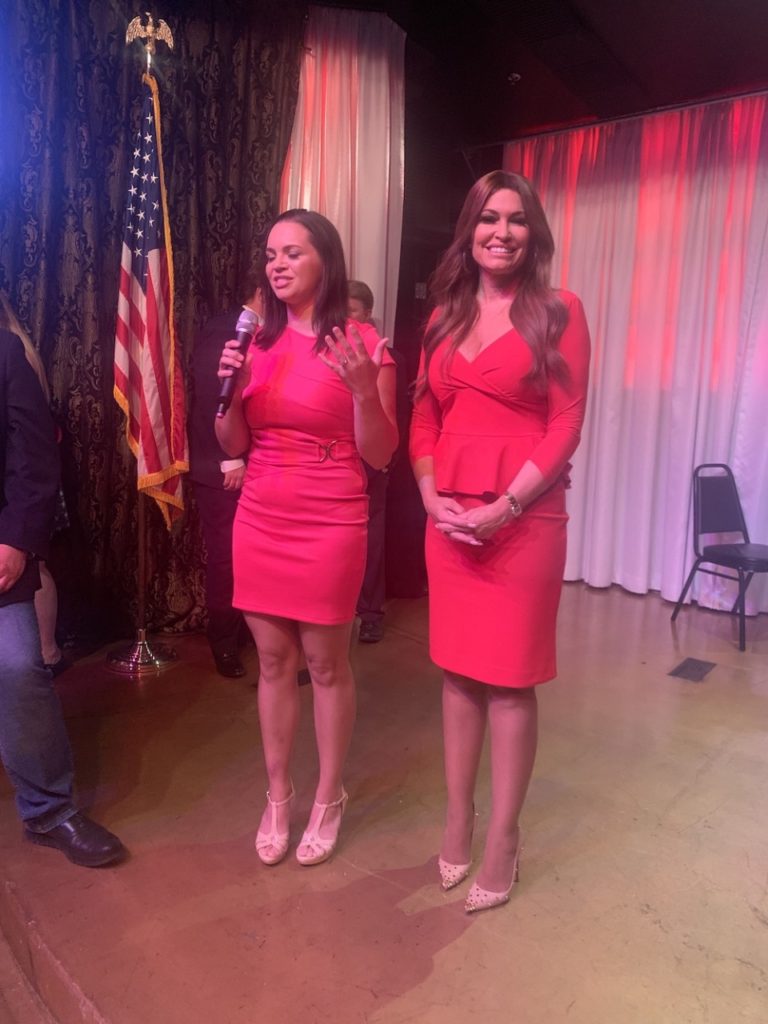 "Tonight's event was electric," Guilfoyle said at the end of the night. "Nevada's Women for Trump coalition is ready to re-elect President Trump in a landslide by putting Nevada in the win column in 2020!"
"In celebration of the 99th anniversary of Women's suffrage next week, these hundreds of women joined us to take a training course so they can go out and register thousands of more voters to support President Donald J Trump!" she added.
Williams topped the news cycle this week after posting a viral video, explaining how she was disqualified from the Ms. America pageant for her pro-America, pro-Trump worldview. Pageant organizers reportedly took issue with Williams' patriotic posts, specifically a photo featuring an iconic MAGA hat.
"I just don't understand how you can censor someone with conservative values when I'm not even really saying anything that's bad," Williams said in the video posted over the weekend:
"I feel like if I have more liberal views and less conservative views then this wouldn't even be an issue," she explained. "She assured me that that was not the case."
The Ms. America organization released a statement, accusing Williams of "distorting the facts":
ALL the pageant asked of Ms. Williams, in writing, is to keep separate social media accounts. (ie: Facebook) One is for politics where she can voice her own opinion as Katie Williams and the other is a new Facebook page for the pageant representing Ms. Nevada State 2019.

None of this had to do with her personal political views. They are immaterial. She has her Personal Facebook page to voice her political views. She could be a President Trump supporter on her Personal Facebook page all she wants for everyone to read. However, the Ms. Nevada Facebook Page should be devoid of political content.
Williams said she did, in fact, have two separate pages. However, the pageant director continued to obsess over her personal page, despite the fact that she was following protocol.
A pageant organizer "continued to screenshot my page, my personal page, and email me about how she was disappointed and she didn't agree with it and that I needed to speak with her on the phone," Williams said.
Ms. America CEO Susan Jeske admitted that Williams followed protocol in terms of creating a personal Facebook page but wanted it to be devoid of pageant-related material altogether:
This is the list of terms that the CEO of the Pageant sent Katie after she was disqualified.

Katie was asked to to remove any mention of "Ms. Nevada State" from all of her social media platforms, among other things.

Katie informed them she did not agree to these terms. pic.twitter.com/8koNn646xo

— Courtney Holland 🇺🇸 (@hollandcourtney) August 20, 2019
"If you're putting pageant stuff on your personal page, then that's a pageant page. You're combing it," Jeske told NBC News on Wednesday.
Williams' greatest crime, it appears, is holding conservative-leaning views on hot button issues like Antifa, gender, and personal responsibility:
https://www.facebook.com/photo.php?fbid=10213764282052510
https://www.facebook.com/katie.j.williams.7/posts/10213765712808278
https://www.facebook.com/katie.j.williams.7/posts/10213823490172676
"My whole mission in life is to encourage people to stand up for what they believe in," Williams told SiriusXM's Breitbart News Tonight Wednesday. "And the pageant was kind of a way for me to showcase that."
"I think that was the biggest issue for me," she continued. "There were other contestants posting things that were more on the liberal viewpoint, yet when I did it — and of course it was a conservative viewpoint — that's when the problem actually arose."
"I don't think I'm going to probably compete in any more pageants. I think that part of my life is over," she said, adding that she will "fight against censorship of the conservative viewpoint."