As expected, Breitbart senior editor Milo Yiannopoulos' speaking event at the University of California, Irvine has attracted an angry hubbub of protest from left-wing students outside the venue.
https://twitter.com/ancmateo/status/738545260364627969
Student protesters, who were contained behind a barrier by campus police, held up a number of protest signs. One bore the snappy slogan "Freedom of speech is not freedom to be a bully. It does not mean you can dehumanize, harass and abuse others without repercussion."
Another, who gets points for passive-aggressiveness, held a sign saying "It's really not that hard to be a decent human being. Try it sometime."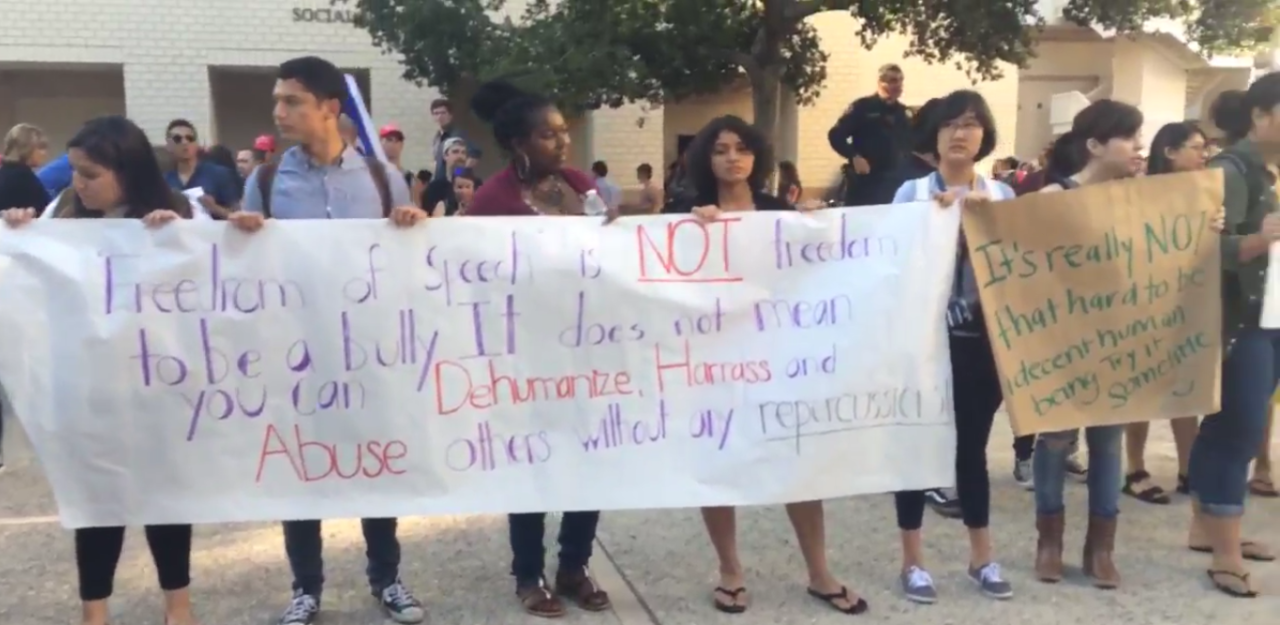 Another protester's slogan was more succinct: "go back to Europe #colonizers."
It's unclear whether his slogan referred to Milo Yiannopoulos – a native of Great Britain – or white Europeans in general. Left-wing protesters seemed unperturbed by the presence of such a stark protest against immigration.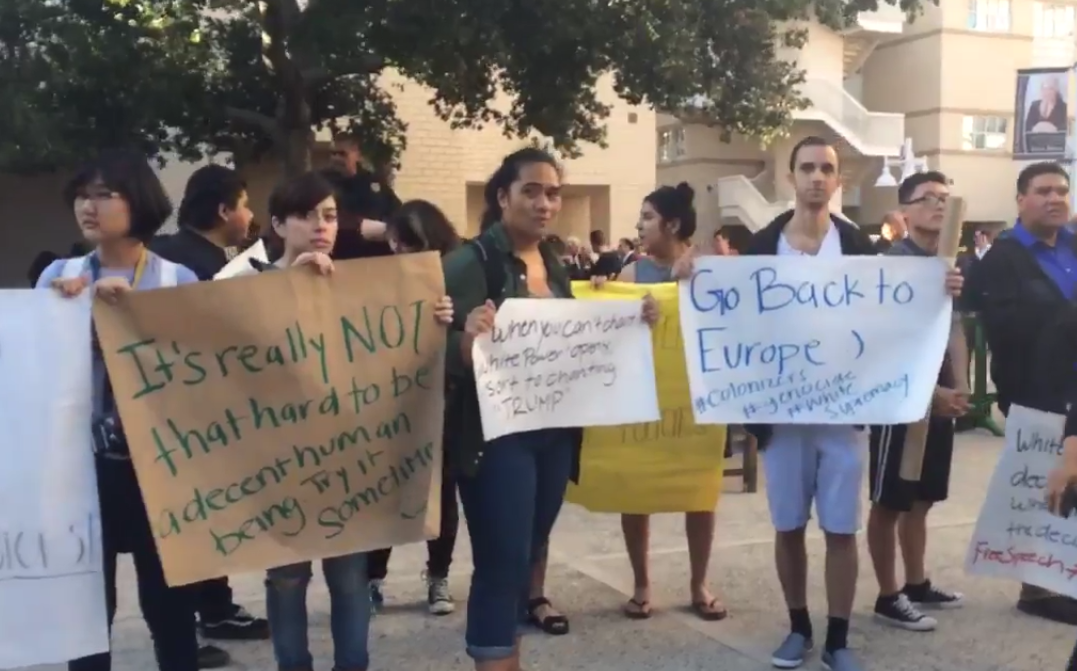 The protesters were also confronted by Milo fans outside the venue, which was full to capacity. Wearing pro-Trump baseball caps, they chanted "get a job" at the left-wing protesters, while a line of bemused-looking campus police stood between the two camps.
Protestors at UCI outside while
Milo Yiannopoulos speaks inside to a packed house. pic.twitter.com/TbHu6HcmDE

— Stacey Butler (@StaceyCBS) June 3, 2016
There was a major police presence at the event, with even riot police called out to ensure the event proceeded safely. After his speaking engagement concluded, Yiannopoulos was escorted off campus by a police escort.
https://twitter.com/bakedalaska/status/738612679971999744
https://twitter.com/Nero/status/738597121440415744
Milo Yiannopoulos' "Dangerous Faggot Tour" has been dogged by rabid protests. At DePaul University in Chicago, protesters stormed the stage and threatened the speaker with violence, with one even swinging her fist in Yiannopoulos' face. His visit to Rutgers was marked by war chants and feminist protesters drenching themselves (and parts of the venue) in red paint. The leading activist behind that protest was later given a "dignity award" by her university.
Protestors gather at UCI where the controversial
Milo Yiannopoulos will speak pic.twitter.com/1quHYIrMyG

— Stacey Butler (@StaceyCBS) June 3, 2016
https://twitter.com/ancmateo/status/738587829320613888
At the Milo event at UC Irvine pic.twitter.com/GR2gmpxc5w

— Robert McDougal (@mcdougalbugle) June 3, 2016
Milo's talk at UC Irvine can be watched in its entirety below:
You can follow Allum Bokhari on Twitter, add him on Facebook. Email tips and suggestions to abokhari@breitbart.com