WASHINGTON, DC–Teddy Roosevelt may have given William Howard Taft the shaft after first giving him his big break. But the baseball team in the nation's capital, more than a century after Taft's presidential predecessor exceeded him in the November vote total, celebrates the mostly-forgotten commander in chief in all of his gargantuan grandeur in a manner fitting of such a big historical figure. 
The Washington Nationals held a Bill Taft bobblehead giveaway Sunday night. It was huge.
The event compelled grown men to troll under the seats of departed game-goers in search of ceramic gold. It created a ball-cap-for-bobblehead trading market among fans and vendors outside of the venue; hat salesmen quickly piled up a dozen or more of the Taft collectibles. A few hours after the game, bids had already pushed up the price of the freebies into the $30-$40 range on eBay.
The man succeeded as chief justice of the Supreme Court by a man he had earlier appointed to the high bench enjoyed a massive evening in Washington, DC, more than a century after he became the first president to throw out a ceremonial first pitch. In addition to the enormously popular bobblehead giveaway, the 27th president led, in mascot form, a humongous chorus of fans on the first-base line in "Take Me Out to the Ball Game"–issuing an especially enthusiastic "buy me some peanuts and crackerjacks"–and emerged victorious among the racing presidents.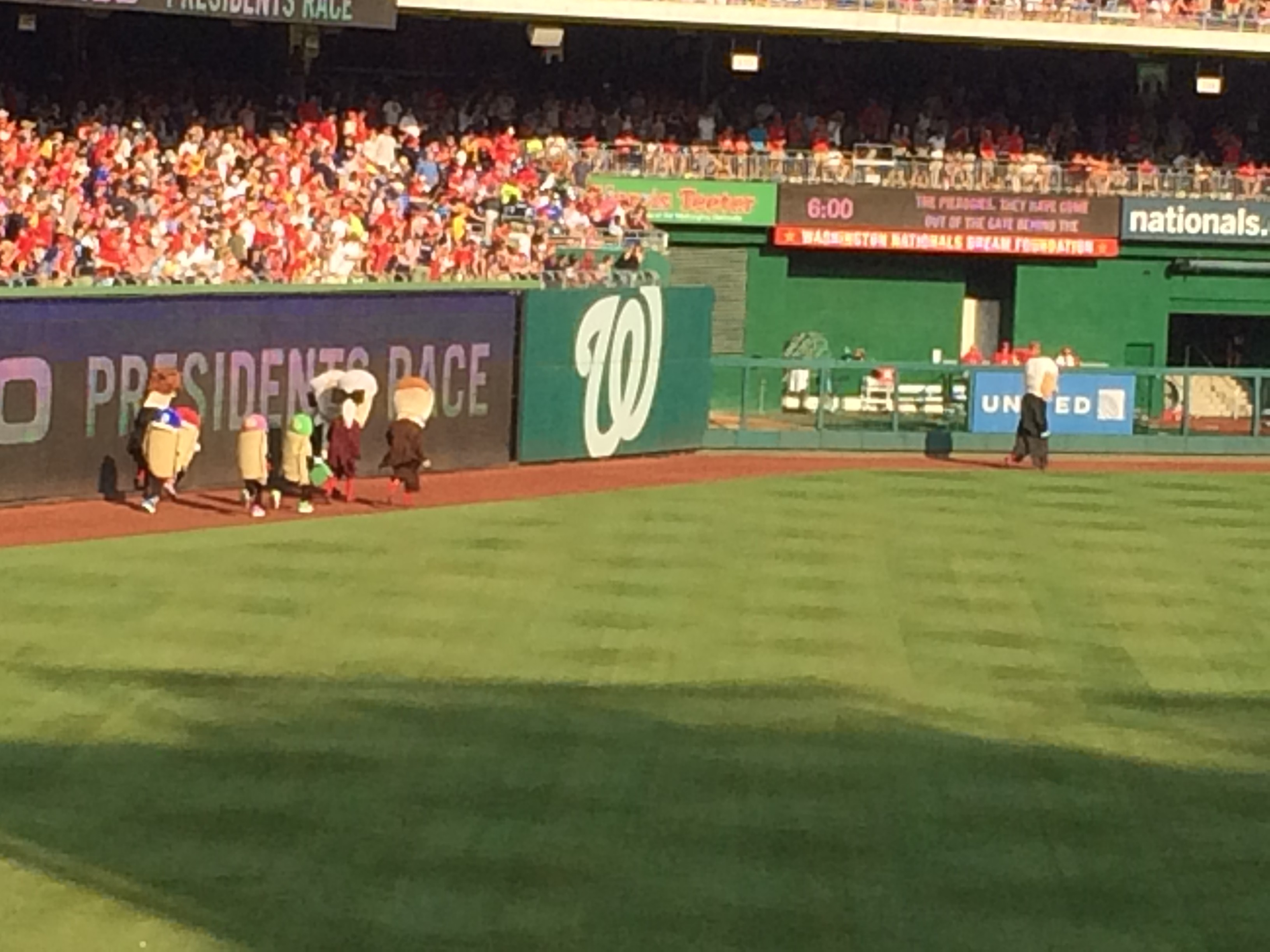 The Nationals Park ritual featured some additional runners Sunday evening. Atop Washington, Jefferson, Lincoln, TR, and Taft, Jalapeño Hannah, Cheese Chester, Sauerkraut Saul, and Oliver Onion traveled with the Pittsburgh Pirates to the nation's capital to compete in the costumed contest. Pittsburgh's a tough town, and the pierogies race rough. They shocked the locals–oh my word!–by tackling several of the presidents sans Secret Service detail. Taft, uncharacteristically running away from pierogies, won the race after a caped, masked superhero/professional wrestler wrestled one of Taft's pierogi pursuers to the ground.
President Taft, who attended major-league games in Washington, DC and Pittsburgh as president, enjoyed baseball a lot more than his predecessor, who labeled the sport "brutal" in a letter that lauded football. But the son of Cincinnati surely rooted for neither Washington nor Pittsburgh in the National League. Sunday night, Taft's luck rubbed off on Washington, which won the game 6-5 in extra innings.
The bobbleheads, awarded to the first 25,000 fans walking through the gates, immediately make their heavy presence known in the hand as not some cheap, plastic ripoff (though the bobble of the head leaves much to be desired). Like the man they celebrate, the commemoratives carry a lot of weight.