At one private college in New York, Democrat professors outnumber their Republican counterparts by about twenty to one, with zero Republican professors teaching in the Philosophy and Religion, History, or Politics fields.
According to The College Fix, Ithaca College employs 182 professors who are registered Democrats – 46.5% of the faculty – and 10 professors who are registered Republicans, a figure amounting to 2.6%.
The ten Republican professors occupy positions in the sciences, humanities, and business schools. When The College Fix asked some of them to comment on being outliers in a place of ideological homogeneity, one said he had "no comment," whereas another said he did "not feel comfortable discussing politics" because he did not have tenure.
Here's a table displaying the percentage of Republican or Conservative professors at Ithaca College, as identified by studies conducted in 2003, 2012, and 2016:
| | |
| --- | --- |
| Year | Percentage of Republicans or Conservatives |
| 2003 | 6.4% |
| 2012 | 7.9% |
| 2016 | 2.6% |
The Ithaca College Republicans carried out a study in 2003, which found that 6.4% of identified partisan professors were Republican. A 2012 study conducted by Young America's Foundation and conservative students at Ithaca found a figure of 7.9%. Both of these proportions are over double the 2.6% found this year.
The ratio of Democratic to Republican professors at Ithaca College, 17.9 to 1, is greater than the 11.5 to 1 national average reported in a recent study.
Here's a chart displaying the amount of money Ithaca College donated to Democrat vs. Republican campaigns, by year: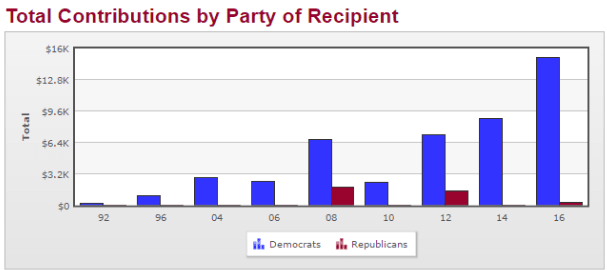 Since 1992, Ithaca College has contributed $46,544, or 89% of its political donations, to Democratic candidates and $3,530, or 7%, to Republicans. For the 2016 presidential campaign, the school contributed $4,343 to Hillary Clinton's campaign and $20 to Donald Trump.
Rob Shimshock is a contributor to Breitbart Tech and Campus Reform. Follow him on Twitter (@ShimshockAndAwe) for mischief, sarcasm, and truth.