Breitbart Texas traveled to the Mexican States of Tamaulipas and Coahuila to recruit citizen journalists willing to risk their lives and expose the cartels silencing their communities.  The writers would face certain death at the hands of the various cartels that operate in those areas including the Gulf Cartel and Los Zetas if a pseudonym were not used. Breitbart Texas' Cartel Chronicles are published in both English and in their original Spanish. This article was written by Coahuila's "JM Martinez".
PIEDRAS NEGRAS, Coahuila — Authorities in this border city continue to look into the kidnapping, torture and execution of a man recently found in a rural area. Coahuila state authorities responded to a call of a body found on the 18th kilometer marker on highway 57, which connects this city with the city of Nava. 
Investigators have since identified the victim as Omar Alejandro Estrada Resendiz from the city of Acuna. The motive for the execution remains unclear, however, the man's face had been covered with a red rag and then taped over. The mans hands had also been taped together before likely before he was shot.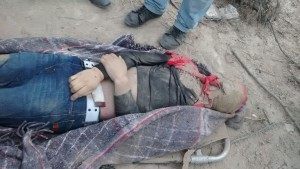 The execution comes just days after residents of this border city lived through days of fear when cartel gunmen clashed with authorities in various high speed pursuits and shootouts, Breitbart Texas reported.
Those shootouts began late last week when cartel gunmen tried to ambush a squad of special cartel-hunting police officers known as Los GATES. The ambush took place in a rural area where the police officers were forced to leave their vehicle and run into the brush while calling for help from their comrades. Soon after the ambush, the town of Piedras Negras became the scene of multiple shootings.Cartel members threw road spikes throughout many of the streets in the city which caused numerous traffic jams. Piedras Negras is just across the border from Eagle Pass, Texas.
For many years, the state of Coahuila was the region where Los Zetas drug cartel was able to operate with complete impunity. The complicity of government officials reached the point where as reported by Breitbart Texas, Los Zetas were able to kidnap hundreds of victims and incinerate their bodies in clandestine crematoriums some of which were in the Piedras Negras prison.
In recent years Los GATES have been able to beat back the presence of Los Zetas; however, as indicated by the ongoing number of executions, their activities remain.