CIUDAD ACUNA, Coahuila — One of the top leaders of the Los Zetas cartel came close to being captured by his enemies and was forced to flee, leaving his grandmother at the mercy of rivals.
As Breitbart Texas has been reporting, two rival factions of the Los Zetas–one called Cartel Del Noreste (CDN) and one called Vieja Escuela Z (Old School Z) or Grupo Bravo–have been carrying out a brutal war for control of drug distribution territories and routes. The fighting has resulted in regular kidnappings, beheadings, dismemberments, and shootouts.
Initially, the war had begun in the Tamaulipas state capital of Ciudad Victoria, but has spread to the city of Nuevo Laredo and into the border state of Nuevo León. As Breitbart Texas previously reported in Nuevo Laredo, the CDN saw another splintering when another faction called Los Renegados began carrying out executions–helping the Vieja Escuela faction.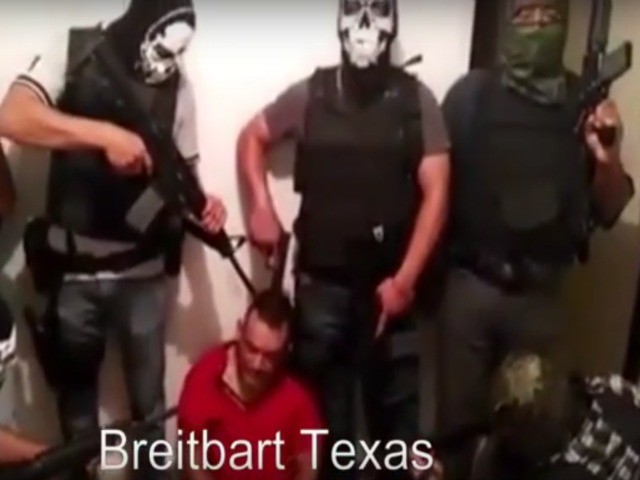 Most recently, one of the leaders of the CDN faction of Los Zetas named Juan Gerardo "El Huevo" Treviño Chavez had been hiding out in Ciudad Acuña, Coahuila and went to visit his grandmother. Los Zetas members favor Coahuila since they have been receiving government protection in that region for years. During his visit to his grandmother's, a cell of Los Renegados raided the house in an attempt to capture Treviño Chavez. Facing certain death, the cartel leader fled the neighborhood but left his grandmother behind. The elderly woman was released shortly after, unharmed.
Treviño Chavez is the brother of Juan Francisco "Kiko" Treviño Chavez. As Breitbart Texas reported exclusively, agents with U.S. Homeland Security Investigations (HSI) arrested Kiko Treviño in Houston. An intelligence document from 2008 revealed that El Huevo Treviño had initially gone by the nickname of "El Kilo". 
Soon after the raid in Ciudad Acuña, members of the Los Renegados disseminated a a photograph depicting money and assets seized by the cartel next to a poster claiming the money as war booty. The cartel members then hung a banner calling out "El Huevo" for leaving his grandmother behind. In the banner, the cartel members claim that they do not kill innocents.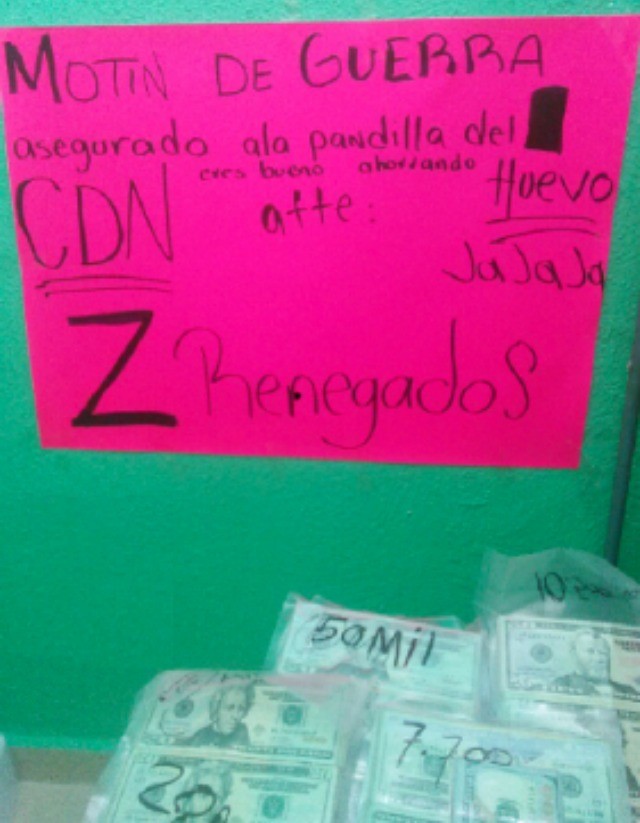 Coahuila is the Mexican state where, as Breitbart Texas previously reported, Los Zetas where able to kidnap, murder and incinerate more approximately 300 victims from one rural community with complete impunity between 2011 and 2013. Los Zetas incinerated half of their victims inside the Coahuila state prison in the border city of Piedras Negras. To date, authorities have not pursued prison officials or high ranking politicians who have been surrogates of Los Zetas or turned a blind eye.
Despite the passing of time and the apparent efforts to restore peace by the Coahuila government, Breitbart Texas has been able to confirm that members of the CDN have been receiving help from high ranking members of the Piedras Negras delegation for the state attorney general's office. Individuals within the PGJE have been able to lower the charges of arrested CDN members in order to get them released or have the cases dismissed. In one of the cases reviewed by Breitbart Texas, state officials reduced the drug possession charge of a smuggler who had been arrested with 50 kilograms of marijuana to a simple misdemeanor drug possession for personal use.
The constant release of drug smugglers and cartel members over lesser charges has sparked tension between prosecutors and various police forces in the state such as Los GATES and Fuerza Coahuila, who have been tasked with cracking down on cartel operatives.
Editor's Note: Breitbart Texas traveled to the Mexican States of Tamaulipas, Coahuila and Nuevo León to recruit citizen journalists willing to risk their lives and expose the cartels silencing their communities.  The writers would face certain death at the hands of the various cartels that operate in those areas including the Gulf Cartel and Los Zetas if a pseudonym were not used. Breitbart Texas' Cartel Chronicles are published in both English and in their original Spanish. This article was written by "J.M. Martinez" from Piedras Negras, Coahuila, "M.A. Navarro" from Ciudad Victoria, Tamaulipas and Breitbart Texas' Ildefonso Ortiz.