Breitbart Texas traveled to the Mexican States of Tamaulipas and Coahuila to recruit citizen journalists willing to risk their lives and expose the cartels silencing their communities.  The writers would face certain death at the hands of the various cartels that operate in those areas including the Gulf Cartel and Los Zetas if a pseudonym were not used. Breitbart Texas' Cartel Chronicles are published in both English and in their original Spanish. This article was written by "J.A. Espinoza" from Matamoros.
MATAMOROS, Tamaulipas — The two most recent victims of the raging wave of violence that continues to strike this city were tortured and had their throats slit. Almost a day after the murder, the Tamaulipas government had not issued a public statement about the murders.
The Tamaulipas Ministerial Police in Matamoros opened  an investigation this weekend in connection with the double homicide of two men who have now been added to the number of people who have fallen victim to the wave of violence that continues to ravage this city.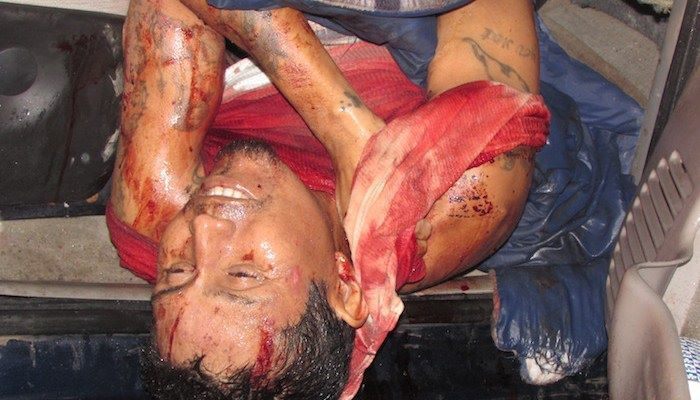 According to the preliminary police report about the homicide, to which Breitbart Texas was provided access, both bodies were found inside a vehicle. In the front part of the vehicle authorities found the body of a man identified only as "El Diablillo" or little devil. In the rear part of the vehicles, authorities found a second body belonging to a man identified only as "El Bebe" or the baby.
Mayra Marcela Ruiz Ortiz, the Second Agent with the Public Ministry went to the murder scene to document the murder and to confirm that the two bodies had been tortured and had their throats slit.
When the homicide was initially called in, authorities found a vehicle with two bodies in the Villa Las Torres, which is in the south side of this city. Neighbors from the area were the ones who made the ghastly discovery and reported it to authorities.
Members of the Bravo and Tornado units of the Tamaulipas Ministerial Police responded to the area where they found a blue Chevrolet mini-van. They found the blood covered bodies of the two victims inside the van.
The victims had various slice wounds throughout their bodies as well as deep wounds to the jugular which resulted in their deaths. The second body had also been bound in addition to the having been tortured and murdered.
As part of the investigative procedures, the remains of the two victims were moved to the local morgue for the necessary autopsy.