MATAMOROS, Tamaulipas — At least four gunmen died overnight in a series of battles between Mexican federal forces and members of the Gulf Cartel.
Shortly after 8 p.m., citizen journalists on social media began to issue alerts to the residents of Matamoros telling them to avoid various areas in the city where gunmen were firing off automatic and other high caliber firearms.
The clashes between cartel gunmen and military forces took place in various parts of the city with one of the pursuits ending along Sixth Street, one of the main avenues. For more than two hours, police forces and forensic units closed off the area as they photographed the scene and gathered what are believed to be the bodies of the gunmen.
So far the government has not released an official version of the clashes. El Mañana newspaper in Reynosa is the only print outlet that has reported on the overnight violence. The story was featured in their front page.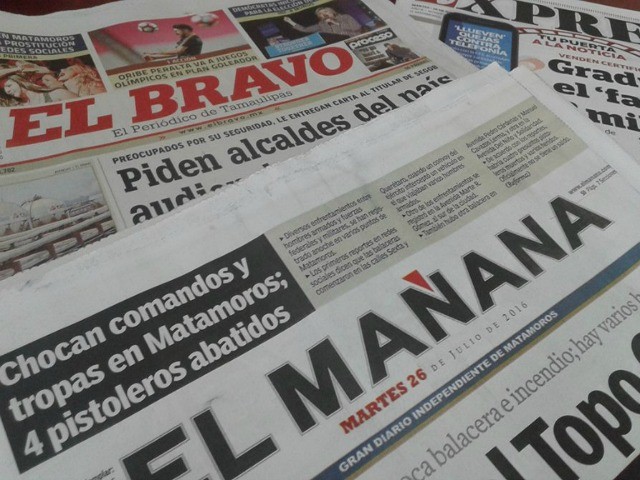 While Sixth Street saw the worst of the violence, the fighting managed to spread out to various areas of the city.  According to social media journalists, the fighting took place around Periferico Avenue, Buena Vista neighborhood, San Francisco neighborhood and Marte R. Gomez Avenue. All of the areas that saw the fighting are heavily populated neighborhoods of avenues with a large amount of traffic.
The escalating violence spread to the Rotonda Park along Cavazos Lerma Avenue. At the park, just outside of the Televisa TV station, residents that had been jogging and parents that had taken their children to play, were forced to run for cover and gunmen and police forces began to exchange gunfire. Residents screamed in panic during the gun battle, luckily no one was injured in the park. A video uploaded by the citizen journalists from Matamoros Zona de Peligro shows the panicked residents moments after the gun battle as they decide to either stay hidden or run away.
Editor's Note: Breitbart Texas traveled to the Mexican States of Tamaulipas, Coahuila and Nuevo León to recruit citizen journalists willing to risk their lives and expose the cartels silencing their communities.  The writers would face certain death at the hands of the various cartels that operate in those areas including the Gulf Cartel and Los Zetas if a pseudonym were not used. Breitbart Texas' Cartel Chronicles are published in both English and in their original Spanish. This article was written by "J.A. Espinoza" from Matamoros.