As violence continues to occur in and around Black Lives Matter demonstrations, one cyber security intelligence firm argues that America is witnessing an unmistakable trend of further radicalization within the leftist grassroots movement.
#Fuck12 has steadily emerged as a significant sect of the larger Black Lives Matter movement that has grown louder and increasingly-explicit about its true desires for policing or lack thereof in the hashtag era. But despite its relative under-the-radar status at the moment, proponents have already enjoyed protection from social media giants; inspiration for new violence and organized destruction; martyrs; and diversified revenue streams to organically support local organizers. Nearly every westerner with a social media account has come into contact with #Fuck12 messaging – only too often it has been confused with its intellectual parent.
What is #Fuck12? How is it different?
Though definitions tend to vary between common reference sources online, #Fuck12 draws its origins from Atlanta and Oakland social media users typically decrying the fact that narcotics officers (Code 12) are bearing down on their presumed illegal activities. A senior analyst with GIPEC Worldwide explained to Breitbart Texas on the condition of anonymity (for operational security reasons) that #Fuck12 started as an online warning signal to others but has quickly morphed into a broader meaning ranging from "fuck" to "kill the police." The cyber intelligence firm's data indicate that the shift in meaning coincided with #BlackLivesMatter's increasing impact on the zeitgeist.
The mainstream media has buried the fact that the three women who founded Black Lives Matter all have a far leftist, radical pedigree and direct connections to 1960s radical groups such as SNCC and the violent Weather Underground. The media have also hidden the fact that the founders have openly declared they pay homage to convicted cop killer Assata Shakur at every event. Instead, the media has chosen to focus on the not-quite-as-radical elements such as DeRay McKesson and Shawn King, instead of giving any attention to the founders' call to "burn everything down."
But at least the three founders of Black Lives Matter combined their violent radicalism with an intellectual pin near. The #Fuck12 movement dispenses with ideological trappings and moves to straight-up thuggery.
Whereas many of Black Lives Matter's intellectual caretakers have labored to keep their message within the relatively-genteel framing of white privilege; enduring systemic racism in local police departments; and entrenched economic injustices to support all of the above — #Fuck12 appears far more comfortable tossing a Molotov cocktail in lieu of Marxist-inspired critical theory screeds on Medium or Mic. #Fuck12 does not have a problem with just white police — but anyone wearing a badge.
Everybody Share This .. FUCK THE COPS

If a Black Lives Matter leader fails to critique a police action with sufficient venom, #Fuck12 proponents are willing and able to play the thumb-scrolling tough guy.
@ShaunKing fuck all you fagetass cops#fuck12

— probably (@luis_arthurg) August 16, 2016
Perhaps the most distinguishing feature of #Fuck12 is the overall solution to the alleged issue of police brutality disproportionally impacting people of color, as a BLM activist would say. While Black Lives presses for improved community outreach, body cameras and racial quotas in hiring — #Fuck12 generally promotes a "burn it down" philosophy with often literal connotations. GIPEC explained to Breitbart Texas that during the most recent civil unrest in Milwaukee now memorialized by #MilwaukeeUprising, social messaging related to abolishing the criminal justice system and policing as it is known were prominent sub-trends communicated among BLM and #Fuck12 rioters on the ground.
The absolute, anti-establishmentarian view of the nation's most basic police powers offers new context to viral social media content already filling America's feeds and walls regardless of the account holder's personal viewpoints. Worse, GIPEC explains that #Fuck12's message can be directly attributed to recently-suffered fatalities around the country.
Where you've already seen #Fuck12 messaging
#Fuck12's most famous, yet largely mis-attributed addition to the national debate arrived in the form of an illustration depicting a black clad street soldier slitting the throat of a white police officer, reminiscent of an Islamic State propaganda video. Within moments of its original posting, GIPEC said that it was shared "thousands" of times across a variety of social media platforms.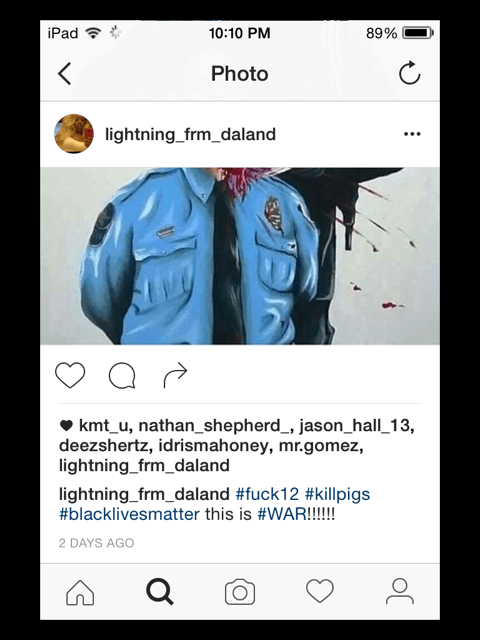 The firm explained that it worked with a number of stakeholders to push Facebook to remove the violence-inciting posts, yet were rebuked directly as the post did not "violate [Facebook's] Community Standards." The social media company reassured the complainants that they were invited to continue flagging content they feared harmful, as Facebook is intended to be "safe and welcoming for everyone." During the period of debate and pleading to remove the image, the image reportedly spread out of containment.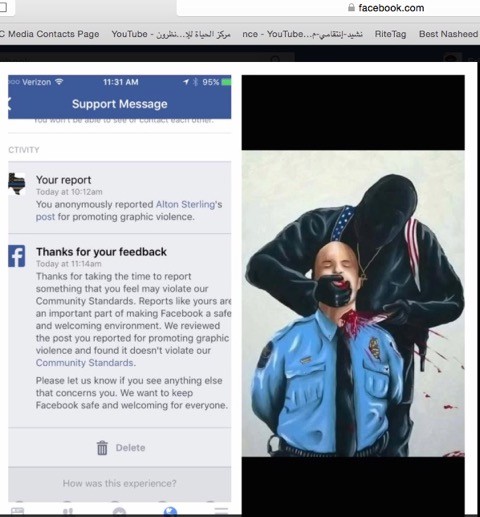 The episode formally placed #Fuck12 on GIPEC's radar, outlining the "potential of a threat matrix" against local law enforcement. The possible consequences were seen almost immediately.
"We pretty much know that the 'slasher' image might have been a contributor to the Dallas shooting," the leading GIPEC analyst said. "That graphic was up beginning on Wednesday [July 6] and it was trending with '#Fuck12'."
Although an affinity for martyrs is apparently shared with Black Lives Matter, #Fuck12's canonization process has shone a major twist in recent weeks. Consider the case of now-deceased Korryn Gaines: a 23-year-old black female from Baltimore and mother of two who posted a traffic stop video involving car registration issues. Her repeat refusal to show identification; demands to see a "delegation of authority order"; and claims that she "does not participate" in any laws enforced by police are overshadowed by her constant assertions that "you're going to have to kill me" in order for officers to remove her from the vehicle.
Shortly thereafter, Baltimore County Police were forced into a seven-hour standoff that ended in an exchange of gunfire, killing Gaines and injuring her son perched on her lap. Gaines reportedly fired a shotgun at the arriving officers.
What might have seemed like an extensive suicide by cop episode is given more clarity when considering #Fuck12's attitude toward police powers of any kind. BET recently curated a collection of BLM supporters resisting urges to defend Gaines' actions on principle, but many admit to falling short. #Fuck12 adherents, however, found a heroine worthy of a hashtag and an admonishment to #SayHerName.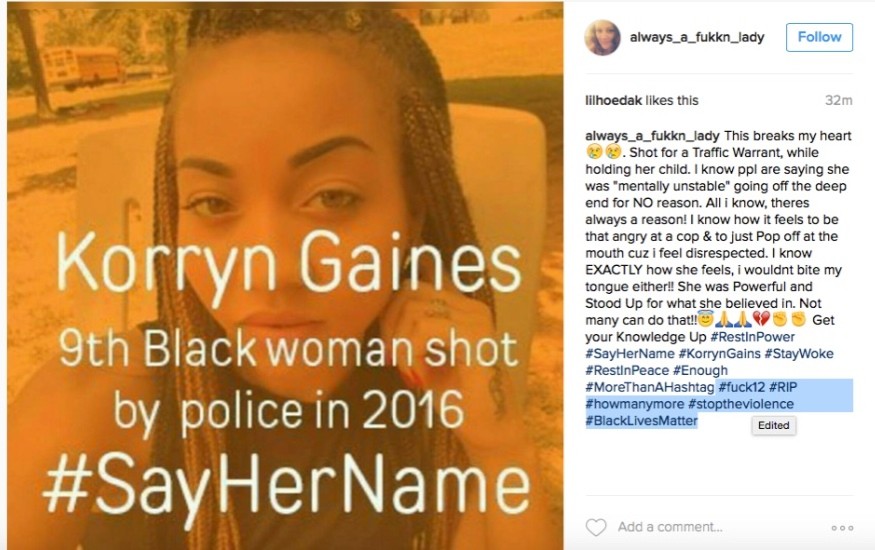 Silicon Valley's safe spaces for fighting words
Online intelligence analysts and active law enforcement alike place a considerable burden on social media companies to police content that incites violence. Dallas Fallen Officer Foundation and Dallas PD Sergeant Demetrick Pennie argues that companies such as Facebook and Twitter have a "moral responsibility" to actively seek out and remove content not protected by the U.S. Constitution.
"Based on recent incidents, social media is being used as a platform to facilitate social unrest across the country and incite violence against our law enforcement officers," SGT. Pennie said. "This is an emerging trend that our nation cannot tolerate." The Dallas officer recently made national headlines after he reached out to Cleveland Browns offensive back Isiah Crowell after the NFL player re-posted the infamous "slasher" image, according to Breitbart Texas. Pennie would later state publicly that he and many widows in Dallas forgave the online action after Crowell personally made amends and attended an officer's funeral.
Monetizing the struggle
#Fuck12 has shown equal interest in variety of outreach methods and monetization of the same. Like other prominent organizations promoting their penchant for violence, GIPEC uncovered multiple cases of YouTube being used to host videos that purported to show violent fantasies of killing police via Grand Theft Auto V multiplayer mode and offer encouragement to viewers to fulfill the dream.
Even more alarming than the content was the apparent willingness of both host and uploader to share advertising revenues, according to GIPEC's studies. The tech firm found instances of GMC, Buick, Overstock.com, Groupon and Publishers Clearing House's ads prominently featured on and around the content in question. GIPEC told Breitbart Texas that it required a consistent effort to see ads removed, though the original videos remain publicly available.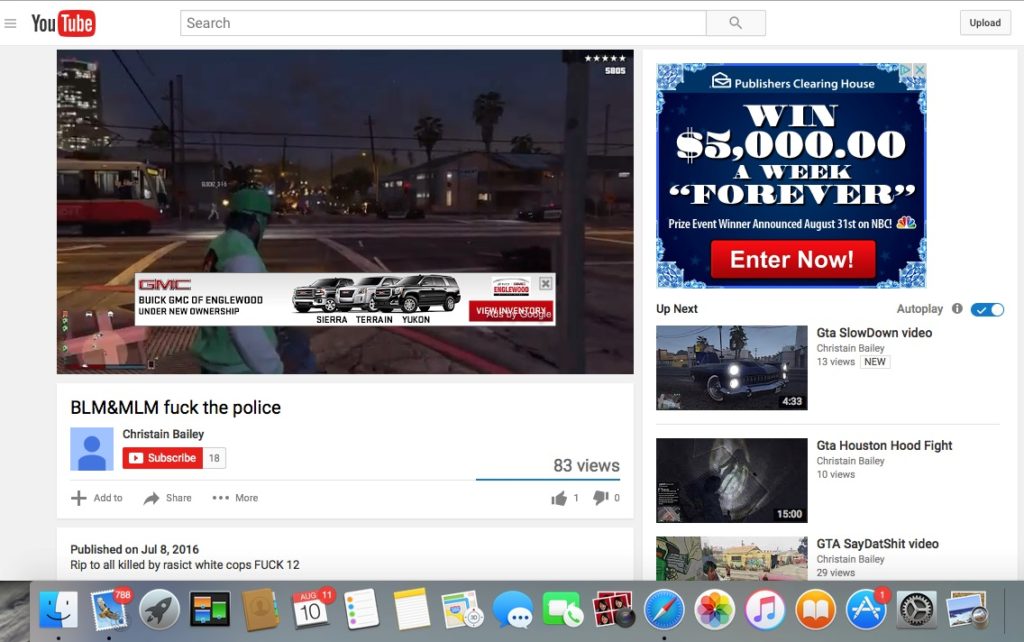 Further exclusive study found more traditional methods of monetizing a movement via social media platforms. A southern California-based clothing designer utilizes its Instagram account to offer first-person views of recent rioting in Milwaukee when it is not busy promoting #Fuck12 apparel.
Other branding options vary in quality.
A photo posted by Stone Cold Steve Autism (@stonecoldsteveautism316) on
A St. Louis-area "radical bookstore" has utilized the #Fuck12 tag to hawk its rather unsurprising wares as well.
This EXCELLENT & apropos book will ALWAYS b avail @ BlackRoseBookDistro#FTP#FTTP#ACAB#Fuck12#AbolishThePolice pic.twitter.com/bicdsB0ORh

— Black Rose Books StL (@BlackRose_Books) August 14, 2016
"Social media is allowing for the distribution, merchandising and profiting off of #Fuck12," the GIPEC analyst said.
The next [d]evolution
The GIPEC analyst's greatest concern has yet to occur, but the elements are reportedly in place.
"I'm waiting for the day that somebody takes a GoPro Camera and starts a #Fuck12 real-time Facebook Live video and starts killing police and it starts trending."
Logan Churchwell is the Assistant Editor and a founding member of the Breitbart Texas team. You can follow him on Twitter @LCChurchwell.
This article has been updated to include insights from Breitbart News' Lee Stranahan.