In a political cartoon causing outrage across Louisiana, the Times Picayune published a depiction of police officers handing black Americans their "last rites," a narrative that is being immediately debunked as first responders rescue thousands in the state amid historic flooding.
The Times Picayune, whose editorial board leans left, published the cartoon in their three-day newspaper amid violent riots in Milwaukee, Wisconsin where an armed black man was fatally shot by police, according to a recent Breitbart News report. Other portions of Louisiana continue to suffer the effects of extreme flooding.
The cartoon has already drawn backlash across social media and more specifically, St. Tammany Parish Sheriff Randy Smith, the top neighboring New Orleans law enforcement official.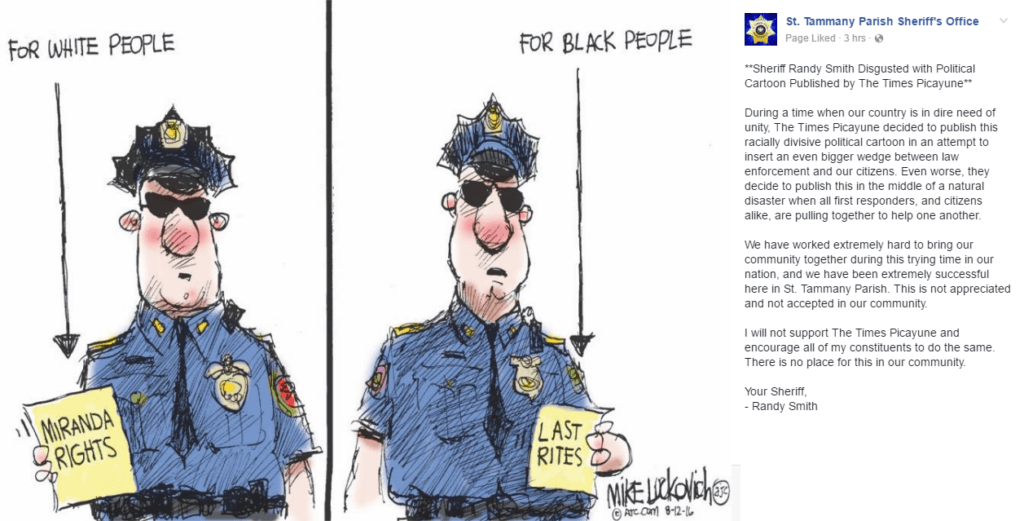 "During a time when our country is in dire need of unity, The Times Picayune decided to publish this racially divisive political cartoon in an attempt to insert an even bigger wedge between law enforcement and our citizens," Smith said in a statement. "Even worse, they decide to publish this in the middle of a natural disaster when all first responders, and citizens alike, are pulling together to help one another."
"This is not appreciated and not accepted in our community," Smith continued. "I will not support The Times Picayune and encourage all of my constituents to do the same. There is no place for this in our community."
Smith's response echoes a larger story about how first responders have saved more than 20,000 residents from unprecedented flood waters.
In New Orleans' neighboring parish, Smith said his deputies "helped hundreds of people this weekend, both here in St. Tammany and on Interstate 12 near Baton Rouge."
"They rescued both animals and humans alike," he wrote in a Facebook message to the community.
Residents swept social media to explain their objections to the political cartoon.
"Not surprised that the Liberal Media like the Times Picayune and others would publish this," one Facebook commenter wrote.
"Shame on you Times Picayune for even publishing this," another one wrote.
The Times Picayune editorial board later responded Tuesday to the controversy with a statement claiming it wished to make a point about "systemic racism in the Baltimore Police Department," yet regretted the "coincidental" timing and "generic uniform" of the officer depicted, effectively "skewering all law enforcement, including those in our own community." Mark Lorando, editor for the paper, added that the cartoon "should not have run."
John Binder is a contributor for Breitbart Texas. Follow him on Twitter at @JxhnBinder.